Book Review: Antonio Damasio's 'The Strange Order of Things', an Anthropological Journey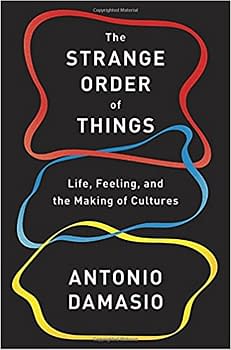 [rwp-review-recap id="0"]
The Strange Order of Things by Antonio Damasio is a scientific work about feelings, and the part they have played in biology and culture. The often ignored connection between emotion and society, and our very lives, is finally given a spotlight.
Starting from the cell, and an innate seeking to continue and endure, Damasio explains and supports his ideas with everything from biology, and psychology, to philosophy and poetry, going from the microcosm to the macrocosm. Carefully, he presents his ideas, and builds one upon the other in this very strong scientific work. From cell, and its homeostasis, to the mind, and finally onto culture and creativity, and the world we live in.
This is a work of hard science. It contains big words, and big ideas, but is also careful to explain and show those ideas, where they came from and how they work. Even if you haven't studied biology in a while and aren't a scientist, it makes sense and doesn't fall wholly into the esoteric jargon that can deter folks from scientific journals (if the subscription price doesn't sticker-shock you first).
If you are driven by a will to know more, and are unsatisfied with simple explanations; if you want to understand how people came to these conclusions… this is the book for you. This is the story of how life started with simple cells; how we rose up and became people with our own cultures, our own internal and external lives, and a drive to protect them. Most of us want to live a life, to feel comfortable and safe, and to protect our children. And all that? …it started with a cell, and its internal drive to continue.
[rwp-review-ratings id="0"]
[rwp-review-form id="0"]