From the streets of Mega-City One to the bridge of the U.S.S. Enterprise to…kicking the holy hell out of super-heroes on the government dime? Looks like that's case for Karl Urban (Thor: Ragnarok), who will leading up The Boys in Amazon's series adaptation of Garth Ennis and Darick Robertson's comic book series The Boys. Created for series by Eric Kripke (Supernatural) and with Preacher's Evan Goldberg and Seth Rogen attached, the series is set to be a co-production between Sony Pictures TV Studios, Amazon and Neal H. Moritz's Original Films.
Leader of The Boys, Urban's Billy Butcher is mysterious and brutal; hiding a personal agenda as he approaches Hughie (Jack Quaid), claiming to be a shadowy government operative. Butcher capitalizes on Hughie's rage over his girlfriend Robin's accidental death at the hands of Superhero A-Train (Jesse T. Usher) and enlists Hughie as part of his plan to bring down the super-hero franchise.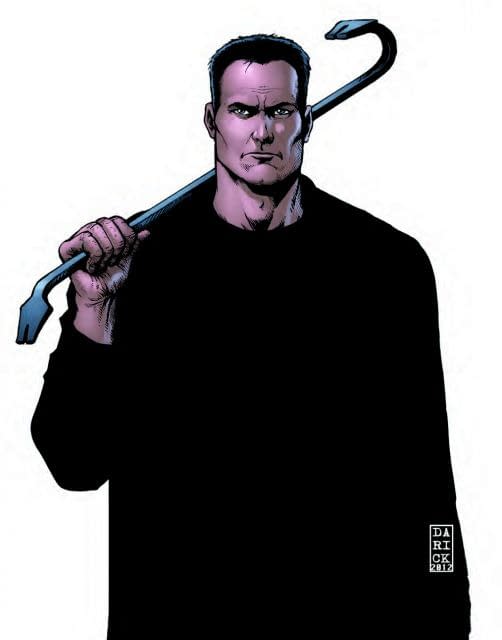 Joining Urban and Quaid on The Boys are Laz Alonso (The Mysteries of Laura) as second-in-command Mother's Milk; and Karen Fukuhara (Suicide Squad) as The Female, a young Asian assassin with blistering fighting skills who happens to have superpowers. The role of The Frenchman (or "Frenchie" as referenced in earlier reports) has yet to be cast.
Joining Usher on The Seven are Antony Starr (American Gothic) as Homelander, leader of the main superhero team, The Seven; Dominique McElligott (The Last Tycoon) as Queen Maeve, a member of The Seven; Chace Crawford (Gossip Girl) as The Seven member The Deep, an aquatic hero; Nathan Mitchell (iZombie) as Black Noir, a masked superhero with fighting and Set martial arts skills; and Erin Moriarty (Jessica Jones) as Starlight/Annie, a young woman who can make lightning bolts flash from her eyes and dreams of being a "real superhero" like the famous Seven.
Urban recently appeared as Skurge in Marvel's Thor: Ragnarok; and is also known for his roles as Dr. Leonard "Bones" McCoy in the Star Trek film franchise; as Éomer in Peter Jackson's The Lord of the Rings trilogy; and as Mega-City One's main street judge in Judge Dredd.
Here's an overview of the comic book series that was originally published from 2006-2012 from Wildstorm and Dynamite Entertainment:
This is going to hurt! In a world where costumed heroes soar through the sky and masked vigilantes prowl the night, someone's got to make sure the "supes" don't get out of line. And someone will! Billy Butcher, Wee Hughie, Mother's Milk, The Frenchman, and The Female are The Boys: A CIA-backed team of very dangerous people, each one dedicated to the struggle against the most dangerous force on Earth – superpower! Some superheroes have to be watched. Some have to be controlled. And some of them – sometimes – need to be taken out of the picture. That's when you call in The Boys!
Corrected/updated to give Garth Ennis and Darick Robertson proper copyright credit
Enjoyed this article? Share it!