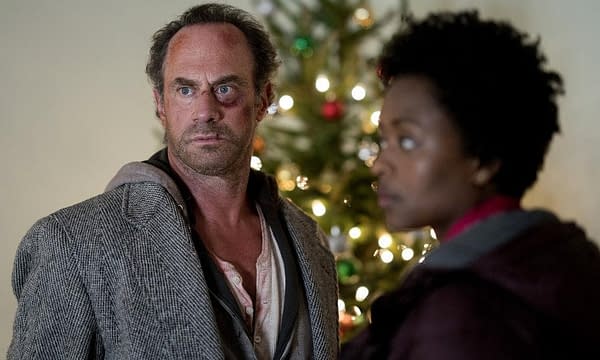 Thanks for joining us after a two week break for our fifth edition of Happy Trails!, Bleeding Cool's live-blog of Syfy's Happy! and tonight's fifth episode, 'White Sauce? Hot Sauce?".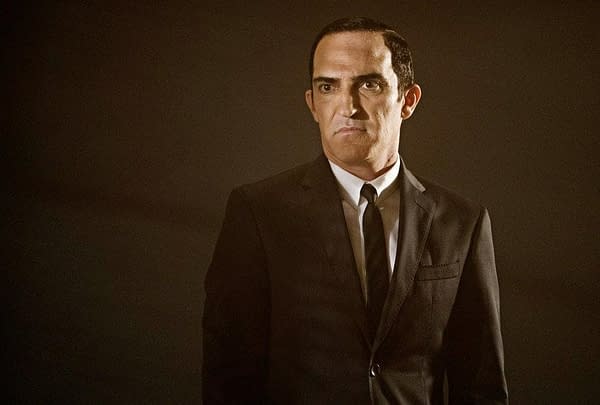 Less of a "formal review" and more of a "revap"-type (review/recap) thing, we're covering the nitty and the gritty of the episode, along with some of my thoughts on what worked and what should've be left untouched by human hands. If you're not familiar with the comic book series, then you should definitely keep that in mind as you keep reading or watching. If you know what's coming, then spoilers probably aren't going to be a big deal for you; but there may be some discussion (translation: rants) of either subtle changes or drastic differences that you might want to avoid until you see them for yourself.
HAPPY! is based on New York Times best-selling author Grant Morrison and Darick Robertson's graphic novel of the same name. The series follows Nick Sax (Christopher Meloni, Law & Order: SVU) – an intoxicated, corrupt ex-cop turned hit man – who is adrift in a world of casual murder, soulless sex and betrayal. After a hit gone wrong, his inebriated life is forever changed by a tiny, relentlessly positive, imaginary blue winged horse named Happy (Patton Oswalt).

● This page should update…but just to be on the safe side I strongly suggest you refresh every now and then to make sure because I've been known to ramble often and quickly.
● If you're going to social media to talk about what we're talking about, go with: #bclive and #liveblog.
● Don't forget to check out some of the cool Happy! stuff we have waiting for you below.
● So that's it! Check-back here for some interesting stuff…our "pre-game" starts at 9:00 pm ET, with "The Big Show" starting at 10:00 pm EST! Get caught up on the fourth episode with our recap of 'Year of the Horse' here: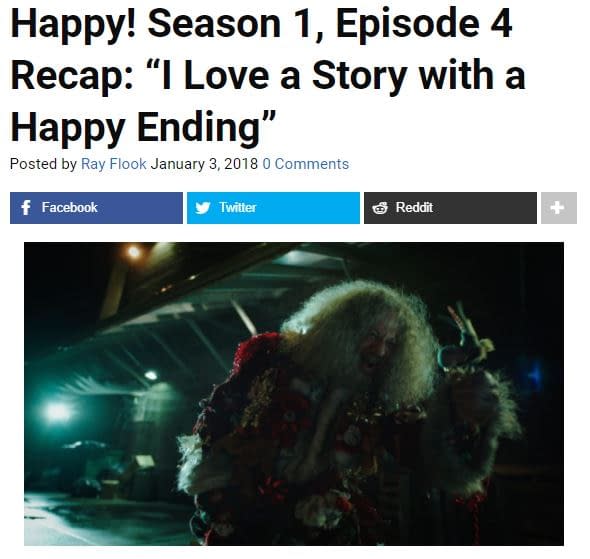 Here's a look back at Nick Sax's (Christopher Meloni) return to Chinatown to track down a major lead – and it goes about as well as we think it would:
The Weekly Static was lucky enough to grab a few minutes with Patrick Fischler, Happy!'s resident sociopath, mob enforcer and man who enjoys interrogating people a little too much: Smoothie…

Happy! to Oblige: A Recap of Our Recaps Before Tonight's New Episode
Grant Morrison Talks Happy! and How Networks Now Want "More"
Happy Trails! Episode 104: Join Us for Bleeding Cool's Happy! Live-Blog!
Happy! Season 1, Episode 3 Recap: "Does It Matter?"
Happy Trails! Episode 103: Join Us for Bleeding Cool's Happy! Live-Blog!
Happy! Season 1, Episode 2 Recap: "Everyone Hates You, Sax"
The Weekly Static Interviews: Patrick Fischler of Happy! and Twin Peaks
Happy Trails! Episode 102: Join Us for Bleeding Cool's Happy! Live-Blog!
Happy! Season 1, Episode 1 Recap: "Less Paperwork if He's Dead."
Happy Trails!: Join Us for Bleeding Cool's Happy! Live-Blog!
First Impressions Of Syfy's 'Happy!' Pilot And More From NYCC 2017