'McMafia': AMC Bringing Misha Glenny's Mob Book To Series
AMC was made an offer it couldn't refuse, closing a co-production pact with the BBC and securing North American broadcast rights for international organized crime thriller McMafia. Created by Hossein Amini (The Alienist) and James Watkins (The Woman In Black) from a script by Watkins and inspired by Misha Glenny's best-selling non-fiction book. McMafia will also premiere in over 200 countries (excluding North America, the U.K. and China) after Amazon Prime finalized a deal with BBC Worldwide for international streaming rights.
McMafia introduces us to Alex Godman (James Norton, Happy Valley), an English-raised son of Russian exiles with a mafia history, who has spent his life trying to escape the shadow of his family's criminal background. As he begins building his own legitimate business and forging a new life with girlfriend Rebecca (Juliet Rylance, The Knick), his family's past returns to threaten them — forcing Alex to question his values to protect the ones he loves.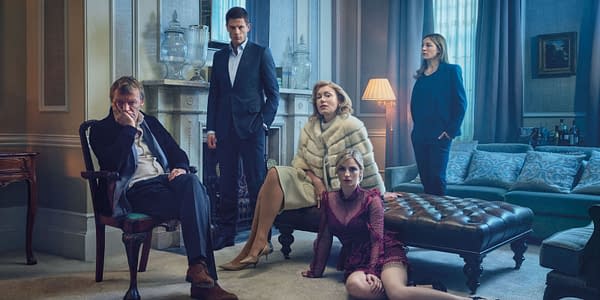 Joining Norton and Rylance on the cast are: David Strathairn (Good Night, and Good Luck), Faye Marsay (Love Nina, Game Of Thrones) and Russian actor Aleksey Serebryakov (Leviathan). Published by Knopf in 2008, here is an overview of Glenny's McMafia: A Journey Through the Global Criminal Underworld:
"With the collapse of the Soviet Union, the fall of the Berlin Wall, and the deregulation of international financial markets in 1989, governments and entrepreneurs alike became intoxicated by dreams of newly opened markets. But no one could have foreseen that the greatest success story to arise from these events would be the worldwide rise of organized crime. Today, it is estimated that illegal trade accounts for one-fifth of the global GDP.

In this fearless and wholly authoritative investigation of the seemingly insatiable demand for illegal wares, veteran reporter Misha Glenny travels across five continents to speak with participants from every level of the global underworld—police, victims, politicians, and even the criminals themselves. What follows is a groundbreaking, propulsive look at an unprecedented phenomenon from a savvy, street-wise guide."
McMafia is a co-production from the BBC, AMCN and Cuba Pictures in association with Twickenham Studios, and distributed internationally by BBC Worldwide. Nick Marston, Dixie Linder, Ben Hall and Robyn Slovo (Cuba Pictures); Elizabeth Kilgarriff (BBC One); and Amini, Watkins and Glenny are serving as executive producers.