The Rain: Netflix Releases Teaser for Post-Apocalyptic Virus Series
Brutal apocalyptic viruses: it's not just for Americans anymore. In their continuing effort to remind viewers that screaming in fear is an international language, Netflix has released a teaser for their new, post-apocalyptic series The Rain. Serving as the streaming service's first co-production with Denmark, the series was created by Jannik Tai Mosholt (Borgen), Esben Toft Jacobsen and Christian Potalivo. The Rain stars Alba August, Mikkel Boe Følsgaard, Lucas Lynggaard Tønnesen and Lars Simonsen (The Bridge); and is set for a Spring 2018 release.
"Civilization is very fickle. It's a thin layer spread out over thousands of years of basic survival. And now, after a sudden burst of inspiration, we humans believe that we have it all under control. I want to find out whether this is true. What is left of us when civilization is stripped away in an instant. How do we survive? Do we go back to being animals or do we rise to the occasion, insisting on bringing humanity into an inhumane world. I am so thrilled to be making this show with Netflix and Miso Film, and I couldn't be happier with the cast and can't wait to put them in a post-apocalyptic Scandinavia, where all the straight lines of the controlled North have shattered, and let uncontrolled nature take over everything." – Mosholt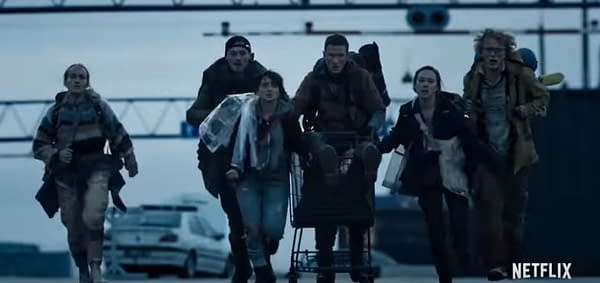 You can view the teaser and synopsis for Netflix's The Rain here:
The world as we know it has ended. Six years after a brutal virus carried by the rain wiped out almost all humans in Scandinavia, two Danish siblings emerge from the safety of their bunker to find all remnants of civilization gone. Soon they join a group of young survivors and together set out on a danger-filled quest through abandoned Scandinavia, searching for any sign of life.

Set free from their collective past and societal rules the group has the freedom to be who they want to be. In their struggle for survival, they discover that even in a post-apocalyptic world there's still love, jealousy, coming of age, and many of the problems they thought they'd left behind with the disappearance of the world they once knew.