Filmmaker Sues the Duffer Brothers for Allegedly Stealing 'Stranger Things' Concept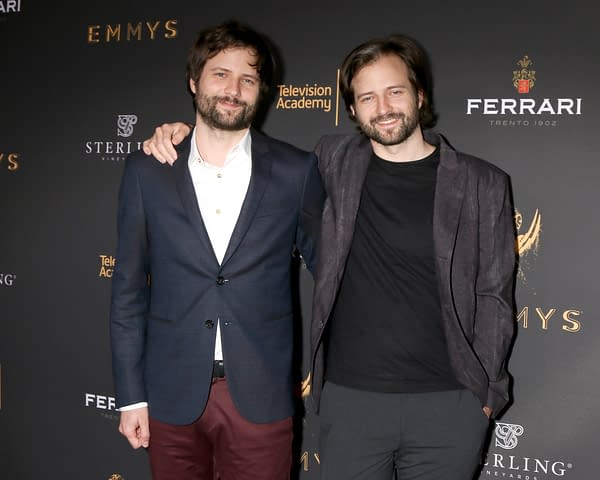 The road to Stranger Things' third season on Netflix has been a good news-bad news roller coaster for series creators Matt and Ross Duffer (The Duffer Brothers) over the past several weeks. With news of the cast getting raises and the show being featured in this year's Universal Studios' Halloween Horror came allegations of verbal abuse on set by ex-crew member Peyton Brown, and now the Duffer Brothers are being accused of stealing the original concept for the series.
TMZ reports filmmaker Charlie Kessler is suing the Stranger Things creators, claiming that they used his script, idea, and story from his 2012 Hamptons International Film Festival award-winning short film The Montauk Project for their series. Kessler claims that he pitched his film's concept — also about top secret government experiments — to the Duffer Brothers as a television series, but never received a response back. He further alleges that Stranger Things was even initially pitched with the same name as his short film.
Kessler claims he was "shocked" when Stranger Things premiered in 2016 and he saw the similarities to his work. The filmmaker is looking for financial restitution and the destruction of all materials allegedly based off his concepts.
Production on Stranger Things season 3 (Stranger Things 3?) is expected to begin production this month, with the eight-episode season moving the show's timeline ahead a year and introducing new "big bads" for our heroes to confront. Priah Ferguson's Erica Sinclair — Lucas's (Caleb McLaughlin) little sister — has been promoted to series regular, and Maya Hawke (Little Women) has joined as a new still-unknown series regular.
Netflix's Stranger Things stars Finn Wolfhard, Millie Bobby Brown, Gaten Matarazzo, Noah Schnapp, Winona Ryder, David Harbour, Natalia Dyer, Charlie Heaton and McLaughlin.

Reporter's Note: Since you've had a chance to look at The Montauk Project and we're on the topic of projects that strike eerie similarities to earlier projects, let me introduce you to 1998's The Last Broadcast — a found footage horror film from Stefan Avalos and Lance Weiler — and I'll leave it to you to form your own opinions.
Told in documentary format, The Last Broadcast focuses on a man convicted of murdering multiple people one night while searching for the Jersey Devil in the New Jersey Pine Barrens in 1995, as well as the legitimacy of his conviction:
Fact or Fiction was an innocuous cable access show. Steven Avkast and Locus Wheeler were the hosts who had developed a near cult status among the local youth. In it's waning hour, they put on the "Jersey Devil" episode, a live broadcast featuring a journey to a remote location in the Pine Barrens of New Jersey. Two fans they met on the Internet, Rein Clackin and Jim Suerd were enlisted to help.

The idea seemed harmless enough.

What happened became known as the Jersey Devil murders.

It took the Police two days to find the body parts.

It took the coroner four days to put them back together.

It took the jury only one and a half hours to sentence Jim Suerd to life in prison.

They had their man. All the evidence pointed toward him. Four people went into the woods, one came out alive, blood of the three on his clothing. The damning videotape shot by the victims sealed his fate.

Why would he commit two, most likely three murders so monstrous as to defy description?

Filmmaker, David Leigh forces the viewer to confront an alternate version of the facts; to ask the question, "Did Jim really do it?"; and finally uncovers a truth; a truth more horrible than ever imagined.