The firehouse in Tacoma FD is about to get a little more crowded, with Kirby Bliss-Blanton (The Green Inferno), Marcus Henderson (Get Out), Eugene Cordero (Crazy Ex-Girlfriend), and Gabriel Hogan (Condor) set to join Broken Lizard vets and series co-creators Kevin Heffernan (above, left) and Steve Lemme (Super Troopers, Club Dread) in the truTV comedy pilot. Production is expected to begin later this month in Los Angeles; with Heffernan and Lemme executive producing alongside David Miner and Greg Walter from 3 Arts Entertainment, and Kyle Clark from Silverscreen Pictures.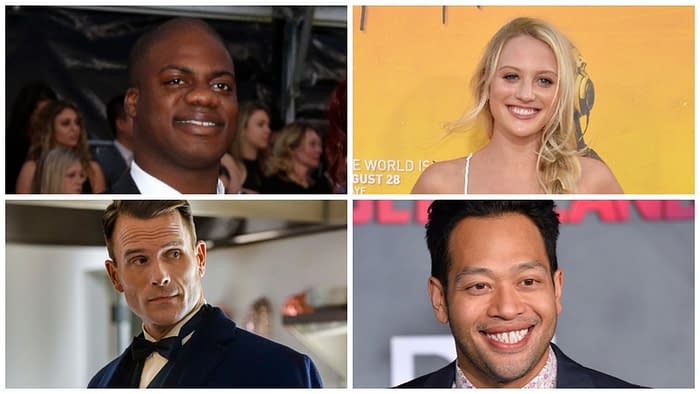 Tacoma FD is described as a series "set in a firehouse in the wettest city in America. Light on blazes that need extinguishing, they are basically firefighters who are always ready to fight fires… but in this wet city, they also have to fight their own boredom." Here's a rundown on the supporting cast:
Lucy O'Malley (Bliss-Blanton): A rookie firefighter and the first female ever assigned to her father's station. In addition to battling fires, she's also constantly battling gender roles and is intent on proving she belongs in this world.
Granville "Granny" Smith (Henderson): An accomplished paramedic and firefighter in the station house. A former military member, he served as a medic in Afghanistan and has seen it all.
Andy Parrish (Cordero): A good firefighter who's dealing with some personal issues – namely the fact that he is going prematurely bald.
Ike Crystal (Hogan): A hulking and handsome firefighter – but not exactly the smartest guy in the room. He also moonlights as an exotic dancer.
Along with Eli Roth and Jason Blum's The Green Inferno, Bliss-Blanton also starred in Warner Bros' comedy Project X. She recently completed filming on Wish Man, the true story of the Make-a-Wish Foundation and the couple that founded it. Henderson recently starred in Jordan Peele's Oscar-nominated film Get Out and on FX's Snowfall. Cordero has also appeared in the film Kong: Skull Island and Netflix series Grace And Frankie. Hogan appears on both Audience's Condor and CBC's Heartland.
Enjoyed this article? Share it!