The Walking Dead: Negan Pens Touching Tribute to Chandler Riggs
We've had Chander Riggs' small screen dad Andrew Lincoln express his feelings about the death of his "son" Carl Grimes and Riggs leaving AMC's The Walking Dead both in song and in character, and now it's time to "say hello to The Bad Guy" and see how Jeffrey Dean Morgan (Negan) handled saying goodbye to his friend/cast mate. Just to be clear, there might be a helluva' lot less F-bombs than you'd normally expect from Morgan when it involves The Walking Dead; with Morgan's emotional words hitting harder than Negan hit Glenn.
What? Too soon?
Here's Morgan's touching message to Riggs from his official Facebook page: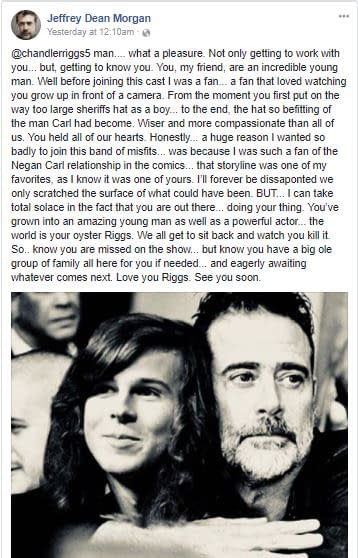 @JeffreyDeanMorgan: "@chandlerriggs5 man…. what a pleasure. Not only getting to work with you… but, getting to know you. You, my friend, are an incredible young man. Well before joining this cast I was a fan… a fan that loved watching you grow up in front of a camera. From the moment you first put on the way too large sheriffs hat as a boy… to the end, the hat so befitting of the man Carl had become. Wiser and more compassionate than all of us. You held all of our hearts. Honestly… a huge reason I wanted so badly to join this band of misfits… was because I was such a fan of the Negan Carl relationship in the comics… that storyline was one of my favorites, as I know it was one of yours. I'll forever be dissaponted we only scratched the surface of what could have been. BUT… I can take total solace in the fact that you are out there… doing your thing. You've grown into an amazing young man as well as a powerful actor… the world is your oyster Riggs. We all get to sit back and watch you kill it. So.. know you are missed on the show… but know you have a big ole group of family all here for you if needed… and eagerly awaiting whatever comes next. Love you Riggs. See you soon."
Here's the most recent mid-season trailer for the second-half of The Walking Dead's eighth season (try saying that fast five times) along with the official AMC synopsis:
All out war has had a devastating impact on every person involved. The communities themselves are fractured. Alexandria has been destroyed, the Hilltop finds themselves pinned, and the Kingdom is shattered — half of them dead, the other half controlled by the Saviors.

At the very center — Rick, having been distracted by the conflict, has just returned home to learn that Carl, who heroically shepherded the Alexandrians to safety during Negan's attack, has been bitten by a walker. Once his sole motivation in this otherwise stark existence, Rick is forced to deal with this reality. Carl has always been a beacon of hope, a symbol for the remaining thread of humanity — lessons that the survivors around him would be wise to take with them as this war surges onward.

But Rick isn't the only person who's living in peril. Aaron and Enid are in a dire situation at Oceanside — unclear if they're in friendly territory, or if they've just made new enemies. Father Gabriel will do his part in attempting to smuggle Dr. Carson safely back to the Hilltop and a pregnant Maggie is wrestling with the many moral gray areas that come with leadership during war. In a standoff with the Saviors, she must decide how to proceed with the dozens of POW lives she's currently in control of, as well as new complications that come with being a leader.

In addition to the war, Negan continues to deal with struggles within his ranks as workers, traitors, and others' thirst for power cause conflict at the Sanctuary. Having gifted the Saviors a major victory, Eugene's loyalty is repeatedly tested as new obstacles present themselves.

As all-out-war consumes us, the line between good and evil continues to blur. People fighting for what they believe in. Everybody working together for something bigger — to feel safe and have a world worth living in.
The Walking Dead stars Andrew Lincoln (Rick Grimes), Jeffrey Dean Morgan (Negan), Norman Reedus (Daryl Dixon), Lauren Cohan (Maggie Greene), Danai Gurira (Michonne), Melissa McBride (Carol Peletier), Lennie James (Morgan Jones), Seth Gilliam (Father Gabriel Stokes), Alanna Masterson (Tara Chambler), Khary Payton (King Ezekiel); with Gale Anne Hurd, Greg Nicotero, David Alpert, out-going showrunner Scott M. Gimple and franchise creator Robert Kirkman serving as executive producers.
---
---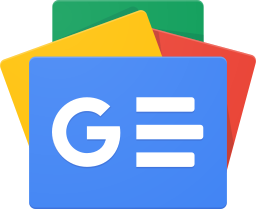 Stay up-to-date and support the site by following Bleeding Cool on Google News today!