Tuca & Bertie: Tiffany Haddish Joins New 'BoJack' Team Series
Netflix continues its foray into the world of troubled animated animals with Tuca & Bertie, a new animated series from BoJack Horseman's producer/production designer Lisa Hanawalt. The 10-episode series will highlight the friendship between two 30-year-old bird women who also live in the same apartment building: Tuca, a cocky, care-free toucan; and Bertie, an anxious, daydreaming songbird. Tiffany Haddish (Girls Trip) is expected to voice Tuca and will serve as executive producer; though no voice actor has been attached to Bertie yet.
The series will definitely have the BoJack Horseman "seal of approval" moving forward: Along with Hanawalt, Raphael Bob-Waksberg (The LEGO Movie Sequel), Noel Bright (Friends) and Steven A. Cohen (Jack & Bobby) will serve as executive producers. The Tornante Company will house production, with ShadowMachine (BoJack Horseman, Final Space) handling animation.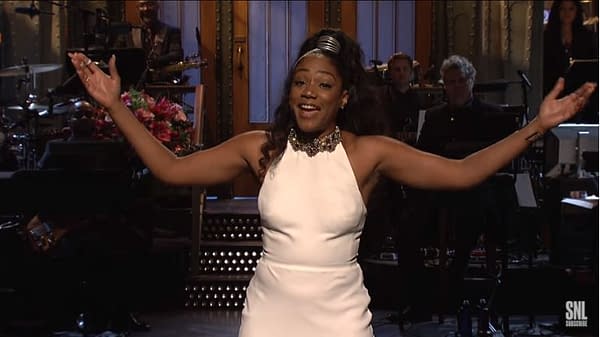 With a first-look deal at HBO and a New York Times bestseller in December 2017, Haddish has become a major media player. She'll next appear with Tracy Morgan in TBS' The Last O.G.; and with Kevin Hart in Night School. Other upcoming projects for Haddish include Limited Partners, The Oath and The Kitchen.
In a January 2018 interview with Vulture, Haddish discussed how she felt about being asked to announce this year's Oscar nominations:
"Some days, I'm like, 'Yeah, that's exactly what I worked for, and I manifested it ten years ago. I didn't know how I was going to get here, but I got here.' And sometimes, it's like when they asked me to read the Oscar nominations. I couldn't even go to sleep afterwards! Mind you, I had just flown in from Africa, I spent all day on another project, and they came and picked me up from my house at midnight. I tried to learn all these names, but I don't speak foreign languages like that — I speak Japanese and some Spanish, but these names were like Italian and they had so many vowels in 'em! And I was so sleepy because I usually go to bed by 2 and now it's 5 a.m."