Walking Dead Stuntman John Bernecker's Mother to "Seek Justice" for Son's On-Set Death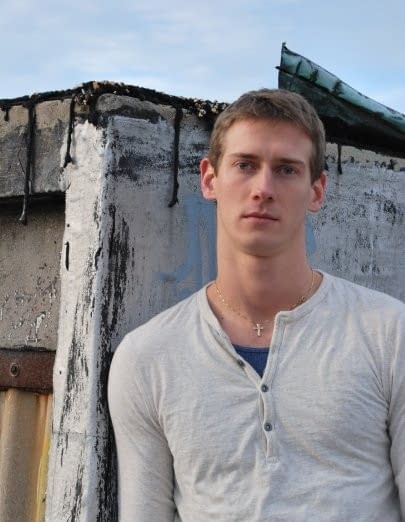 Less than twenty-four hours after the U.S. Department of Labor's Occupational Safety and Health Administration (OSHA) issued a serious citation with the maximum fine amount allowed to The Walking Dead producer Stalwart Films, late stuntman John Bernecker's mother, Susan Bernecker, says that she intends to "seek justice for John and to ensure that no other parent with a child working in the film and television industry suffers this kind of heartbreak."
"There are no words to describe the loss of my son, John, who was a highly professional, veteran stuntman with a remarkable passion for life. He was very respected and loved in the film industry. This tragedy has changed our family forever and has left us with many questions that deserve answers." – Susan Bernecker
Jeff R. Harris, who recently represented the parents of Sarah Jones, the camera assistant killed on the set of Midnight Rider in 2014, is serving as legal counsel for Bernecker.
"We have been waiting for the OSHA investigation to conclude so that we can proceed with civil litigation. We are hopeful that the John Bernecker case will elevate safety standards in the film and television industry so that stunt-related tragedies can be avoided in the future." – Jeff R. Harris
On Friday, OSHA hit Stalwart Films with the maximum fine allowable by law under the citation issued. In OSHA's official statement regarding the fine that was released, Stalwart Films was called out for "failing to protect employees from fall hazards while filming the television show, The Walking Dead."
OSHA's statement continued:
"OSHA issued a serious citation and proposed penalties totaling the maximum allowable fine of $12,675, for the company's failure to provide adequate protection from fall hazards. OSHA investigated Stalwart's filming location in Senoia after a stuntman was fatally injured after falling more than 20 feet."
In a statement, Stalwart Films acknowledged the tragedy behind the accident that took Bernecker's life, but disagreed with OSHA's decision and implied that this may not be the end of the matter:
"This was a tragic and terrible accident. We take the safety of our employees extremely seriously on all of our sets and comply with – and frequently exceed – industry safety standards. We disagree with the issuance of this citation and are considering our response."
As background, the vast majority of citations issued by OSHA violation citations are classified as "serious," with more severe citation categories including "repeat" and "willful" violations that would result in heavier fines.
"This tragedy should serve as a wake-up call for the entertainment industry. The entire industry needs to commit to safety practices for actors and stunt people involved in this type of work." – Kurt Petermeyer, OSHA Atlanta Regional Administrator In July 2017, Bernecker was filming a stunt for The Walking Dead's eighth season that would've had him falling approximately 22 feet off of a balcony and onto a safety cushion that was set below. Assistant director Matthew Goodwin stated that Bernecker did not achieve "good separation" from the balcony; resulting in severe injuries that the Coweta County Sheriff's Office reports were caused by the stuntman landing on his head and neck on the concrete next to the safety cushion. Immediate aid was rendered, and Bernecker was airlifted to an Atlanta medical center where he was place on a ventilator. His family asked that the ventilator be turned off the following day.
Production on The Walking Dead was suspended briefly, and a number of cast and crew took to social media to express their heartbreak and condolences. Showrunner Scott M. Gimple and executive producers Gale Anne Hurd, Robert Kirkman, Dave Alpert, and Greg Nicotero cancelled their panel at the Television Critics Association (TCA) press event to attend Bernecker's funeral.
Source: Deadline Hollywood