Dragon Con Offers Full Streaming Membership For 2017
Labor Day Weekend is one of the most densely populated convention and event weekends in the country, and Atlanta's Dragon Con is one of the top destinations for the nerdy and geeky alike. 2017 will see Dragon Con's 3oth year (31st event, actually), and the second for online streaming of events.
One of the highlights of being physically present at the con is Dragon Con TV, a full 24-hour channel viewable on the host hotel's access channel. It's kind of like Adult Swim, with its humorous bumper adds between fan created videos and panels, and there isn't anything like it at any other US convention. Last year, the convention offered limited streaming of a small fraction of their panel offerings beyond Dragon Con TV, and fans seemed to really enjoy the chance to be a part of the con even without being present.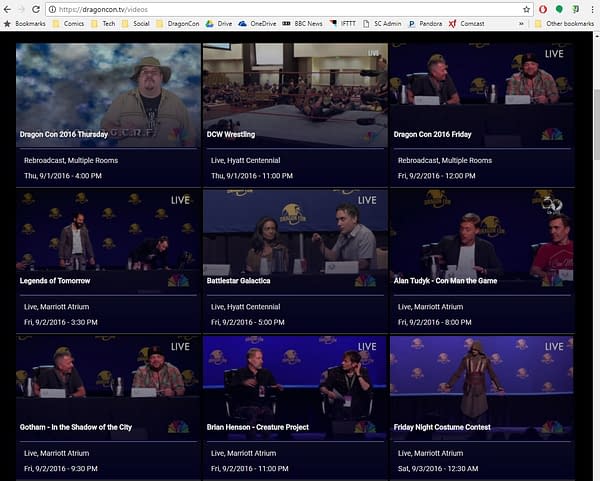 The live streaming service, nearly identical to the video carried on the in-house channels of the five host hotels, will be available for $30 to fans who cannot attend the convention. Members — those purchasing at least a single day DragonCon badge — will be able to subscribe for $10.
Convention co-chair Rachel Reeves said of the offering:
"This really is a 'best of' Dragon Con opportunity. Programming will include conversations with our top guests, a front-row seat to the queen of costume competitions, the Masquerade, and getting up close with Dragon Con Wrestling. Making live streaming available for members was a critical element of this service so that our fans can take a break from the convention but still get a chance to keep up with all the action."
In addition to the five host hotels, Dragon Con fans stay at approximately two dozen convention hotels and some Georgia residents commute from their homes to the convention.
Pre-convention sales of streaming subscriptions are available to members through August 26th at the Dragon Con online store, and via Dragon Con TV for those not attending the convention. Subscriptions will also be available during the convention at Onsite Registration and retail stores.
The internet stream is scheduled to start Thursday, August 31st at noon and will conclude Monday, September 4th at 2:00 p.m.