Lee Bermejo on the Origins of Batman Damned and Not Wanting to Draw Guns, at #NYCC
Comic book creator Lee Bermejo talked on panel yesterday at New York Comic Con about his work and his process, at the New York Comic Con. Artist on books such as Joker, Before Watchmen: Rorschach, Lex Luthor: Man of Steel, the recent Batman Damned, and writer/artist on Suiciders and Batman: Noel, his work gained infamy when a handful of panels from Damned reached the international media. But Bermejo wasn't talking about that.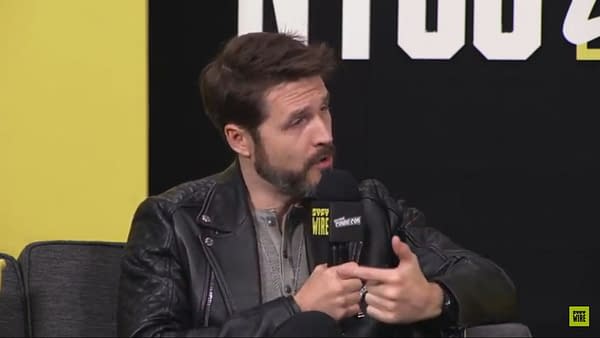 He did talk about the origin of Batman Damned coming from two projects with writer Brian Azzarello, a sequel to their original Joker graphic novel and a Justice League Dark story that Azzarello had written but that had never happened. And with Bermejo wanting to draw characters such as Swamp Thing and John Constantine, the two projects merged. He talked about wanted to do a story that felt like a nightmare – something that I'm sure DC Comics PR believe he achieved. And how Batman Damned was written Marvel-style, light plotted by Azzarello, and scripted from Bermejo's art and how this was the first time they'd worked like this, which meant they could keep surprising each other. And everyone else of course.
He talked about his disdain for drawing the Riddler, that he can't stand the character and that Azzarello had to do a lot to convince him otherwise the first time. The other thing he doesn't like drawing is guns. He hates drawing them. Not on an ethical level or anything, he joked that he has no sense of ethics whatsoever, just that they are really difficult to draw in perspective, they can't look too big or too small or they look ridiculous, each one has different set of proportions, there's so much need to reference, and mainly it's just a pain the ass. He talked about how some people use 3D modelling for such things, and that's something he needs to look into.
3D models can make all sorts of things easier to draw…