"Doctor Who: The Edge of Time" VR Demo at SDCC 2019
During Thursday of Comic-Con, Bleeding Cool played the latest offering from Maze Theory, the immersive Doctor Who virtual reality experience, The Edge of Time. The game has the player acting as an unnamed Companion to the Doctor, voiced by actual Thirteenth Doctor, Jodie Whittaker. The short playthrough has the player navigate a junkyard (a staple of classic Who stories) gathering items to build a device to call down the TARDIS. Players can use the Sonic Screwdriver to manipulate the environment and help to activate the aforementioned fourth-dimensional phone box. As this is going on flying saucers containing Daleks arrive to threaten your mission.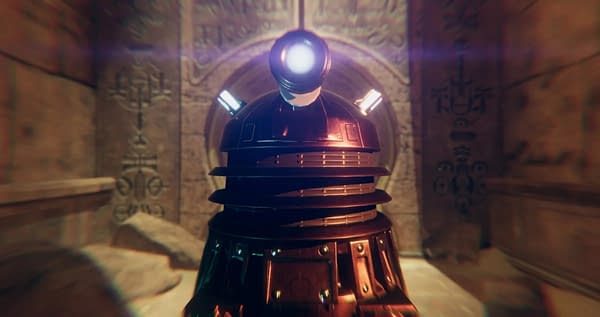 Having never played a VR game before, the entire experience was seamless with the controls allowing for a short learning curve and a completely immersive experience. The best part is being able to navigate inside the TARDIS and that the game includes a credits sequence that is directly out of the show itself. Ian Hambleton, Maze Theory CEO, said that this credit sequence was something his team really pushed for, feeling that it is an iconic bit from the show and that the adventure the player is on in the game would risk feeling empty without it. Hambleton added that a later level would feature the iconic Weeping Angels and a game mechanic that the player will need to complete the mission without taking their eyes off of the enemies (though the player will not have to worry about 'blinking'). Comic-Con attendees are invited to come by Booth #4129 to try the game for themselves. The game will launch on PlayStation VR, Oculus Rift, HTC Vive, and Vive Cosmos in September 2019.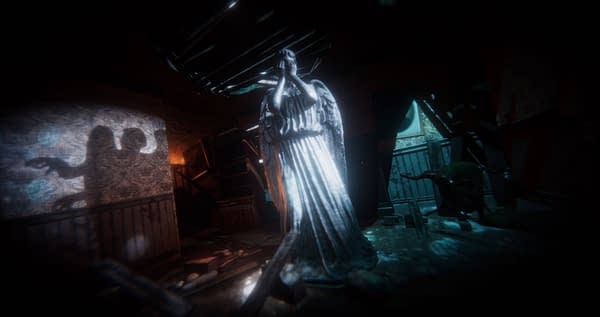 Check out the teaser trailer: