Erin Wilhelm writes from San Diego Comic-Con:
Hasbro's Star Wars team brought brand representatives and toy designers from their Black, Vintage, and Forces of Destiny toy lines to discuss the loads of new releases they have coming out in anticipation of The Last Jedi. In a move that is going to please a lot of fans, there are several new female character releases coming out this year including Rey, General Leia, Hoth Leia, Padme, Maz Kanata, Doctor Aphra, and Jyn Erso.
To open, the panel came out with Force FX lightsabers that they gave away to audience members (I didn't get one ☹). But one panel member didn't give his up, instead announcing that the one he was holding is the premiere of Rey's Force FX lightsaber, seen for the first time today.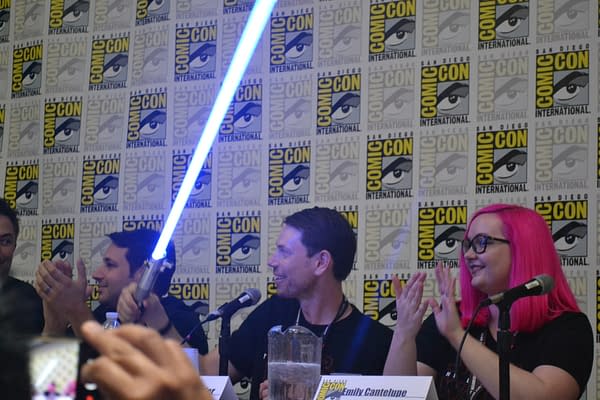 The Black Series team then launched immediately into their Star Wars SDCC exclusives for 2017, and they are awesome. One of the most exciting exclusives is Grand Admiral Thrawn with all of his excellent easter egg "artifacts" from his office, including the carpenter's chalice from Raiders of the Lost Ark. The Luke with Speeder is an early release here at SDCC, on a six-inch scale, with a soft goods tunic and an engine that has reveals. Additionally, there is a SDCC exclusive Rey and Old Luke from The Last Jedi two-pack, with both in the outfits from the new movie.
Upcoming Black Series figures announced for the first time include:
A Rebel Fleet Trooper from the end of Rogue One, comes complete with Death Star data card and removable helmet.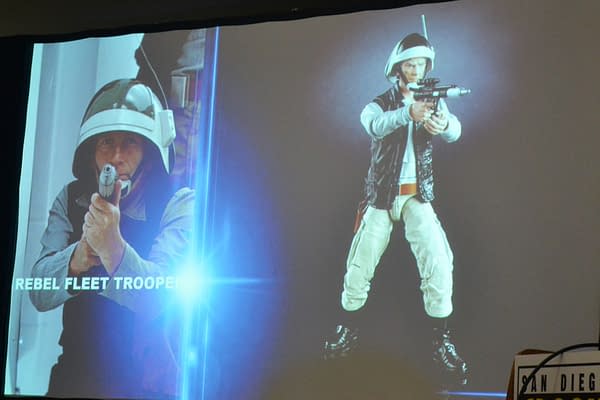 A Sandtrooper riding a Dewback. The Dewback is completely posable with an articulated tongue and a realistic texture.
To the joy of fans of the Star Wars animated shows, Black Series will be coming out with a Captain Rex figure, using the same highly realistic manufacturing process as The Force Awakens Rey figure. Rex will have exchangeable head piece, to either be wearing his helmet or not wearing the helmet.
After a long wait, a General Leia Organa figure from The Force Awakens is coming, complete with a removable purple jacket.
Last for the six-inch scale figures, Maz Kanata, who will come complete with treasure chest that you can open and find the lightsaber. Her goggles can be posed, as well.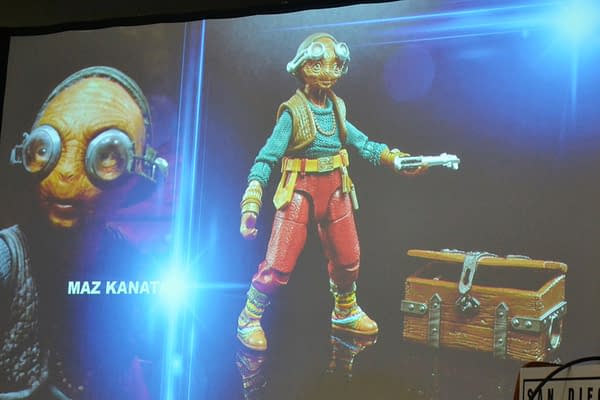 In addition to all of the above six-inch scale figures, Black series will also be releasing seven new 3.75' figures or figure two-packs. These include Hoth Leia (YAY!), Luke with a wampa (removable arm included), Darth Vader with an Imperial Probe Droid, Han Solo and Boba Fett, Qui-gon Jinn and Darth Maul, a Rathtar, and the Emperor from The Return of the Jedi with Force lightning replacement hands.
In their Vintage Line, Hasbro is adding a number of new and classic characters including Rey, Kylo Ren, a New Order Stormtrooper, Jyn Erso, a Death Trooper, Cassian Andor, an Assault Tank Trooper, as well as much-loved comic character Doctor Aphra. All figures will come in the line's signature vintage packaging and be completely articulated.
Why an Assault Tank Trooper, one might ask? Maybe because they are also releasing a completely accurate Assault Tank that fits the figure and is film accurate (and apparently also includes a coffee cup in the cockpit).
Finally, the panel discussed the much-anticipated Forces of Destiny doll line, meant to bridge the gap between traditional dolls and action figures. With three dolls out already, Jyn Erso, Rey, and Sabine Wren, Hasbro also debuted the Padme Amidala from The Clone Wars doll. The doll will be available to purchase on Monday (they are not selling it at SDCC, I checked).
Many of these figures will likely be available on Force Friday, September 1st, so have your credit cards on hand!
Enjoyed this article? Share it!