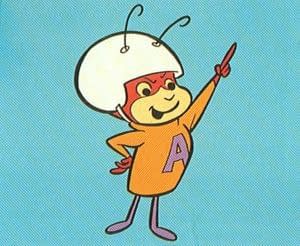 This year Warner Archive Collection returns to SDCC with two panels. One focuses on Ray Harryhausen and Hammer Horror with a tribute to the late Christopher Lee. The other is a 50th anniversary salute to the tiniest member of the Hanna-Barbera family, Atom Ant along with a celebration of the 1983 animated feature from Lucasfilms, Twice Upon A Time.
Friday July 10 – 11:00 a.m. Atom Ant Animation Spectacular!
Fans are invited to celebrate the 50th Anniversary of the original pint-sized powerhouse, Atom Ant, along with a bevy of animation favorites from throughout the ages, including a look at the upcoming Warner Archive release of the beloved 1983 Lucasfilm animated movie, John Korty's Twice Upon A Time. Spend an hour reminiscing over great animation with WAC Podcast hosts George Feltenstein, Matthew Patterson and DW Ferranti, Twice Upon A Time animator Brian Narelle (Dark Star's Lt. Doolittle) and noted animation historian Jerry Beck. Moderator Gary Miereanu might even have a few WAC Blu-rays and DVDs for lucky audience members. Room 25ABC
Saturday, July 11 – 2:00 p.m. High Def Horror: Hammer Horror Meets Harryhausen.
Warner Archive and Trailers From Hell combine forces for a third straight year to sneak a peek at some exciting upcoming releases from Warner Bros. Home Entertainment (WBHE) that will please fans of Hammer films and the legendary Ray Harryhausen. Award winning director Joe Dante (Innerspace, Gremlins) joins Feltenstein, Ferranti and Patterson to discuss such classics as The Beast From 20,000 Fathoms, Dracula Has Risen From the Grave, Them! and more. A special Hammer tribute to the late Christopher Lee is planned for the panel. And as an added treat, Dante will chat about the intricacies of the 1987 hit Innerspace, which WBHE will be releasing on Blu-ray in 2015. Giveaways are also a distinct possibility, especially for those with good questions of the panelists. Room 25ABC
Enjoyed this article? Share it!