'The Magicians': A Frank, Emotional Talk About Trauma And Mental Illness At NYCC
From Bleeding Cool reporter Amanda Gurall: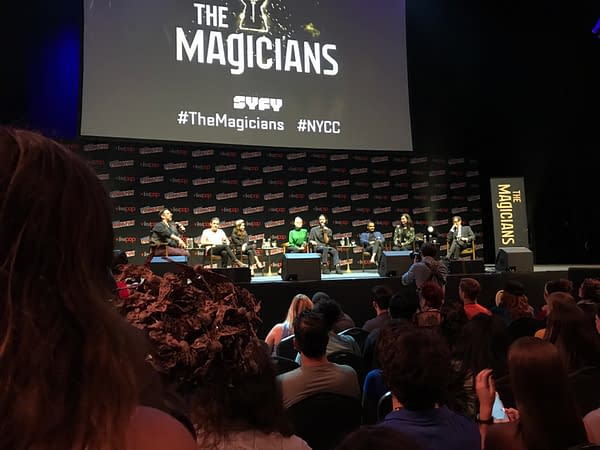 Syfy presented The Magicians at the Hammerstein Ballroom at NYCC with executive producers Sera Gamble and John McNamera and cast members Jason Ralph (Quentin), Stella Maeve (Julia), Olivia Taylor Dudley (Alice), Arjun Gupta (Penny) and Hale Appleman (Eliot). Summer Bishil, who plays Margo, was sick and did not attend.
The Magicians Season 3 is set to premiere in January and will continue the story of the magicians trying to restore magic to the worlds they inhabit.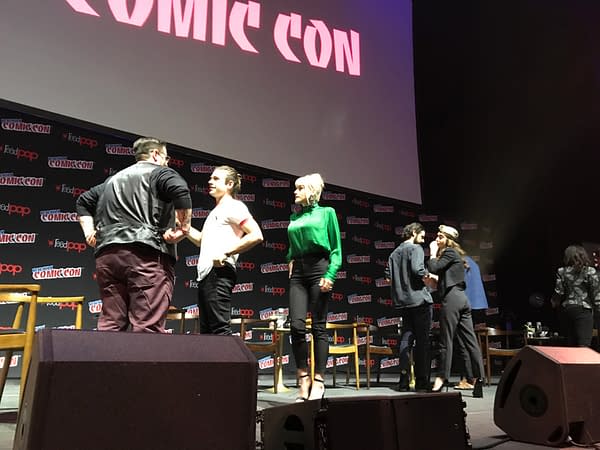 They screened a scene from the first episode of Season 3. Writer Gamble said that Quentin and Julia have angered the old gods, but Quentin thinks if they can find some other gods, perhaps they can get some help. Josh, the worldly epic partier, finds a God for them to speak to. This was their first attempt at asking the gods to reconsider.
The clip showed the two friends in some kind of party space trying to meekly talk to a god, who says:
"Kid. I am Bacchus. I am the god of not being a wiggly little anxious wet dishrag that (mocking Quentin) 'uh oh I'd really like to talk to you', so I am going to need you to unclench your vagina and do this shot or I'm. Moving. On."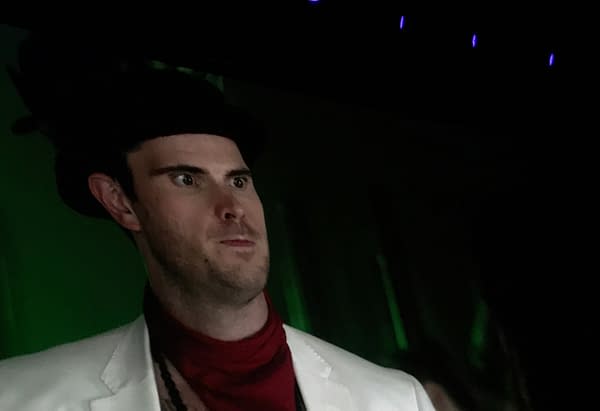 Q points out how sexist the comment was, but Bacchus counts down and they do the shots. Bacchus is surprised when Julia tells him that magic is gone:
"Well, that sucks for you. Why?"
Quentin answers, "Well, I sorta killed a god — a very minor god."
In anger, Bacchus replies, "WHO? Who the f**k did you kill?"
"Uh, Ember?" Q answers nervously.
"I don't know that guy," Bacchus says, and breaks out in laughter. "Tough choices make a man, man. Open your mouth. Happy Birthday."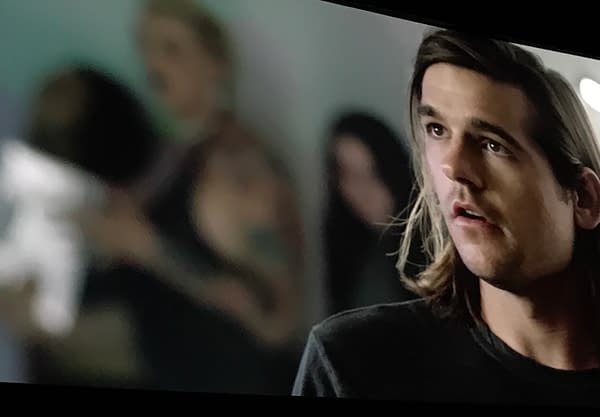 Bacchus then places a drug on Quentin's tongue — and the clip ends. The cast said after that Q freaks out, his world goes crazy. I wish we had seen more, but it was a fun start to the panel.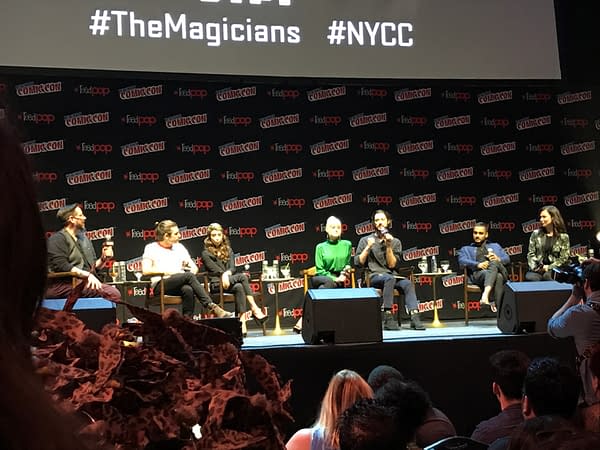 So what did we find out about next season?
1. Julia has magic, but the reason she does is not a simple answer. We won't have to wait until the end of the season to find out what's going on. Her relationship to the magic she has changes a lot over the season.
2. There might be another musical scene.
3. Alice and Julia's relationship will be investigated and expanded.
4. Penny will have a new wardrobe inspired by Cary Grant in North by Northwest.
5. Fen and Elliot's relationship is based on respect and may have a silver lining.
6. The group will somehow end up on a living ship.
TV Guide's Damian Holbrook moderated the panel and asked some great questions.
Quentin might be the worst hero ever, but he keeps trying. It feels like he has evolved out of the self-sabotaging depressive state and accepted his position as one of many.
Ralph: "He is doing his damnedest. I think there is something interesting about this person who is innately selfish, who has selfless tendencies. I think those are the things that are bonding him with this group of people and are the things that thrust him into the heroic moments."
What he did for Alice last season was risky; so risky that it backfired. Why do you think these characters have connected so well with the fans?
Gupta: "I think that we were blessed with great source material that was very human to begin with. I look in this crowd and it seems like there are a lot of people our age. For those of us in our generation we are lost. We are a lost generation that doesn't fucking have a clue, man. (Audience cheers) shout out to those who are older-"

McNamera: "I can provide some perspective form the other side, from age 56.. It don't get no better, it don't get no clearer. You know what it gets? Calmer."

Dudley: "These characters are flawed, none of them are perfect and they don't always do the right thing and it's how we are as human beings in real life. That's why it is relatable."
A fan to Appleman: I'd like to thank you for being the character I wish I had seen as a kid. This guy just is who he is. I think for a lot of people this is so important to see right now, and to see that he can actually become high king.
Appleman: "Thank you. It's important for me too I think his confidence and his ability to own a room and be himself- or his projected idea of himself- to construct his own identity and be proud of that and commit to that is something that immediately drew me to him and made me fall in love with him."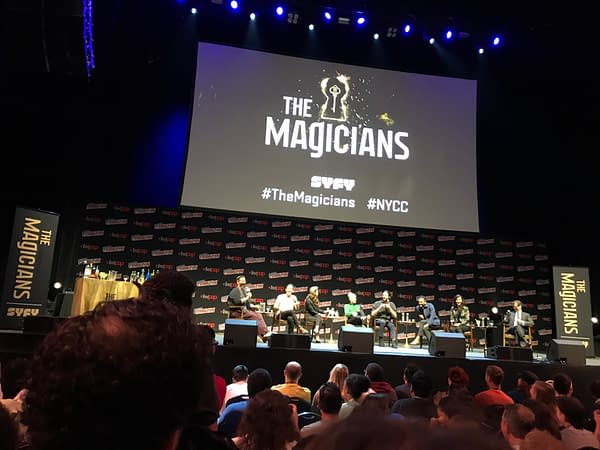 To Gupta: You talked about the pride you have in playing this character. This is one of those characters, much like Eliot, who is representative of strength and wisdom and humor — but also a lot of vulnerability, and we don't always see this played by actors of various descents.
Gupta: "I think it's a very simple ask. All that people who are feeling marginalized are looking for is to be represented in a three-dimensional human way. We don't need to be gods, we don't need to be superheroes; we need to be human. I have the pleasure and honor of working with wonderful actors who bring that on a day to day basis and a writing staff who are not here, but who deserve a lot of credit for writing that. I think it's immensely important, as you said, that right now people start seeing that you are enough."
How difficult was it for you to get to the point where you had to kill Ember?
McNamera: "The actor we loved, but the character was a dick. Killing him was like killing Goldfinger. F*ck that guy!"
The two relationships of Eliot and Fen and Penny and Kady last season really took some nice twists. The vulnerability and the willingness that Penny had at the end of the season almost made it uncomfortable to watch him become a responsible guy.
Gupta: "Well, that's uncomfortable to be! At the beginning of this season, Penny is still dying, and you can only almost die so many times before you start to grow up. Penny starts to do that, but with Penny and Kady, it's a continuing story. I think it's interesting that so many people root for that love because I find that love to be so flawed. It's such a co-dependent love that's based on obligation and debt more than partnership. I think it's going to be quite surprising and thrilling to see how this plays out at the start of the season. When you're starting out, before you know what real healthy love is? Those relationships teach you a lot."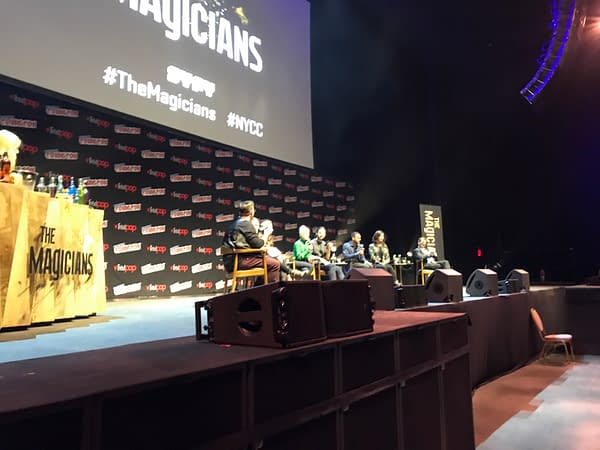 Then it was time for a round of "Who is most likely to?" with the following results:
Who is most likely to be on their phones while on set? Bishil.
Who is most likely to quote The Magicians books? Ralph.
Who is most likely to act like their character in real life? McNamara.
Who is most likely to drop an F-bomb? Gupta.
Who is most likely to know all of the crew member's names? Gupta. He hugs them all twice a day! They add 15 minutes to his pick up time so he can hug everyone. Gupta praised the entire crew again and said that this his way of saying "I see you, I appreciate what you're doing."
Who is most likely to change the world for the better? Ralph.
Who is most likely to be found napping in set when not needed for a scene? Ralph. He finds a corner of the green room or can be found on the floor somewhere.
Who is most likely to fart on set? Ralph.
(Were these question tailored for him?)
Who is most likely to be hungover during a scene? Nobody wanted to answer that — possibly Dudley, since she noted that she does like to drink.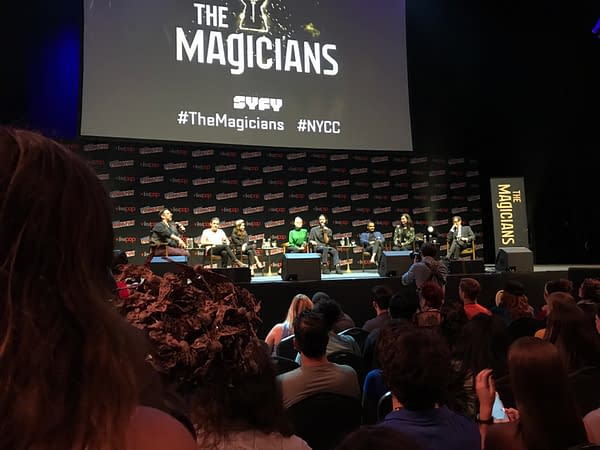 During the Q&A portion of the panel, an audience member noted that the show often uses the magical elements as allegory for real-world issues. They brought up Julia's rape and subsequent abortion. What does the cast think about the implications that Julia's abortion cost her her literal soul?
Gamble: "The story we tried to tell was that it was really hard for Julia to get that abortion, and when it is difficult for women to get abortions, they get hurt."

Maeve: "This came out of a non-consensual situation; this was not something that came from love and passion and caring. This was taken from her; this was a rape and an assault and it wasn't her choice. For women, we should have the choice — it should be our choice, especially when it comes from something not consensual."

Gamble: "She ended up having to go to a literal back room, and it doesn't take much research to find out what happens to women in back rooms. This was not a political story — it's just a human story about the facts about what happens to women in that situation. The beautiful thing about fantasy is that we can go really deep into some very dark things."
In conclusion Gamble said:
"All I can say is that we are very conscious about those tropes. We are conscious because it started with Lev (Grossman, author) being conscious of these fantasy tropes, and we have Quentin in the center of the story — he is our straight cis white guy with white privilege. Everyone around him are women, people of color, queer people — and that's not a coincidence. To us, that's the modern way of telling the story: you start with your usual way of telling a story with your grown-up fucked-up Harry Potter, and then kind of tell the story about the experience of life as we know it."
Gupta interjected:
"On a political note, what's also cool from a storytelling standpoint is that we start shifting that center, so it's not the center of straight white cis male in the third season."
Another fan discussed mental illness and how the show has handled the subject. He wanted to know: is this is something the production thinks about while filming?
McNamera: "Yes, yes. I've suffered from depression too, you know. And it's serious. I mean…I was hilarious in the mental hospital, but it's a real problem in our society. It's not viewed as an illness and it is; and if you have it, get help. Ask for help."
The audience applauded at length. In fact, it was turning into quite an emotional panel — especially for those of us who have suffered abuse or dealt with themselves or a loved one fighting a mental illness. I was definitely affected by the sincere and supportive responses.
Ralph: "In the show, we discuss a lot of hard topics, and we are not trying to be prescriptive. This is not everyone's experience in these situations, but this is as true to these particular human beings as we can make it."

Gamble: "I want to add that when I read the books, I felt less alone. I felt there was something in Lev's writing that recognized me as someone who felt like an outside for most of my life; someone who felt weird and sometimes crazy. When I hear there are people watching the show that feel that way, too, I'm glad. We are a show for the outsiders; these are characters who make their own family and who do not fit into their family of origin. The idea that you're supposed to have it figured out young is f*cking bullsh*t. It takes a long time — that's actually normal!"
After some more questions and a lot of love between cast and audience members, Ralph had this to say:
"Thank all of you for these beautiful questions. These are the things that we care most about. The show has a lot of comedy, a lot of fluff, and a lot of silly things — but at its core it's about people, and it's about the experience of being alive. And that's what I think all of us signed on to do, and it's so refreshing to be with a group of people who are connected to that same thing. I thank you so, so much."
What an afternoon! It was a refreshing experience to have such a uniquely personal panel, and to have so much support for not only this fun, dark show, but also for each other in general. I'm not sure I've been in a con room like this one, and it was powerful. I can't wait for Season 3, and I hope we will all agree with Dudley, who said this will be the best season yet.