Kevin Smith Unveils Killroy Was Here and Funko POP at Comic-Con@Home
This San Diego Comic-Con, Kevin Smith was to unveil a first look at his new film, Killroy Was Here, as well as revealing a brand-new Funko POP figure, his Iron Bob from Jay & Silent Bob Reboot which he unboxed here – as well as talk about a new podcast he is creating with his daughter Harley Quinn Smith, as well as letting you know how to get your very own Mooby's Cow Tipper. Then San Diego Comic-Con was cancelled.
But, it seems, Kevin Smith will be doing all of this anyway, as part of the free online San Diego replacement, Comic-Con@Home with a video panel thing set to go live at 6pm PT, 9pm ET on Saturday July 25th (or 2am on Sunday July 26th if you are in the UK). Oh and there's a store to buy the stuff too. The video will be live right here and I can watch it when I get up. Wih a cup of tea and a jam scone, obviously because I have a stereotype to maintain. Anyone fancy joining me? The panel I mean, not the tea and scones, I'm a masochist, not a sadist. I wonder what the UK shipping on that Irob Bob will be?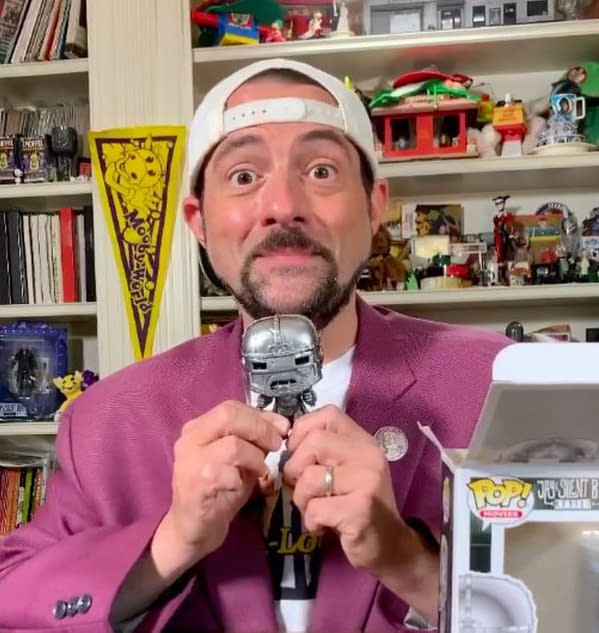 6:00pm
An Evening with Kevin Smith
Watch When Available!

YouTube: https://youtu.be/scc4gW94XxE

An Evening with Kevin Smith – Kevin Smith talks Son-In-Lockdown, unveils a new Funko Pop, and drops the first look at his new film Killroy Was Here. Plus, Kevin chats about a new podcast he created with his daughter, Harley Quinn Smith, and reveals how to get your very own Mooby's Cow Tipper.
Saturday July 25, 2020 6:00pm – 7:00pm
Comic-Con@Home
1: Programs, Comics, Fandom, Film/TV Industry Professionals, Humor & Satire, Movies, Television
Tags Comics, Fandom, Film/TV Industry Professionals, Humor & Satire, Movies, Television