While spending time at Epcot last week, I did what I do best: try different types of food. This was an easy task since the Flower and Garden Festival was also going on, so there was even more food than normal!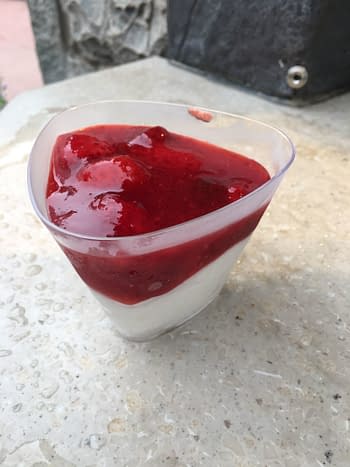 I admit that I seldom spend time in the Norway Pavilion. Since it's mostly just Frozen stuff, there's very little in the way of actual real-life culture. But there is still some left, in the way of food! I tried the rice cream at the Norway Pavilion, and I'm torn on it. On one hand, it's pretty tasty. It's not traditional ice cream — it isn't as cold, and it's not nearly as sweet as traditional ice cream. The rice cream (which is basically rice pudding with strawberries on top) has a lumpy texture to it, which may be a little off-putting for some guests. The rice itself has a light flavor, and the strawberries complement it well. This was a pleasant though unusual surprise for me. I would get it again.
Enjoyed this article? Share it!