Under Armour's 2020 Pride Collection has recently dropped, serving real looks with a DIY attitude. For this year's collection, UA took inspiration from the original 1978 Rainbow Pride Flag, which can be found on the entire collection. The collection includes the UA HOVR Phantom 1 Slip shoe, apparel perfect for an active lifestyle, and accessories. This collection represents the power of community, and how important it is to be an ally.
The UA HOVR is especially unique. The shoe's journey started in 2018, and was crafted with love and care;
The shoe's design journey began in 2018 and is the result of a powerhouse collaboration with Unified, UA's LGBTQ+ Teammate Resource Group. Involved in every step of the creation process, Unified had a heavy influence on the design of the shoe.
UA has also launched the UA Pride Grant Program, which aims to help offset the financial hardships the LBGTQ+ community-focused nonprofits have faced due to COVID-19 in Baltimore, MD, and Austin, TX — both local to UA teammates. Organizations can apply for a one-time grant, ranging from $2,500-$15,000. Organizations have until Wednesday, June 10, to apply. Grants will be awarded on Wednesday, June 15. You can check out the
UA PRIDE Grant website
for more information.
I encourage everyone to check out the entire Pride collection on the
UA site
. UA has done some pretty spectacular collections over the years, including a number of superhero-themed lines — but this new Pride collection is top-notch, and will absolutely turn more than a few heads.
Teva has also released their
new Rainbow Pride Pack collection
, which features the flagship rainbow on their insanely comfortable sandal. In celebration of Pride Month, Teva and the
It Gets Better Project
have teamed up to bring us the Rainbow Pride Pack. Teva will also be donating $20,000 to the It Gets Better Project, to help support their work with LBGTQ+ youth globally.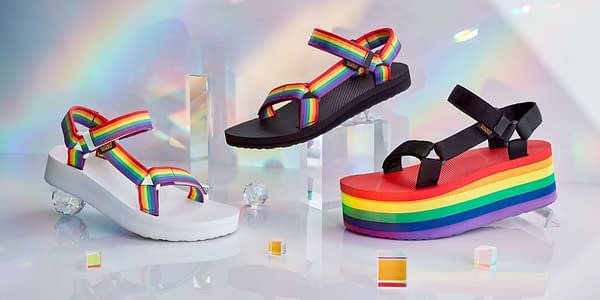 Teva's Rainbow Pride Pack collection offers sandals for all genders, as well as kids sizes. I personally love the Universal Original Rainbow Pride sandal. I've worn Teva for years, and they provide ample support — while also staying put. Plus, they last forever. These classic Teva's with rainbow flair will be available year-round. The collection ranges from $40 – $70, making this a very affordable sandal.
Enjoyed this article? Share it!