WWE appears to be reaping decades worth of sowing boring storylines, unappealing babyfaces, and conservative booking lately. Viewerwhip for both Monday Night Raw and Smackdown Live hit lows this week. For Raw, just 2.29 million people watched the show on average over the course of three hours, which Dave Meltzer called the all-time lowest for "the modern era," I.E. since the mid-nineties, before ratings exploded during the Attitude Era. This week's 2.9 million viewers is a far cry from the 9 million that watched Raw's highest rating episode on May 10th, 1999. That episode scored an 8.1 rating, while this week's episode scored a 1.6.
Of course, Raw's ratings drop is not a new story, and there other factors besides the obvious public disinterest in WWE's product, such as the expansion of cable television offerings and alternative viewing methods. It's also football season, which causes a yearly drop in the ratings before things pick back up as WWE heads toward WrestleMania. But this week's viewership was lower even by recent standards, and even compared to past football seasons. There's no making excuses for the show's performance.
And it might not seem surprising to those die-hard fans that did suffer through the entire three-hour episode. Raw's focus on Baron Corbin as a heel authority figure is grating, Dean Ambrose's heel turn has fizzled, and the show is missing its top stars in the form of Roman Reigns, who has taken a leave of absence due to Leukemia, and Braun Strowman, who is out with an injury. As with most WWE programming these days, the bright spot is the women's division, with Ronda Rousey, Ember Moon, and the alliance of Nia Jax and Tamina Snuka holding down the fort. Drew McIntyre and Finn Balor remain bright spots amongst the men, but both are dragged down by being embroiled in the Corbin angle, which is itself just passing time waiting for Strowman's return.
But on Tuesday Night, Smackdown Live offered up one of the best episodes in recent history, driven largely by two segments featuring The New Daniel Bryan, whose obnoxious heel person is not only entertaining to watch, but also manages to actually get crowds to boo him, a rare achievement for WWE heels who often face off against boring babyfaces and end up getting cheered instead. Smackdown also has the benefit of featuring the hottest star in pro wrestling today, Becky Lynch, though the three-way feud between Lynch, Asuka, and Charlotte Flair doesn't feel quite as compelling as it should. Regardless, Smackdown was, as it has been recently, a faster-paced, more interesting, and infinitely more enjoyable show than Monday Night Raw. But it still scored its second-lowest rating since going live on Tuesday nights, with a .66 rating and 1.9 million viewers. And it's only the second-lowest because the lowest happened on election night in 2016, when most of WWE's fans were watching Hall-of-Famer Donald Trump win his blowoff match against Hillary Clinton.
So if Smackdown is a better show than Raw, why are both shows' ratings dropping? It's the cumulative effect of years worth of WWE conditioning viewers to believe that what happens on the shows is largely inconsequential. Lynch's recent explosion and Bryan's shocking heel turn and title win are exceptions, but can't be expected to undo a trend that has been happening since the John Cena era. It doesn't help either that immediately after Lynch made headlines for her bloody beatdown of the Raw roster the week before survivor series, WWE immediately attempted to transfer the aspects of her persona that were getting big reactions onto Flair, behavior which WWE repeats time and time again whenever another wrestler gets better reactions than their chosen top star. That kind of booking sends the message that any exciting story developments are an accident which WWE will promptly try to correct.
There are a number of factors that made WWE's television shows so hot during the Attitude Era. Massively popular stars with mainstream appeal were a big part of it, but even Stone Cold Steve Austin and The Rock would probably have trouble gaining momentum in the modern era, where WWE's programming is largely over scripted, improvisation is discouraged, and breakout stars are immediately hamstrung, seemingly to spite them for getting over with fans without WWE's permission. Mostly, WWE programming during the Attitude Era, for all its flaws, was unpredictable. Unpredictability is why live sports are a commodity in the modern television landscape, tempting viewers with the notion that anything can happen, so they'd better not miss a minute.
In WWE, for going on two decades now, fans have been conditioned to expect nothing of any real consequence to happen, and if it accidentally does, to expect WWE to quickly course-correct. Until WWE can recapture that anything-can-happen spirit, the long, slow decline in viewership is likely to continue. Booking like we've seen on Smackdown over the past month is definitely a step in the right direction. Unfortunately, without an instant return in ratings, WWE is unlikely to stick with that as a long-term strategy, and will instead look to bring back aging stars in the build-up to WrestleMania and then claim the seasonal ratings increase as a sign that more Undertaker, Triple H, Shawn Michaels, and John Cena is what the fans really crave.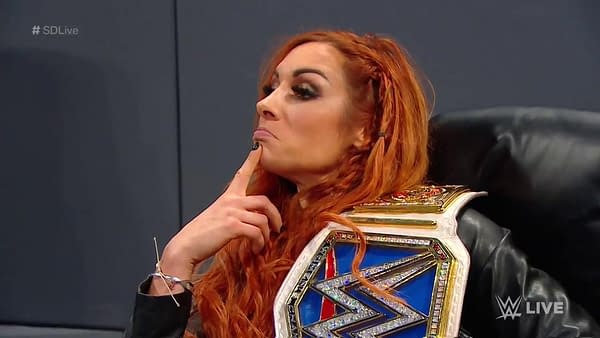 Enjoyed this article? Share it!