It seems like it was just a few hours ago when we published an article proclaiming Becky Lynch the future of the WWE, but that's probably because it was just a few hours ago when we published an article proclaiming Becky Lynch the future of the WWE. A lot can happen in just a few hours. For example, ComicBook.com published 36 clickbait articles about Stan Lee in the wake of his death yesterday in a span of just six hours. So it's no surprise that a Survivor Series which was set to feature an on-fire Lynch vs Ronda Rousey is looking a lot less spectacular with the match reportedly pulled, according to a report from Fightful.com.
Sadly, it's the accidentally busted nose that Lynch suffered at the hands of Nia Jax during the ending of last night's Monday Night Raw which both elevated her performance to epic levels, with an arrogant Lynch standing triumphant from the crowd over a snarling Rousey and the wreckage of the Raw women's locker room, and which also may be the reason we won't have any reason to want to watch the PPV on Sunday. Apparently, Lynch's nose may have suffered both a broken nose and a concussion and stayed behind as the rest of the crew went to Smackdown Live today for medical testing.
If Lynch is really out of Survivor Series, we're hard-pressed to come up with another reason to watch it. We mean, we'll watch it anyway because it's still wrasslin', but our hearts won't really be in it.
Of course, we're holding out hope that the report is wrong, as dirt sheets often are. This one claims a wrestler is in the doghouse for wearing the wrong color tie when shaking hands with The Undertaker backstage, that one claims Vince McMahon is really high on an up-and-coming wrestler before they job out every week for the next three months. But occasionally they're right too, which is how the rumor game works. Nobody remembers when you're wrong, only when you got something right, so it's just a numbers game, really.
In any case, there's no reason to distrust Fightful's report in particular, other than desperation for the Becky Lynch saga to continue. But we're going to propose an alternate theory anyway. Maybe WWE has realized that trying to put a babyface Rousey against a "heel" Becky Lynch is only going to backfire on them and cause people to boo Rousey, on whose mainstream star power WWE is basing a lot of their future plans on. Since WWE isn't going to back down and push Lynch over Rousey, the only logical path is to prevent the match from happening.
Of course, that theory relies on WWE possessing the ability to recognize when they're wrong, and there's not a lot of evidence for that. If we're wrong, forget we said anything. But if we're right, well… you heard it here first.
God damn it.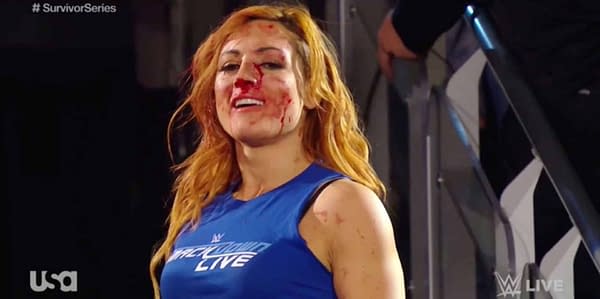 Enjoyed this article? Share it!