The Plague Nerdalogues: Kevin Smith, Grant Gustin Raise Funds for BLM
With a global pandemic, creative people around the world are stuck at home with very little to do. Some may be cracking under the strain of cabin fever, but many are determined to make things better. Instead of empty platitudes into a camera, writer and journalist Marc Bernardin (Alphas, Castle Rock, Critical Role, Star Trek: Picard) got the help of writer-producers Deric A. Hughes (The Flash, Arrow) and Lamont Magee (Black Lightning) to round up a wide variety of celebrities, mostly huge names in nerd entertainment, to recite monologues from some of the best films and shows in the geek and cinematic canon. Comic book writer Hannibal Tabu (Time Corps, Project Wildfire, head comics reviewer for Bleeding Cool) agreed to build the site, edit and brand all the videos, design the visuals and integrate the fundraising engine. The first wave included the likes of Jonathan Frakes, Tricia Helfer, Phil LaMarr, Damion Poitier, Todd Stashwick, Brea Grant, David Dastmalchian, and more. They raised money for No Kid Hungry as an effort for COVID-19 relief. While the first wave crested sixteen thousand dollars in donations, blowing through its $10,000 goal, the world burst into flames in part following the deaths of George Floyd in Minneapolis and Breonna Taylor in Louisville. Bernardin rounded up the troops with a new mission: to raise money for Black Lives Matter.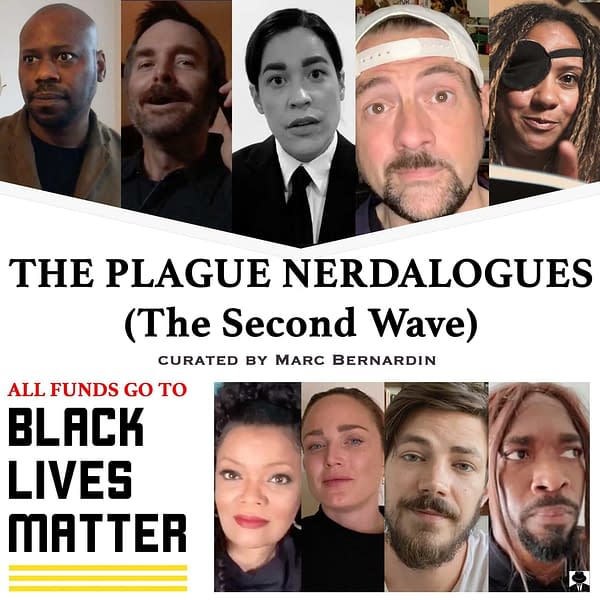 "It became clear to me, as both an African American and a human being, that if we could raise money for a cause that's affected so many since they were born, then we should," said Bernardin in a statement. "We've all wanted to do something. We're all moved to action. And when I mentioned to the actors who'd already contributed their monologues, not a one objected. We all stand together. Nerds and strong. And even though the 'plague' in the title initially referred to COVID-19, to apply it to systemic racism — America's first plague — felt apt."
The second wave includes "nerdalogues" from …
Bernardin's Fatman Beyond co-host, director Kevin Smith
The Flash's Grant Gustin
Will Forte (Last Man on Earth)
Yvette Nicole Brown (Community)
David Ramsey (Arrow)
Malcolm Barrett (Timeless, Preacher, The Boys)
Christina Ochoa (Animal Kingdom)
David Harewood (Supergirl, Homeland)
Caity Lotz (DC's Legends of Tomorrow)
Gary Anthony Williams (Solar Opposites, The Boondocks)
Jordan Calloway (Black Lightning)
Tracie Thoms (9-1-1, Rent)
Eugene Byrd (Bones, Arrow)
Jay Pharoah (Saturday Night Live)
Jesse Rath (Supergirl)
Chris Lee (Legacies)
Rahul Kohli (iZombie)
Parisa Fitz-Henley (Luke Cage; Midnight, Texas)
Ahmed Best (Star Wars: Jedi Temple Challenge)
Brittany Curran (The Magicians)
Olivia Swann (DC's Legends of Tomorrow)
Alaina Huffman (The 100)
Drew Powell (Gotham)
Michael Trucco (Battlestar Galactica)
Dani Fernandez (Ralph Breaks the Internet)
Camrus Johnson (Batwoman)
Affion Crockett (Pixels)
Jessie Graff (American Ninja Warrior)
Ashley A. Williams (Double Cross)
Annika Noelle (The Bold and the Beautiful)
Casey McKinnon (The Tragedy of JFK)
Best of all, if people donate now, they receive access to both waves, fifty-seven videos in all. Please visit The Plague Nerdalogues to donate now.