Square Enix hosted a panel today at PAX East called Final Fantasy XV: Windows Edition – Making it Yours, which was all about player modification tools coming to the PC edition of the game. Shigefumi Tanaka, Live Service Manager for the game, shared a bunch of news about the modding possibilities of the game, which will include a level editing tool.
First off, the PC edition is getting a character customization menu — which means players can replace Noctis in FFXIV WE with either pre-existing characters or a totally new character. This feature will be rolling out in a future update coming this spring.
PC players will also see other player characters in-game as ghosts to get inspiration on character creation.
Another player mod tool coming to the game is basically a player-run scavenger hunt. Players will get a User Treasure to hide every day. The longer it takes someone to find, the better the treasure is. So you'll go hunting for other players' treasures while also making your own difficult to find. For example, you can hide it among other treasures, in a corner of the map, or next to a powerful boss.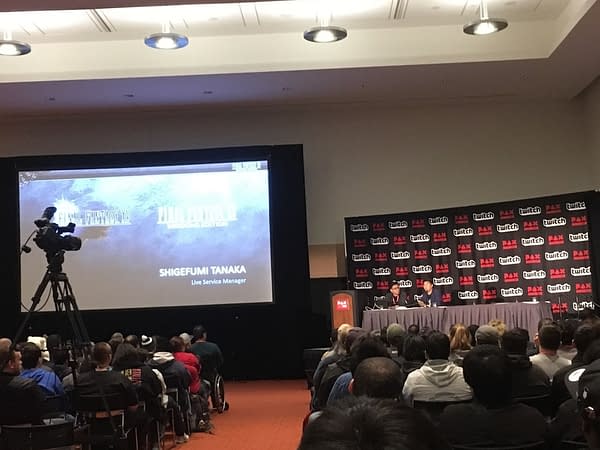 Mod option controls are coming this spring (sometime soon). Tanaka assured fans that the development team is "making the final adjustments" so the system can go live as soon as possible. The plan is to have the mod option control panel ready to go before the end of Q2.
Tanaka showed off the pre-existing cactuar suit, half life costume, crowbar, and cactuar sword as examples of what players will be able to create as mod tools, as the mod options will allow players to change those items effects and appearance. "We are excited to see what [players] come up with," Tanaka said.
Player mod tools will also include a level editor, but that will take some more time. They are working to have it ready for Fall 2018. Examples of mods included the ability to tweak models, add objects and enemies, build new quests and dungeons, use a distance tool for effects, add chocobo jumping hoops to create chocobo races, give Noctis a magitek armor, and turn Eos into a fully functional golf course. Because fishing is not enough — a prince must have multiple hobbies. Noct is high maintenance af, guys.
The full parameters of the level editor feature include:
Create original maps
Create simple quests
Place enemies
Place items
Creation of sequences
Trigger boxes that will initiate events
Minor UI customization
Square intends to have the level editor ready for Fall 2018.
Enjoyed this article? Share it!