The alarming consolidation of power in America in the hands of a few professional wrestlers continued last week when WWE Superstar Kane won the election to become mayor of Knox County, Tennessee. Kane joins President Donald Trump, a WWE Hall-of-Famer, amongst the ranks of high-ranking government officials who got their start in the wrestling business.
A Libertarian backed by Rand Paul and The Undertaker, Kane campaigned on a platform of no big government, as well as reflecting on his "sick and depraved acts" and tendency to "delight in terror, delight in pain," Kane appeared Saturday on President Trump's favorite show: Fox & Friends.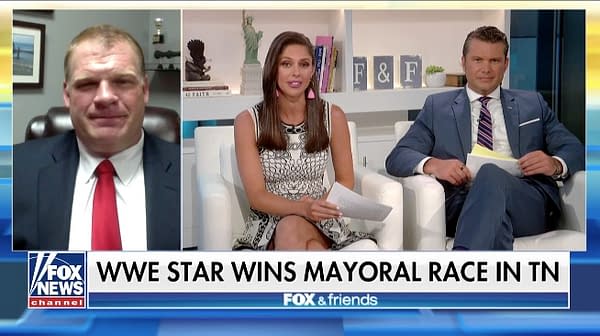 Unlike past interviews with Kane, nobody was lit on fire. We've transcribed Kane's comments on the show below:
Asked about overcoming the odds to win the election, particularly the Republican primary, as he was pretty much a lock after that:
People said afterwards in the local community that a lot of folks didn't think you had a chance. But I thought all along that I was going to win. If I didn't, I wouldn't have done it to begin with. So I was actually shocked that people didn't think I would win.
On why he got into politics:
I want to make our area the best place it can be. I love Knox County. With WWE, I've traveled all over the country. Every week I'm in a different part of the country, and I'm not tied down to any particular geographical area. But I love it here — love Knox County. I moved here in 1995. My wife is from this area. I fell in love with her. I fell in love with East Tennessee. I never left, and I never plan on leaving.

I've always been interested in politics. In fact, I think when I was a sophomore in high school we had a mock debate. I think it was between Walter Mondale and Ronald Reagan. I played Walter Mondale. It was probably the last time in my life I was a Democrat. But in any case, even from an early age, I've always been interested in politics. And now that I see the impact that big government has on people's life and how destructive that is, and I as I grew older I realized that maybe I could try to do something about that and turn the tide, because, unfortunately, in many ways, that's the way I see our country going. America is the land of opportunity because of the free market — because of the free enterprise system. So that's why I got into politics: to ensure that my kids and my grandkids will have the same opportunities I had.
On whether Knox County is a victim of the plague of Big Government:
Tennessee is doing wonderful. I don't often praise politicians, but our general assembly has done a tremendous job. We had the fourth lowest local and state tax rate in the country. We're extremely business-friendly. We're seeing businesses relocate here because of our tax rates, because of the business-friendly environment that we've been able to create. It's a wonderful place for it. The climate's great. Not too cold in the winter. Not too hot in the summer. So we have a lot going for us, and we're reaping the rewards of good fiscal policy at a state level and at a local level as well. So really I think there's a lot of excitement here. Of course, there's still a lot of work to be done. Our rural areas are suffering. We still have a lot of work to do in our inner cities, of course. But overall, things look great.
Watch the video below:
Enjoyed this article? Share it!