American Gods: Starz Releases Season 1 Live-Tweet "Holy Day Binge" Schedule
Looking to get caught up on the the war between the "new gods" and "old gods" before it reignites for a second season on Sunday, March 10? Well, your friends at Starz have heard your prayers and are offering a unique binge-watching opportunity to get viewers up-to-speed on their adaptation of Neil Gaiman's novel American Gods.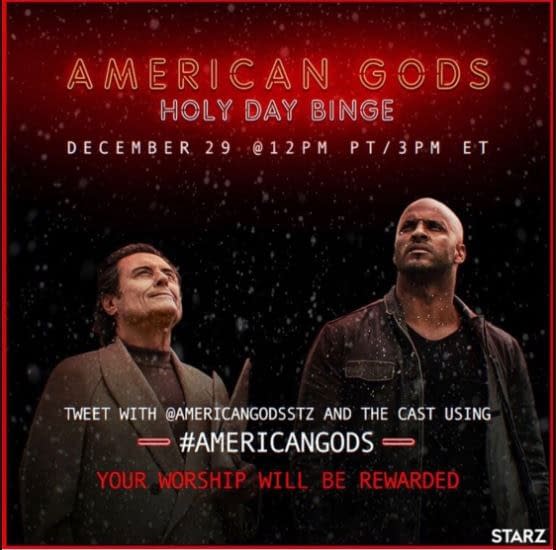 Starting at 3 p.m. ET/12 p.m. PT on Saturday, December 29th, fans can join the cast of American Gods as they live-tweet their favorite moments from the first season while the cable network airs all eight episodes back-to-back. With the tagline, "Your Worship Will Be Rewarded," it's safe to assume viewers are expected to be treated to new trailers, behind-the-scenes featurettes, etc. Also, if you don't have time to watch the entire marathon but need to know when a specific episode airs – here you go!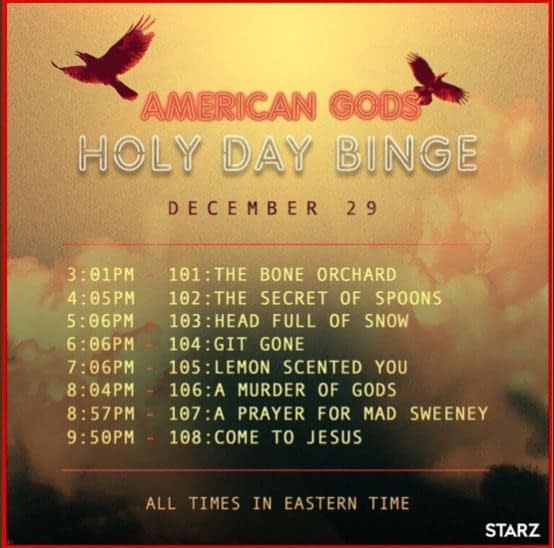 Here's a roster rundown on the "gods" that will be at your social media disposal:
Ricky Whittle (Shadow Moon) – @rickywhittle
(Updating through his Instagram account Story option starting at 12 p.m. PT/3 p.m. ET)
Orlando Jones (Mr. Nancy) – @TheOrlandoJones
Mousa Kraish (Jinn) – @MousaKraish
Omid Abtahi (Salim) – @AbtahiOmid
Yetide Badaki (Bilquis) – @YetideBadaki
Bruce Langley (Tech Boy) – @BruceJLangley
The battle between Old Gods and New Gods continues to brew as we join Mr. Wednesday (Ian McShane) just a few short hours after his declaration of war and the epic showdown that ensued at Easter's party. While Mr. World plans revenge for Wednesday's attack and Technical Boy searches for Media, Mr. Wednesday continues his quest to pitch the case for war to the Old Gods with Shadow (Ricky Whittle).

Laura and Mad Sweeney in tow, Shadow begins to understand this strange world of the gods and carve out a place in it as a believer, but it is far from a straight path. Change requires sacrifice, and when things don't go as planned at the House on the Rock, both Old and New Gods, and those they meet along the way, find themselves on journeys across America — all destined for a climactic showdown in Cairo, Illinois.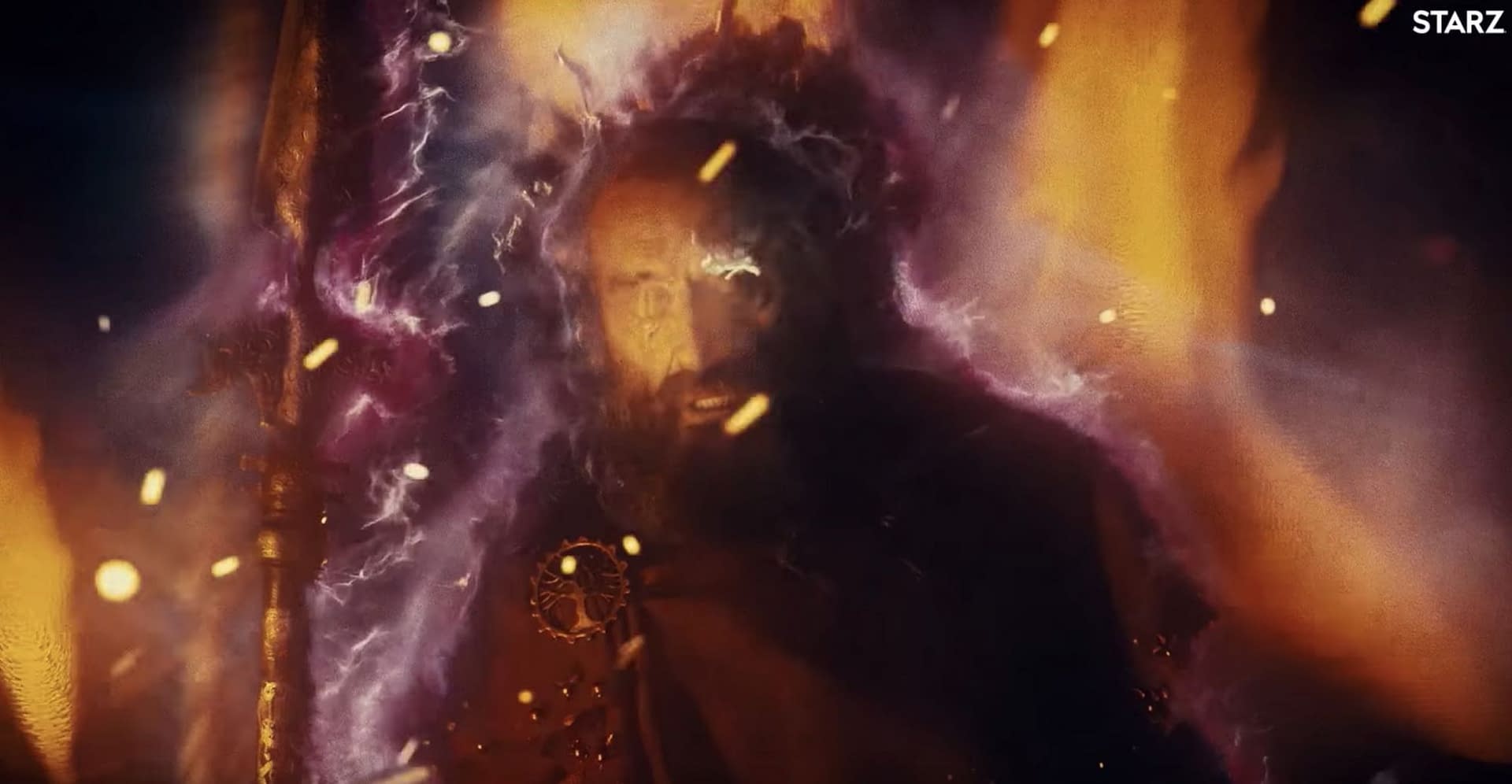 American Gods has some new players in play that will definitely complicate Shadow's journey of self and spiritual discovery. Dean Winters's (Wayne) brutally efficient and precise Mr. Town is tasked by Mr. World (Crispin Glover) to learn what Shadow knows about Wednesday's (Ian McShane) plan. First Nations actor Devery Jacobs (Cardinal) is college student Sam Black Crow: a spiritually cynical young woman who lives her life with fierce confidence and openness, selling her chainsaw art by the roadside for extra money. Kahyun Kim's (Shameless) New Media is the goddess of global content: a cyberspace chameleon who's also a master manipulator. Timeless's Sakina Jaffrey portrays Hindu war goddess Mama-Ji: a waitress at the Motel America, her necklace of skulls, acerbic wit and free spirit make her a match for any mighty god or man.