Bob's Burgers Season 12 E16 Review: Big Bob Lacks Stories For Tina
FOX's Bob's Burgers brought back Big Bob and Burobu cards in the episode, "Interview With A Pop-pop-pire" which included some fantastic imaginations from the Belcher kids. Warning, some spoilers may be waiting ahead for you so make sure to watch the episode first and then come back if you don't want anything revealed to you. Otherwise, see you on the other side of this image break…
Bob's Burgers bringing back a minor character in such an extravagant fashion is fantastic, along with Louise's love for her vintage Burobu cards (which I insist someone develop real versions of them for merchandise purposes) was a great way to go with this episode. I'm typically not a huge fan of these episodes that feature anthology-style stories, but I did have a lot of love for Gene's story, which took inspiration from They Live. Combining such a great reference to a John Carpenter film with Big Bob's character is great material.
What I loved about this episode of Bob's Burgers was how it addressed growth from generation to generation. Bob doesn't communicate in a typical way, but he makes sure to be present for his kids which is something Big Bob didn't necessarily maintain as a skill in the past or current day. It's something they've struggled with in past seasons as father and son. While I loved the moments of conflict and the resolution that followed from them towards the end, the episode overall left a bit to be desired. I wasn't as interested in the stories as I thought I'd be. They were creative, that's a definite, but they felt out of place in the end. A good background and filler episode, but this one I wouldn't consider a favorite or close to in season 12. Let me know in the comments what you thought of this episode of Bob's Burgers!
Episode Store & Van Titles: "My Knives Are Up Here: Knife Blocks" "See Ya Later, Fumigator"
Bob's Burgers Season 12 Episode 16 "Interview with a Pop-pop-pire"
---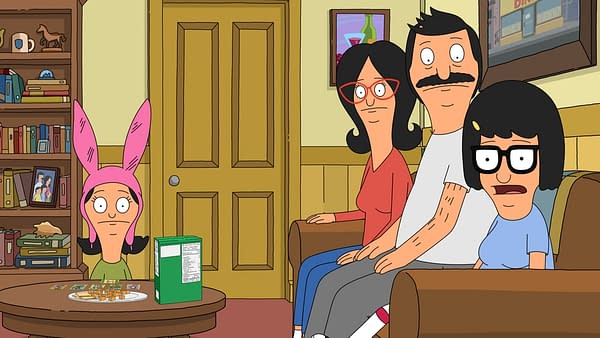 ---
FOX's Bob's Burgers, S12E16 "Interview with a Pop-pop-pire" went to a great place with the message of generations & communication being a difficult subject to walk into. What didn't help the episode was how the stories, although creative, continued to feel more like filler for a partially blank episode.
Credits
---