Bob's Burgers Season 13 Episode 15 Review: Cannon Balls & Gus Goss
Some hits and misses occurred in the recent episode of FOX TV's Bob's Burgers - and we're not talking about antique cannon balls.
---
FOX TV's Bob's Burgers had the hot Gus gossip and all the Irish accents in the recent 15th episode, "The Show (and Tell) Must Go On," for season 13. In the episode, Louise (Kristen Schaal) brings Tina (Dan Mintz) along on a mission to find the perfect item for her last-ever Show and Tell. Meanwhile, Teddy (Larry Murphy) goes overboard trying to impress a date at the restaurant. If you're looking to catch up on episodes, be warned there are potential spoilers ahead for episode 15.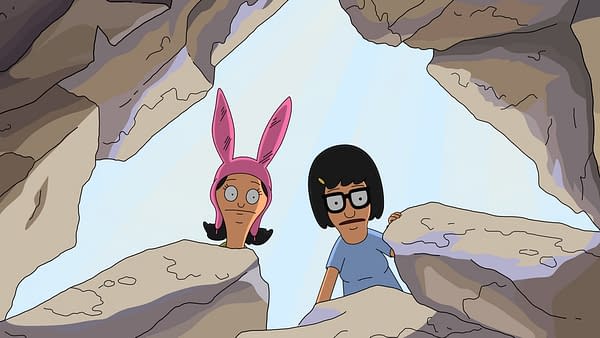 Bob's Burgers is bringing us some progress concerning the age of Louise in this episode. Louise is about to have a class where they do show and tell, but the kicker is this is her last one. After fourth grade, Louise won't really have them anymore. It's very interesting to see the series take this step in purposeful acknowledgment of the growth of the Belcher kids in some way.
We've never been a hundred percent sure whether the series was headed down The Simpsons' road of perpetual childhood or not. It looks like it just might not be going down that path after all, and the episode reminded up just how great a storyteller the character of Louise is. Her journey toward obtaining the cannon balls that washed ashore was unique, and it included a favorite minor character of mine, Gus (H. Jon Benjamin). While Gus was being an amazing and ridiculous character, Louise's story carried on with the help of Tina.
In the other half of the Bob's Burgers episode, Teddy was working hard to connect in a specific way to his girlfriend Kathleen (Sharon Horgan). Her Irish roots are important to her, and Teddy attempts to use this, but in the end, he's taught an important lesson for relationship success. It's not realistic to connect with a significant other on every little thing or hobby. This portion of the episode felt really cute, and I loved the perspective it brought in on romantic relationships, but parts of it seemed to overwhelm the potential from whatever was happening with Louise and vice versa.
Bob's Burgers has some incredibly relatable moments, and it is striving to make progress and development happen with characters like Teddy and Louise in this episode. However, it doesn't feel like the bigger leaps that I'd hope for from the series at this point. While a fun and pleasant experience was had watching it all, I couldn't help but have a lingering thought of there being more potential in these stories than what was being shown. Fantastic lessons and jokes were plentiful, but overall it felt more stagnant than the previous episode.
Bob's Burgers Episode Store, Van & Burger Of The Day:
"Flaming of the Moo: Branding Equipment"
"Nice Flies Finish Last"
"The Edam and Weep Burger (served with edam cheese and raw onion)"
Bob's Burgers Season 13 Episode 15 "The Show (and Tell) Must Go On"
---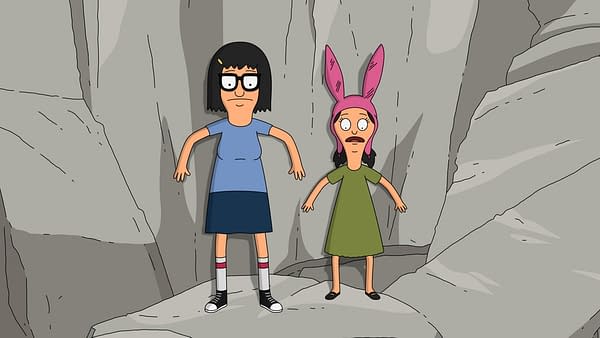 ---
FOX TV's Bob's Burgers S13E15 "The Show (and Tell) Must Go On" was a pleasant episode filled with plenty of great moments of progress for its characters, but at times it didn't feel brave enough. More could have been done for an episode that's moving a character like Louise forward in development and age.
Credits
---