Bob's Burgers Season 13 Eps. 12 & 13 Review: Row Boats & Burobu
Rhys Darby's voice, business cards, and a case of Burobi theft are revealed in the two latest episodes of FOX TV's Bob's Burgers Season 13.
---
FOX's Bob's Burgers brought on Rhys Darby as a guest voice role and explored a thief's potential identity in the two recent episodes, "Oh Row You Didn't" and "Stop! Or My Mom Will Sleuth!". Episode 12, which featured Darby, brought more to the table than episode 13, but each included some details that concern me as a fan. If you're looking to catch up on episodes, be warned there are potential spoilers ahead for these two episodes of season 13.
Quincy Cox To The Rescue For Bob's Burgers
Bob's Burgers does a good job when it comes to guest stars and their roles within episodes. Darby's character, Quincy Cox, was absolutely fantastic, and his voice is a perfect fit for the series. While I do enjoy guest stars and whatever talents or changes they bring to the environment, I miss the investment in minor characters in the series. Moments like Quincy deliriously talking to a seagull about the film Footloose in a flashback made me genuinely laugh. Absurdity tends to come and go nowadays instead of finding its place again in the series. The growth of characters has been fantastic, but at times it may be at the cost of the hysterical humor that used to be a staple of the series.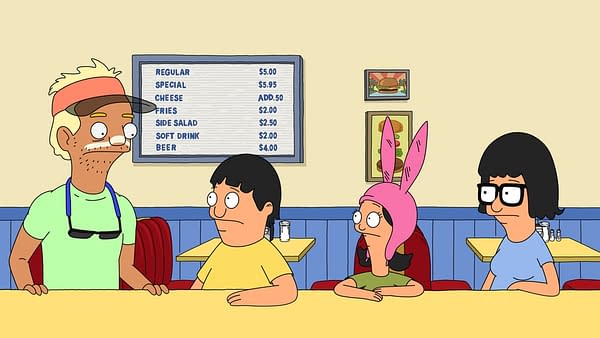 Linda (John Roberts) and Bob (H. Jon Benjamin) have a great dynamic at the beginning of the episode where they recognize potential strengths in each other that could help their situation. Quotes like "everything worth doing is hard" bring some great moments of depth to episodes, but not every time do we have to reach these levels and a need to reach a lesson. Adding in a character like Quincy adds a lot of entertainment, but it feels like they became dependent upon what that element would bring instead of other aspects…like the main characters.
The Missing Absurdity Link
Bob's Burgers had a fun idea going with the "Stop! Or My Mom Will Sleuth!" involving some great aspects of Linda's personality when it comes to volunteering and the kids. Sadly, this wasn't as fun of an episode as I'd hoped it would be. While my neurodivergent brain had a blast with Teddy (Larry Murphy) and Bob navigating that big version of Teddy's business card, I didn't see any purpose whatsoever for this side story. The episode was a fun concept, but again the show's ability to lean into more absurdity is missing nowadays. It was great seeing characters like Mort (Andy Kindler), but in a way, it was also bittersweet. We get these flashes of characters that built the series around the Belchers, but we don't get more from them as often as we used to.
Some jokes and elements still remain in Bob's Burgers, like Teddy still thinking often that Bob's last name is "Burgers." But overall, these episodes gave me a lot of mixed feelings about the direction of the series. They contained well-executed ideas, but they didn't impact me in any special or unique way. The writing felt average at best, which sucks because anything like that can be a lot of work, and it's evident there's a lot of love for characters and the way they're written. But in the end, I wish a series as big as this one would take bigger leaps than it does now.
Bob's Burgers Episode Store, Van & Burger Of The Day:
"Still of the Gnat"
"American Typo: Proofreader"
"The Mold Man and the Sea Burger (comes with blue cheese)"
"I Want a New Bug Pest Control"
"A Quiet Lace: Doilies"
"The That Girl Hois in Burger"
Bob's Burgers Season 13 Episodes 12 & 13
---
---
FOX TV's Bob's Burgers, S13E12 & S13E13, had a decent story structure, but both overall lacked any of the absurdity and true fun found in past episodes. Guest stars and occasional hysterical jokes can only bring these episodes so far; otherwise, things fall flat, and my attention falls away halfway through.
Credits
---