Brooklyn Nine-Nine Star Terry Crews Talks Possible B99 Reunion Ideas
While Brooklyn Nine-Nine recently closed its eight-season run on NBC, one of its cast members in Terry Crews, who plays Lt. Terry Jeffords, sees the potential possibilities in the series' future. Speaking to Entertainment Tonight to promote his latest film Rumble, the actor referenced other recent revivals. "I think everyone is open to it," he said. "When you look at what streaming is doing and you also look at how many shows have been brought back. I mean, it's wild now. They are bringing back Diff'rent Strokes and Facts of Life in different iterations."
Brooklyn Nine-Nine Finale Recap
The finale saw closure for multiple characters including Det. Jake Peralta (Andy Samberg) resigning from his position with the NYPD. Sgt. Amy Santiago (Melissa Fumero) joined Capt. Raymond Holt (Andre Braugher) to implement their new police pilot program to improve the force. At the beginning of season eight, Det. Rosa Diaz (Stephanie Beatriz) resigned from her post out of protest for social justice with her disillusionment of law enforcement and working as a private investigator. The series also starred Joe Lo Truglio, Dirk Blocker, Joel McKinnon Miller, and Chelsea Peretti.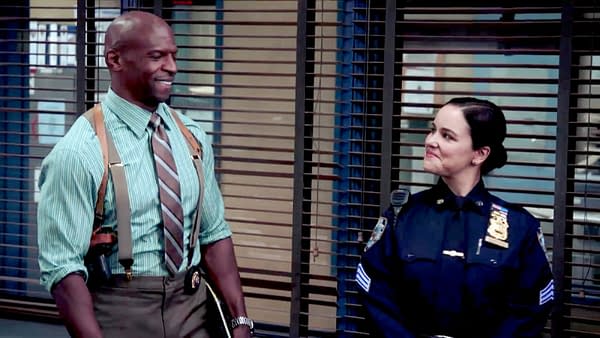 How Crews Says the Series Can Return
Crews evoked one of the most popular recurring bits of the series as a way to bring everyone back together as it did in the final scene of the series. "We know that there is going to be a comeback sometime and especially now that Peacock is creating their own entertainment, I could see a Brooklyn Nine-Nine movie," he said. "We could do a heist episode every year. That would be hot." Rumble, which also stars Geraldine Viswanathan, Will Arnet, Tony Shalhoub, Tony Danza, Ben Schwartz, Becky Lynch, and Roman Reigns is available to stream on Paramount+. Brooklyn Nine-Nine is available to stream on Hulu.