Chilling Adventures of Sabrina: Roberto Aguirre-Sacasa on "Sexier" Season 2, Salem's Voice, and More!
Thankfully, fans of Netflix's Chilling Adventures of Sabrina have had much time to mourn the passing of "The Witching Hour": this Friday, December 14, sees the release of Chilling Adventures of Sabrina: A Midwinter's Tale; and a recently released teaser revealed that a second-season helping of Kiernan Shipka's teen witch will be coming our way on April 5, 2019! Good news? No waiting until Halloween! Bad news? The season 2 episode count with be nine instead of the first season's ten.
With our return to Greendale now only days away, series executive producer/showrunner Roberto Aguirre-Sacasa sat down with Entertainment Weekly to discuss the series immediate and long-term futures – and tease fans on what they can expect from both the holiday special and the series' second-season return:
https://youtu.be/toE2I3K4oWQ
● So where/when exactly does Chilling Adventures of Sabrina: A Midwinter's Tale fit in the Greendale timeline? Time-wise, the special takes place "a couple of weeks" after the season 1 finale – but will it be its own episode or serve as bridge between the seasons? Aguirre-Sacasa's answer? Yes.
"It's a little bit of both, to be honest. When we decided that we were going to try to do a special episode to drop around Christmas, we wanted it to be a standalone insofar that everything you need to enjoy the episode is in the episode. But there are elements that we serialized through the first part of the season that we did have to carry through and help us set up the second part of the season.

We see a little bit more of the aftermath of Harvey and Sabrina, their breakup at the end of part one. We see how Sabrina's relating to her mortal friends. We pick up a couple of threads about Sabrina and her mom, who's trapped in limbo, so there's definitely tendrils of narrative that we continued, but if you're coming in cold, you should be able to understand everything pretty clearly."
● The holiday season isn't that much different for the Spellmans than the rest of Greendale – except when it comes to certain things like gathering the family together for a seance to contact a lost loved one:
"To most of Greendale, it's Christmas. But for the Spellmans, because they're witches, they celebrate Winter Solstice, which is a pagan holiday, which is similar to Christmas in some ways. For instance, they put up a tree, but rather than call it a Christmas tree, they call it a yule tree. You learn about one of the most important witch traditions, which is the burning of the yule log. However, for witches, the burning of the yule log is a precaution to keep nasty things from crawling down the chimney.

The other thing is, Christmastime is traditionally a big time for ghost stories and ghost visitations, A Christmas Carol being the best example of that. So Sabrina gets it into her head that she's going to have a seance to contact her mother. So, that's another way that witches celebrate the holidays on our show."
Chilling Adventures of Sabrina stars Kiernan Shipka, Miranda Otto, Lucy Davis, Ross Lynch, Michelle Gomez, Chance Perdomo, Jaz Sinclair, Richard Coyle, Tati Gabrielle, Adeline Rudolph, Abigail Cowen, Lachlan Watson, Bronson Pinchot, and Gavin Leatherwood

Riverdale showrunner Roberto Aguirre-Sacasa, who also serves as chief creative officer of Archie Comics, penned the script for the series. Aguirre-Sacasa executive produces alongside Riverdale collaborators Greg Berlanti, Sarah Schechter, Archie Comics CEO Jon Goldwater and Lee Toland Krieger. The drama hails from Warner Bros. Television-based Berlanti Productions.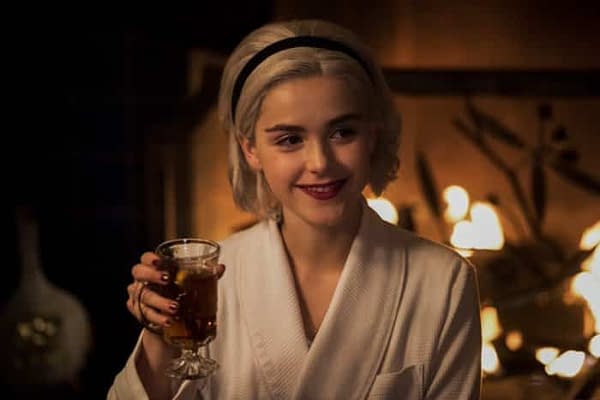 ● Now that we know familiars can speak, might our beloved Salem be getting its own voice? Aguirre-Sacasa says that fans shouldn't give up hope: "There is a universe where Salem may one day speak. I absolutely think that that's possible."
● The second-season teaser gave fans a look at several possible "love triangles" – and for good reasons: "I think that with these kinds of TV shows or shows for young people, it never hurts to have a love triangle. It never hurts. That's what I'll say about that."
● The world of Sabrina does not revolve around the teen population alone. What about aunts Hilda (Lucy Davis) and Zelda (Miranda Otto)?
"You definitely get a big story about the baby in the Christmas episode. Then, you do learn what secrets that Dr. Cerberus is keeping from Hilda in the second half of the season."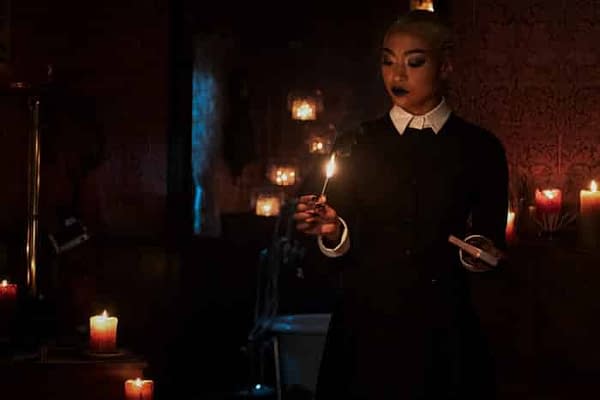 ● While nothing was offered/spoiled about the possibility of a Riverdale crossover, Aguirre-Sacasa did say that the "Easter eggs" and in-jokes would continue: "I think it's fun to see little Easter eggs, so we try to sneak them here and there. That's something that we continue to do on the show. I think the fans of both shows love it."
● Now that we have the "ground rules" and our cast of characters in place, how will the second season differ from its freshman year?
"It's a little more fun. It's a little sexier. Now that we know everyone and we've really established the world, we can play in it a little more rather than build it. It feels a little more ambitious and rollicking than part one."
Adding to next season's wicked fun is Alexis Denisof (Buffy the Vampire Slayer, Angel) as Adam Masters, Ms. Wardwell's boyfriend who returns to Greendale after a stint overseas working with Physicians Without Frontiers — unaware that his fiancée has been taken over by the demoness Madam Satan; and Jedidiah Goodacre (The Originals, The 100) as warlock Dorian Gray: owner of exclusive nightclub Dorian's Gray Room and enigmatic gentleman of an indeterminate age who is very good at keeping secrets, especially his own. During the Sabrina holiday special, McKenna Grace (The Haunting of Hill House) will portray a young Sabrina Spellman.