Carmen Sandiego Season 3 Short But Satisfying, Avoids "Netflix Bloat"
To kick off Halloween month, Netflix released a shortened third season of their revival of beloved childhood educational entertainment classic Carmen Sandiego. Despite it only being 5 episodes long, this cartoon proves it's quality over quantity. If you happened to miss the last season, you can catch up on my spoiler review here.
This season really hits its stride – Netflix listened to what the audience had to say about it and tweaked some things so it just keeps getting better with each season. The last we saw Carmen (not counting the interactive "To Steal or Not to Steal" special), she and her team, which now includes Shadowsan, had tracked down her past to Buenos Aires and discovered that even though VILE had killed her father and taken her as a baby when they learned he was planning to escape the life, her mother may still be out there…somewhere. And so they search the corners of the globe now not only to foil V.I.L.E. heists but for leads to Carmen's mother.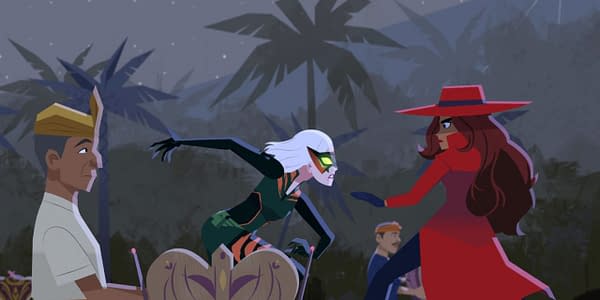 Ivy and Zac's super over-the-top Boston accents sound a little dialed back this season and more in the range of "normal thick" Boston accents, which I absolutely love. Not only is it a natural course for the characters who have been traveling abroad with Carmen for the past few years, but it makes the show more serious and a little less grating without beating you over the head with it. The entire voice cast has outdone themselves this season especially in bringing the stylized world of Carmen Sandiego to life.
The story gets intricate and intense, and also timely with Halloween and global fall festivities serving as a backdrop for many of the episodes. Plus, we get the voice acting of Dante Basco this season as V.I.L.E. operative Spinkick. Sadly, he's not successful, but maybe that means we'll see (er, hear) more of him in the future. Side note: Netflix is absolutely slaying at the children's animation game recently – Carmen Sandiego is just another that proves that even though it may have been made with kids in mind, it's just as entertaining and engaging for adults as well.
Overall, this is a delightful stub of a season that left us wanting more for sure. It didn't suffer from "Netflix bloat" or filler episodes – it delivered a good story that was exactly as long as it needed to be. Well done, gumshoe – I mean Netflix. Hopefully, Carmen Sandiego will be back very soon to discover her past, foil V.I.L.E., and of course, teach us about geography and world cultures.