Chris Jericho, Lilian Garcia Criticized for Protest Response
AEW star Chris Jericho and former WWE announcer Lilian Garcia have come under fire for social media posts about the protests around the nation following the killing of George Floyd by Minneapolis police officers. While both Jericho and Garcia have broadly expressed support for protestors, both have made comments that have drawn the ire of critics.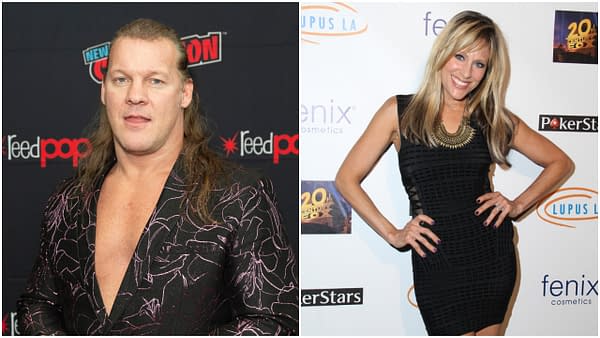 Chris Jericho Says All Lives Matter
In Chris Jericho's case, the trouble appears to have started when Jericho posted a meme on Instagram, which read, "It's not white vs. black it's everyone vs. racists 1,000,000." In response, a fan commented, "#blacklivesmatter," and in response, Jericho wrote, "#alllivesmatter." Jericho seemed not to come to the same conclusion as fellow wrestling star Randy Orton, who recently tweeted in response to the hashtag he had once used himself, "All lives DO matter, but the point I was trying to make is that I finally realized that until #BlackLivesMatters, they can't. Get it?"
In the following days, Jericho posted several anti-racism memes, including a picture of the word "racism" with a red "no" circle around it and the comment "Peace & Love to all of us!," a quote by Martin Luther King Jr. with the comment "Please Stop rioting… #PeaceAndLove," but each was met with a bevy of comments either criticizing or supporting Jericho's previous comment. One wrestling fan created a fifteen-minute long YouTube video explaining the Black Lives Matter movement, only to claim later that Jericho had blocked him on Twitter for making the video. Jericho hasn't responded to the criticism other than to reply to one Twitter user to say, "Read your own twitter bio…and then actually do it." The user's bio contains a quote from Bill and Ted's Excellent Adventure, "Be excellent to each other."
However, Jericho's fellow wrestling star Dave Bautista did respond to the video creator who said Jericho blocked him, tweeting, "Brother I think everything you said is valid AF. I cant speak for anyone but I believe when people post #AllLivesMatter they mean well but they are severely missing the point. I lost over 11k followers very recently on IG and I hope they never come back #SpeakUp #BlackLivesMatter." Bautista later retweeted his own post. Over the weekend, Bautista appeared in an Instagram live video alongside Titus O'Neil to have an open discussion about racial issues with two Florida law enforcement professionals.
Lilian Garcia Changes Mind About Protests
Garcia, meanwhile, came under fire after first posting to Instagram on Saturday, "Los Angeles PROTEST Happening outside my home in Los Angeles! I hope it all stays peaceful. Violence never solves anything! 🙏🏼. #blacklivesmatter #peacefulprotest #georgefloyd #justice #equality #equalityforall," but posting the next day, "Yesterday I was supporting the protest to say that change had to take place and I understood the pain some of my friends were experiencing from the George Floyd death, BUT looting and vandalism is NOT the answer!!! Especially businesses that had NOTHING to do with Floyd's death. They were already having a hard time due to the pandemic and now don't even have businesses to come back to because someone felt like their agenda was more important.
Garcia's post continued, "HATE NEVER REPAIRS HATE!! And putting a blanket statement that all cops are bad is NOT true and NOT productive. We NEED police officers or there wouldn't be any order in this world. And I TRULY believe there are some good cops that REALLY want to be of service. I will ALWAYS choose to spread light in this world! That is the ONLY way to make REAL change. I hope you will be just as sad today to see what the negative actions of some have caused and choose to turn your hate and anger into something productive by spreading love. This could sound corny to some but I don't care. It IS the ONLY way to truly make change! ❤️🤍 Know that I LOVE you my #lilarmy ! 🙏🏼 #blacklivesmatter #georgefloyd #love #lariots #bethechange #spreadlove #hateneverwins #losangeles" Garcia recently interviewed WWE star MVP in an episode of her podcast, where the two discussed issues of police brutality and accountability.