Daniel Bryan Had Other Options But Brie Bella Made Him Sign With WWE
On last night's episode of Total Bellas, Daniel Bryan provided insight into what caused him to re-sign with WWE. Bryan and his wife, Brie Bella, have been arguing about their relationship this season, as Bryan's road schedule and Bella's business schedule have been causing friction between the couple as they try to care for their young daughter, Birdie. Additionally, Brie has told Bryan she doesn't want to have a second child, further distressing the WWE superstar.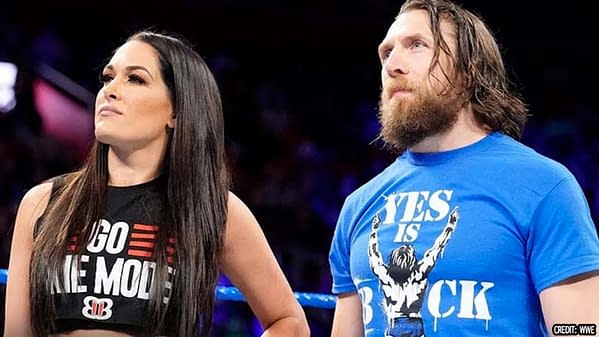 Things came to a head in the latest episode when Bella asked Bryan to fly home with Birdie so Brie could concentrate on her business in L.A. even though Bryan was staying in town because the couple rarely has time to spend together. An argument ensued, as captured by the show's documentary video.
"When we first started seeing each other, we agreed on we want a simple life," Bryan said.
"We evolve as humans," Bella replied. "Okay? WHo I was back then, which, I do like a simple life–"
"No, there's nothing about our life that is simple right now," said Bryan. "When are we just supposed to have a normal relationship?
"Our relationship was never normal," said Bella. "Not from the beginning. You and I were always on the road from the beginning."
"Okay, maybe normal is the wrong word," Bryan admitted. "When are we supposed to have time together, without cameras?"
"What am I supposed to plan that?" asked Bella. "Like, plan some things."
"I've tried to plan stuff," Bryan said. "I've tried. But you don't even give me the schedule a day in advance. You're the one who's frustrated like "you don't show enough PDA" all this kinds of stuff. How am I supposed to show PDA when we don't even see each other?"
"I don't complain that you're on the road as much as you are," Bella said.
"You're the one who wanted me to sign the contract!" Bryan shouted. "I wanted to be not as busy. And then when you wanted me to sign the contract, I fought to have less dates so I could be home more with you and Birdie."
Interestingly, the next part of the argument was cut from the YouTube video above, though it's still available on the Hulu version of the show.
"The contract was the only promising thing going for you at the time," Bella said.
"I had other options," Bryan replied.
It's interesting that Bryan would mention other options and that WWE could cut it from their YouTube video. Was Bryan talking about signing with a different wrestling organization, like NJPW, Ring of Honor, or even AEW? Hopefully, we'll learn more about this as the Total Bellas documentary continues, though I'm not sure if WWE will allow much more revealing footage like that to make the cut.