Dave Bautista Spoke with James Gunn, Won't Be Playing Bane for DCU
Dave Bautista shared that he spoke with DC Studios' James Gunn about portraying Bane in the DCU, explaining why it's not going to happen.
---
As the world eagerly awaits word on what DC Studios co-heads James Gunn & Peter Safran will be rolling out regarding the future of the DCU, we're getting some insight into the planning & development process courtesy of actor Dave Bautista (Knock at the Cabin, "Guardians of the Galaxy" franchise). For those of you who don't know, Bautista had been pressing Warner Bros. for a few years to give him a chance to play DC Comics "Big Bad" (and resident Batman breaker) Bane. Well, in a current interview with Insider, Bautista reveals that he spoke with his GotG director about the possibility after Gunn took over the DCU. "I have had conversations with James about that, but I think the direction he's leaning in, completely rebooting that whole universe, he's starting from scratch and starting younger and fresher, and I think you need to do that," the actor revealed.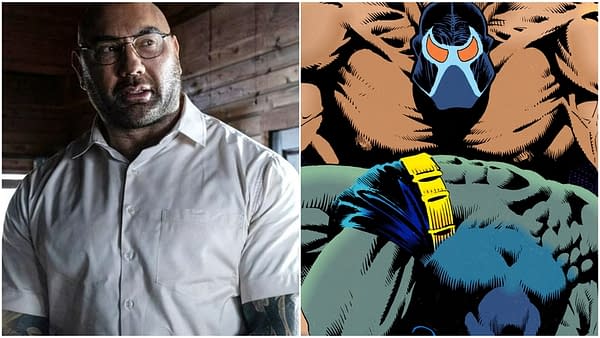 But with that understanding came the realization that Bautista's window to play Bane may be up. "I think for the DC Universe to be revived, you need to start from scratch, and I think you need to start with younger actors. You need to start to plan for the next 15 years, and I just don't think you can do that with me. And I understand that," the actor continued. "And, also, I have to say that I appreciate that because I don't want to play a character that I can't bring justice to it. I don't think at this point in my career that I can bring justice to Bane anymore. I just don't know if I could handle the physical part, and I don't think I would have the longevity to plan ahead for films. So, I just don't know if I'd be that guy."
James Gunn, DC-Loving Congressman Robert Garcia & The DCU
With all of the anticipation over what exactly Gunn & Safran will be rolling out regarding the future of the DCU, there was actually some time for a little fun on Sunday. And that came courtesy of DC-Loving Congressman Robert Garcia (D- California), who took to Twitter to "threaten" Gunn with a Congressional hearing if some plans aren't made public by February 1st. "If [James Gunn] doesn't present the new DCU plan by February 1st, I'm calling him in for a congressional hearing where I will ask the tough questions everyone wants to know," Garcia tweeted. And it worked, getting not just an emoji reaction from Gunn but also a reaffirmation that "answers" will be coming. Here's a look at how their exchange went down, ending with a promise to not just the American people… but to the entire world:
And here's a look at Rep. Garcia's tweet from earlier in the day, "threatening" Congressional action: