Doctor Who Weekend Rewatch Adds Tennant, Tate, Agyeman, and Barrowman
The next Doctor Who global fan rewatch event is Sunday, and it looks set to be the most epic yet. Former showrunner Russell T. Davies and director Graeme Harper will be watching and live-tweeting "The Stolen Earth" and "Journey's End". The two episodes are the closing episodes of Davies' run on the show. He decided to go out with a bang and pulled off the biggest Dalek invasion ever. He also brought back Davros for the first time in the revived show. Davros last appeared in the 7th Doctor adventure "Remembrance of the Daleks" back in 1988. By Friday evening, the Doctor Who Lockdown account reported that stars David Tennant, Catherine Tate, Freema Agyeman, and John Barrowman will be joining in as well.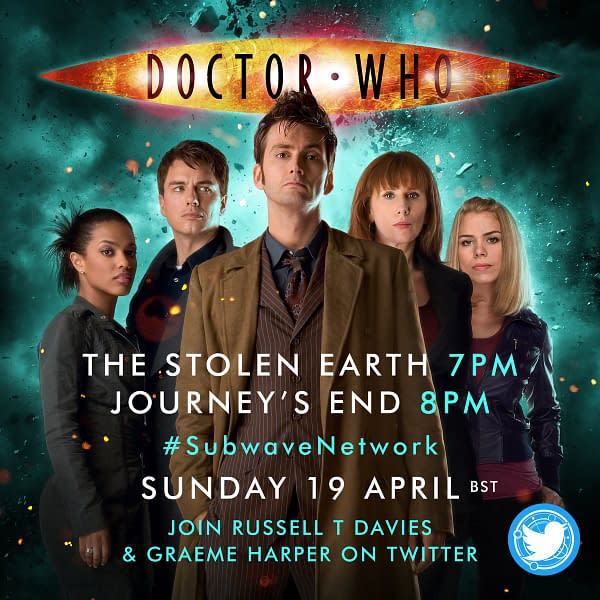 Viewers Meet The Justice League of Doctor Who
The episodes were the culmination of Davies' story, bringing together not only Billie Piper's return as Rose Tyler for the first time since she was lost to an alternate dimension. It also features Sarah Jane Smith (Elizabeth Sladen) and the cast of her spinoff show The Sarah Jane Adventures and Captain Jack Harkness (John Barrowman) and the surviving cast of Torchwood. The latter included Gwen Cooper (Eve Myles) and Ianto Jones (Gareth David-Lloyd). The two-parter even brought back the much-loved Harriet Jones (Penelope Wilton), former Prime Minister and backbench MP of the constituency of Flydale North. This was pretty much The Doctor's own Justice League as they battled against Davros and his resurrected Dalek army. They didn't so much invade the Earth as steal it. The Doctor and his team have to fight to literally take the Earth back.
Russell T. Davies' Had Another Ending
This wasn't exactly Davies' real ending for his run on the series, of course. The BBC would convince him and Tennant to return for a smaller half-season of four special episodes. This was to buy some time for Steven Moffat to take over as the new showrunner. Davies used those specials to push The Doctor even further in his emotional complexity. Davies also addressed the last dangling threads from his run, like the final confrontation with The Master and resolving Donna's story at last. I wonder if there will be a rewatch for any of the specials.