Dominik Mysterio Wants to Settle his Daddy Issues at WrestleMania
Rey Mysterio declined a WrestleMania challenge from Dominik Mysterio on WWE Raw last night, but we're sure they'll get there eventually.
---
Dominik Mysterio challenged his father, Rey Mysterio, to a match at WrestleMania on WWE Raw last night. The match would be the culmination of a long-running storyline where Dominik entered WWE as his father's tag team partner, only to eventually turn on him and join the Judgement Day, where he became the sex slave of Rhea Ripley. At least, we're pretty sure that's the implication. In any case, tensions have been high between the Mysterios, with Dominik showing up at family events with Ripley to terrorize his father, and even spending a night in jail over it. There's just one problem with this big match, however: Rey doesn't want to do it.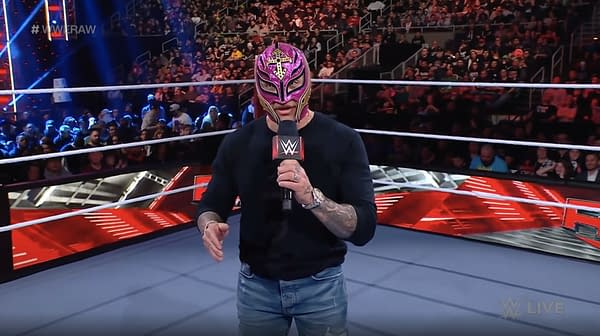 When Dominik Mysterio challenged Rey Mysterio to a match at WrestleMania last night, his father refused, sticking to his pledge that he won't fight his own son. But we're sure they'll find a way to come to terms on this match before the big event.
Assuming he does end up facing his son, this will be a big WrestleMania for the legendary Rey Mysterio. Mysterio is the headlining inductee in the WWE Hall of Fame this year, which is a rare honor for an active competitor. In fact, the Hall of Fame induction even lends itself to speculation that if Mysterio does face his son at WrestleMania, it (or a follow-up rematch in the near future) could be a retirement match for Rey, who has been wrestling since 1989, when he was 14 years old.
Either way, it will be a big moment for the Mysterios to settle their differences at WrestleMania, which has only featured one other father vs. son match when Vince McMahon faced Shane McMahon at WrestleMania X7. WrestleMania takes place this year in Los Angeles on April 1st and 2nd.