'The Flash' Review: "Goldfaced" Honors Our Heroes' Humanity [SPOILERS]
In what may be a first for CW's The Flash, this week's episode "Goldfaced" featured almost no use of superpowers by our team, as Barry (Grant Gustin) and Ralph (Hartley Sawyer) go undercover with a meta-powered arms dealer who inhibits their powers. Meanwhile, Iris (Candice Patton) does some undercover sleuthing of her own, coming face to face with Cicada (Chris Klein). And on a lighter note, Nora (Jessica Parker Kennedy) explores Sherloque's (Tom Cavanaugh) love life – featuring a guest turn from Kimberly Williams-Paisley.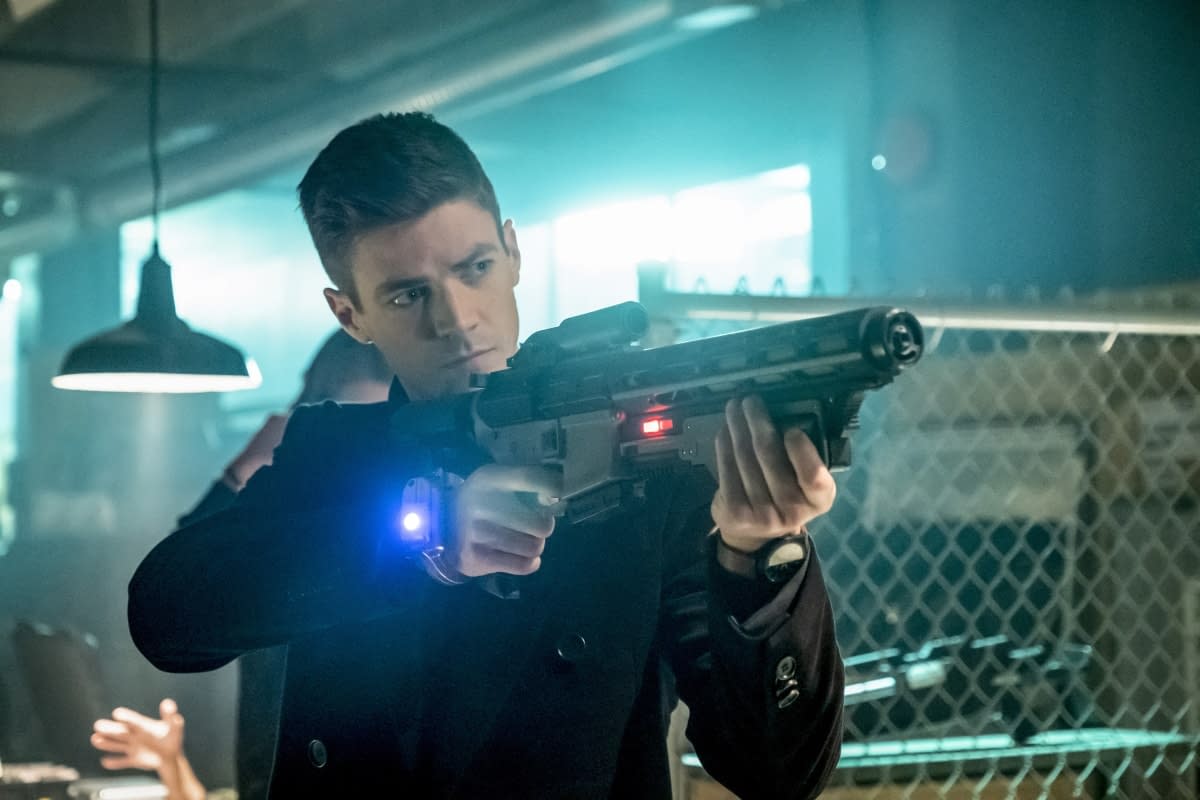 What works with this episode? It all has to do with powerlessness, specifically by stripping our heroes of their powers, we get to see what they're really made of. In so many ways, this goes to the heart of what the season is all about. When faced with an enemy who strips metas of their powers, the team has mostly gotten by with a combination of luck and moxie. This episode helps remind them that even without their powers, they still have plenty to offer in terms of heroism.
And nowhere is that more clear than with Iris as the show's secret weapon. In a series that so often leaves her in a support role or robbed of her own agency or hero's story, this episode proves exactly how valuable she is. It's easier to face down the bad guys when you're the fastest man alive, or made of unbreakable stretchiness. It's far different for a normal human to face down a serial killer in his own apartment, sit with him and interview him, and then fight him off.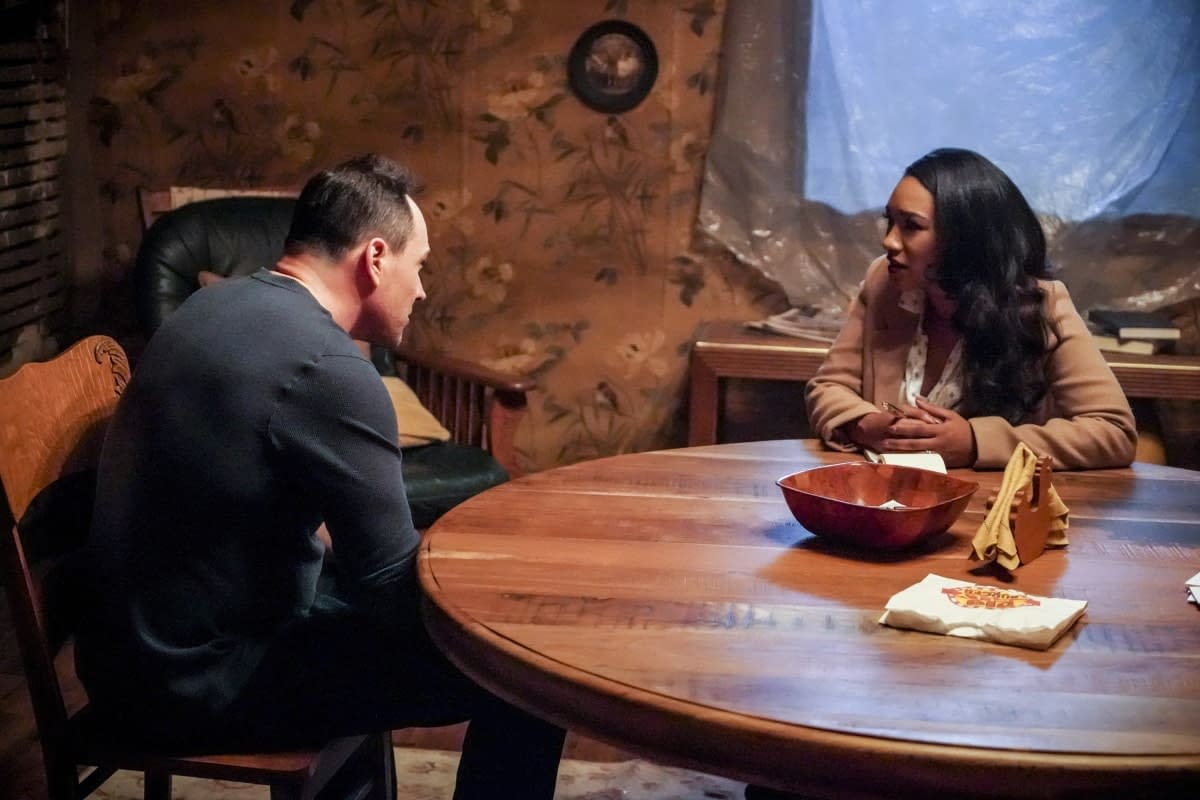 This episode also deserves another shout out to Chris Klein, who is a secret weapon on his own. His quiet, subdued demeanor is perfect for masking the killer underneath, and when he lets the beast out, he lets it out. Always scary, always intimidating– it's what makes Iris is a hero beyond any of the rest of Team Flash this week, especially in that she may have discovered a way to defeat Cicada.
Oliver and Ralph's bouts with powerlessness are also interesting, but perhaps less revealing. Even without being The Flash, Barry Allen is still a smart cop who knows criminals and evidence– at least enough to lie through his teeth to pretend he's an unheard-of supervillain he invents called "The Chemist," taking credit for a series of unsolved high tech heists.
https://youtu.be/jNM7mk-S_YA
The other bit of Ralph and Barry's excellent adventure is a little more problematic, as essentially their solution to taking down a gang of violent criminals is to play shoot 'em up (with conveniently made high tech stun weapons so they don't have to actually murder people!). The scene is fun, if maybe a little bit laughable. It's like if they said, "Get me a song to use in this episode for the shootout scene that's vaguely reminiscent of The Matrix soundtrack!" "What about White Zombie's 'Dragula' from The Matrix soundtrack?" "Well, I would've preferred Propellerheads, but ok…"
And lastly, Ralph's explanation for why they're such crack shots "I told you all that Red Dead Redemption would pay off" is the best worst explanation for gun mastery since Marty McFly said he learned to shoot at 7-11. *sigh* At least it was fun, if a little silly and tonally different from most of The Flash.
Speaking of tonally different, in a side storyline we have Nora trying to distract Sherloque from investigating her by distracting him with women. Interesting take? It sort of works as Sherloque is taken with a girl in the coffee shop played by Williams-Paisley. When he ends up creeping her out, Nora decides to call on her own interdimensional council of Sherloque's ex-wives… who all happen to be played by Williams-Paisley.
Apparently, he has a type…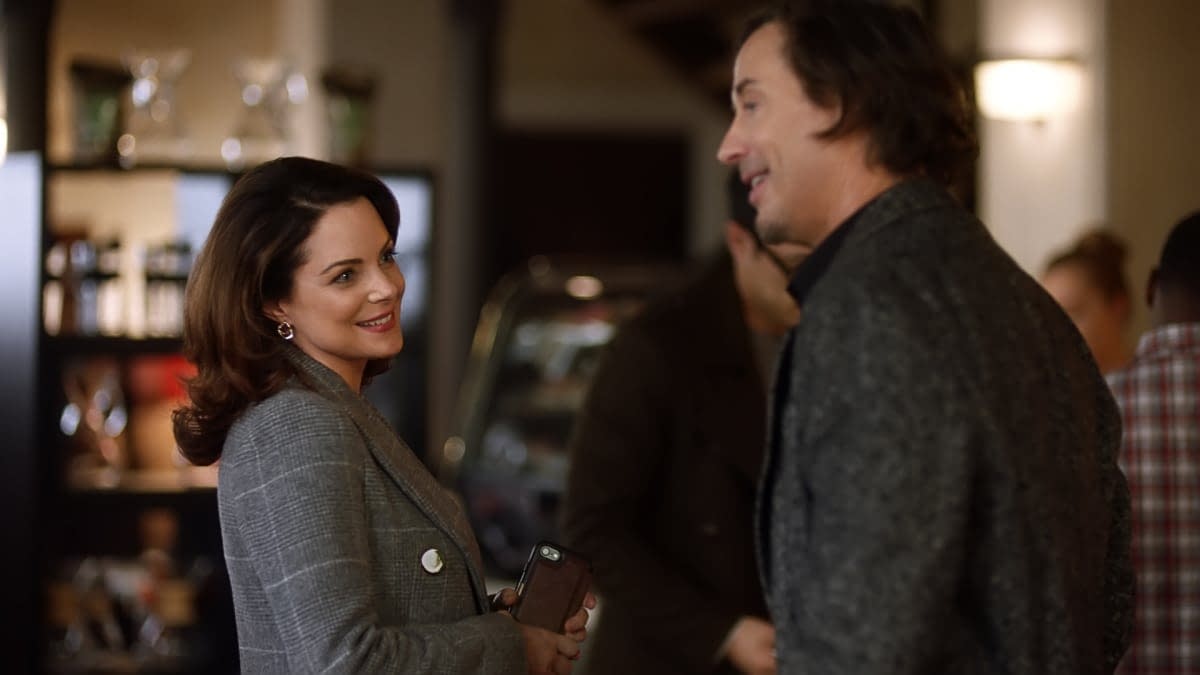 Let's talk for a minute about Williams-Paisley. I bet many of you are saying, "Oh, I recognize her! But from where?" Apart from guest spots on shows I've proudly never watched (According to Jim, Two and a Half Men) where I best know her from is as the eponymous bride in the modern "classics" Father of the Bride and Father of the Bride II as well as numerous wonderfully-terrible Hallmark Channel-type Christmas movies (guilty pleasure) – including the worst of the worst of the worst of these ever: The Christmas Shoes (just terrible). All of that is forgiven, because she is just delightful. She's delightful especially in this, and the way things were left open (either for the council of ex-wives to demand their alimony or for more dating on Earth-1) makes me excited to see as much of her as possible.
I'm sort of bored of Sherloque/Wells as being a "deus ex Machina" to figure things out for Team Flash – but I'm definitely here for dating shenanigans and messy human beings. I'm also especially here for Cavanaugh as Eobard Thawne and his future conspiracy with Nora. Frankly we could do with more of that and a little less of Sherloque. So a new rule: Cavanaugh is only allowed on screen as Sherloque when he's with Williams-Paisley – otherwise, he's Eobard Thawne.
I will accept nothing less…until next week, where it looks like there will be a Groundhog Day-style attempt to change an encounter with Cicada that appears to go badly:
https://www.youtube.com/watch?v=OnFtrGCKSjM
The Flash s05e14 "Cause and XS" – After Iris (Candice Patton) lands in serious danger, Nora (Jessica Parker Kennedy) races to save her mother. Barry (Grant Gustin) puts the finishing touches on the metahuman cure, leaving Cisco (Carlos Valdes) with a rare night off so he decides to take Kamilla (guest star Victoria Park) on a date. Rachel Talalay directed the episode written by Todd Helbing & Jeff Hersh.
We'll be back next week to cover that, when The Flash returns to the CW on Tuesday, February 12. Until then, let us know your favorite Williams-Paisley Hallmark Christmas movie in the comments below…