HouseBroken Season 1 E05 Finds Boomsday Chaos At The Beach: Review
On the recent episode of FOX's HouseBroken, chaos ensues when the surprise of "Boomsday" (better known as the 4th of July) comes for Honey and others at the beach. While Honey and Chief get excited about a trip to the beach with their owner, they run into opposite personalities that temporarily split them apart. Honey goes with another dog for frisbee, mainly since she looks similar to a friend that passed, while Chief hilariously becomes a god-type to a group of sea lions nearby.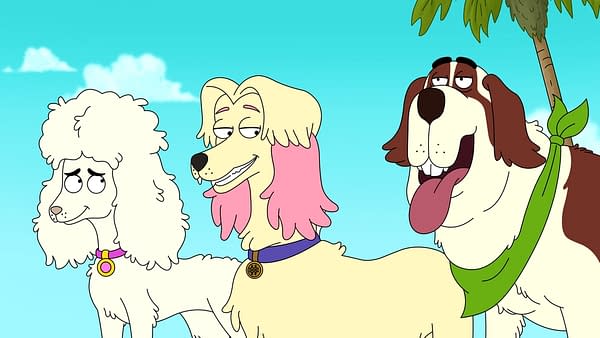 Poor diablo wrestles with the ups and downs of anti-anxiety meds while Elsa gets anxious about the legitimacy of her "support dog" status. The two eventually team up to try and find Honey and Chief before fireworks begin and panic eventually grabs hold of Chief specifically.
During the run of the main story of this episode of HouseBroken, the beach, and Diablo's insane pixelated crotch, the other side story such as the alleyway with the seagulls felt like a fill-in and unnecessary. Something more could have been added to the character storyline of Tabatha in these moments beside her continued stay at the cat café. It would be interesting and funny to see Tabitha do more or address more, luckily we've been able to see her development when she decided to help the gray one and Chico. The style of animation done with the group of sea lions was odd yet perfect for their personalities, doing well alongside the upbeat nature of Chief. I had fun watching this episode, but I did feel myself drifting away from it whenever we weren't watching what was happening at the beach. If the narrative of this episode of HouseBroken stuck to the beach location, even if it did have a variety of things going on, it may have been more cohesive in the end.
Rating: 7.5/10

Bleeding Cool TV on Instagram: For all of the stuff too random and bizarre to make the site, make sure to follow us on Instagram (with an official launch on June 19): Bleeding Cool TV (@bleedingcooltv).
BCTV Daily Dispatch: For a look at what's going on across the television and streaming landscape, sign up for Bleeding Cool's daily email round-up of the news you need to know here.