'iZombie' Season 5, Episode 3 "Five, Six, Seven, Ate!" Had A Lot to Celebrate! [SPOILER REVIEW]
With the latest season outing from the CW's iZombie "Five, Six, Seven, Ate!," I was taken back to the first season and why I got hooked on the show to begin with. A legitimate murder case; Liv (Rose McIver) and Clive (Malcolm Goodwin) in full detective mode swing; Ravi (Rahul Kohli) and Liv engaged in a beautiful dance partnership; a brain salad; and Liv's visions (I've forgotten those even existed). This episode was light, refreshing, sexy, and had me laughing and enjoying the various nuances. It was also kind of nice to let my mind rest and not have to focus on following 9 different unresolved plots at the same time, something that has become status quo – especially in the last two seasons.
https://www.youtube.com/watch?v=sUJ8rcoqH7I
The episode centers around the poisoning of dance partners Nancy and Gulliver, competing on "Dance of a Life Time". The winner gets two tickets out of Seattle, a much sought-after prize. Being the duo to beat, the suspects are naturally the other contestants. Liv quickly consumes Nancy's brain and welcomes a codependent dancer persona. With Clive's approval, her and Ravi go undercover in the competition as Jack Steel and Juliette Valentine. While Liv is confident with her dance skills, Ravi is scared for his life. Having two left feet, we are subjected to his blunders, stumbles, and awkward body spasms.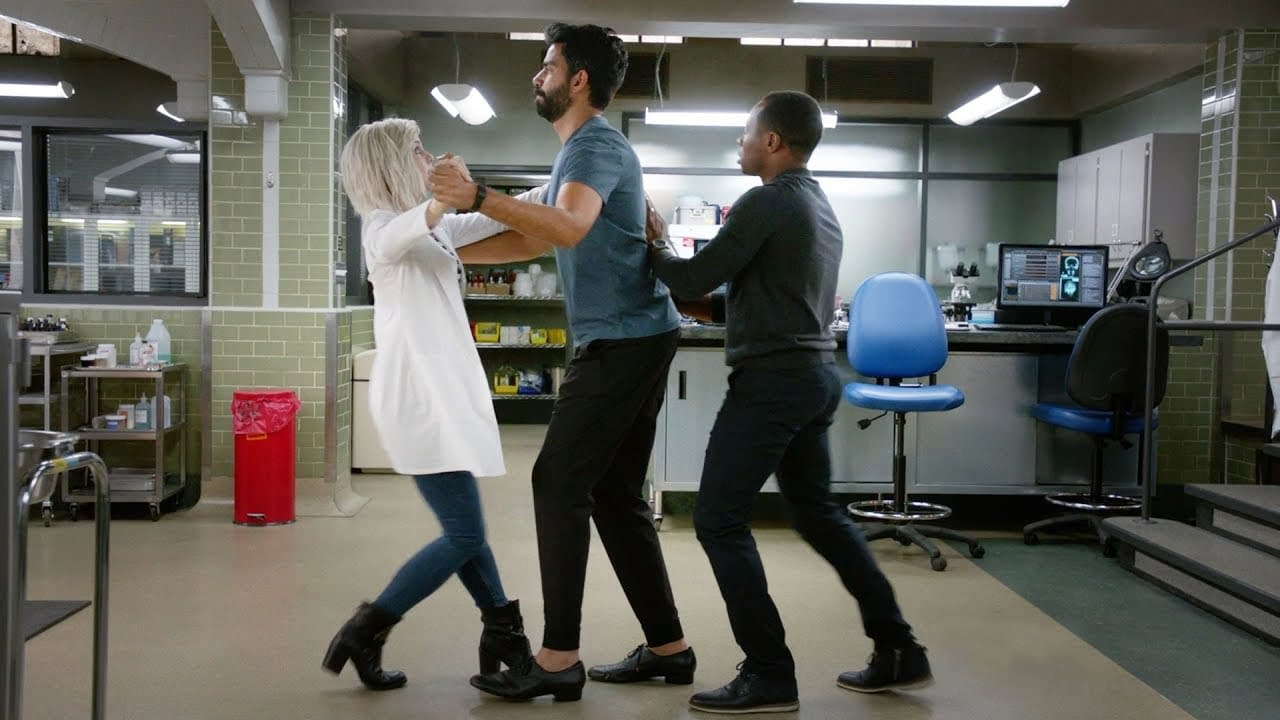 A must-see scene is the parody to Dirty Dancing with Jennifer Grey, Patrick Swayze, and Cynthia Rhodes dancing to "Hungry Eyes" by Eric Carmen as Baby is being taught to dance. Now picture Clive as the spot man for Ravi. The trio were an utter pleasure to watch, and Clive really stole the spotlight with his salsa moves – and let's not forget Ravi, who had me dying as he danced his bum away while performing an autopsy.
During Ravi and Liv's coming out dance, Liv gets a vision that Gulliver had a boyfriend who was not too fond of Nancy. Liv abruptly abandons Ravi on the dance floor, leaving him alone in the spotlight and frankly making an idiot of himself. Liv and Clive rush to Renaldo's house to confront him about the argument. As he sips on his drink, he confesses to feeling guilty that he killed Gulliver by mistake. Shortly after his confession he collapses and dies. Guilt kills. Would have been nice if an interrogation took place – seemed a smidge melodramatic.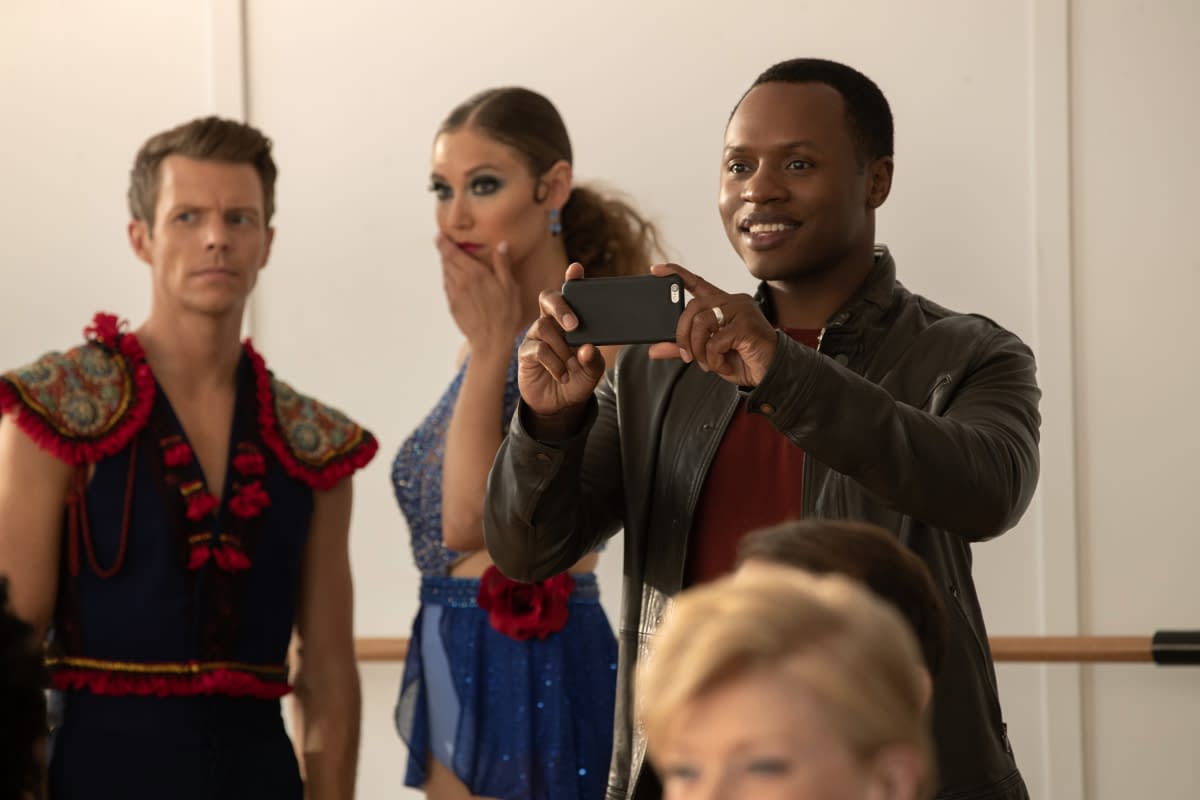 On a serious note, the Filmore-Graves soldiers break up an alleged routine lice check at a school which is actually used to identify zombies' students and then segregate them. Things get a little out of hand when a human student tries to steal a soldier's gun and the soldiers draw their weapons on the children. The entire incident is caught on video and presented to Peyton – who is not too pleased. In a fit of rage, Peyton shows up at Major's (Robert Buckley) office to demand he control his team. It was great to see finally see some fire in Major's eyes as he shut down Peyton's allegations and made her very aware of the true reasons behind the "routine" lice check. Can we please see more of this Major – instead of the self-loathing, job hating commander-n-chief?
Tragically, Michael (Orlando Lucas) – the zombie boy caught in the crossfire of the school's filtering system – gets bullied and goes into zombie rage mode, attacking his classmates. Peyton reaches out to Major to seek his advice on what to do with the orphan zombie and his little brother – who turn out to be Jordan's (Jade Peyton) siblings (small world). Major brings them to Renegade, and Liv volunteers to have them live at her safe house. Seems Renegade is expanding her operation to be an orphanage as well.
Clearly iZombie couldn't do without drama – but I'll be honest: I could. While Dale (Jessica Harmon) and Clive are at Lamaze class, Michelle (Christie Laing), the young recruit who Clive had a brief fling with before he proposed to Dale, shows up – with no partner in toe. Dale in her "Mama Bear" shirt confronts Clive as to the baby possibly being his and urges him to speak to Michelle about it. Michelle admits that the baby might be Clive's or her ex-boyfriend's – she will let him know when she knows. Not sure this kind of novella drama is a necessary addition to this week's episode. At the end, a kind-hearted Dale acts as Michelle's partner when Clive is unable to make it to class. Cue the violins… let's move on…
Is there a reason that Blaine (David Anders) – yet again – was not in the episode? Not that I am keeping track… but that's two episodes in a row. Also, what's going on with Dolly Durkins (Jennifer Irwin)? Her name was "conveniently" dropped by one of the "team identify zombie students" school teachers.
Hopefully, the rest of the season will continue to stay true to the original iZombie roots and we will see more crime solving, brain eating, lighthearted comedy. If I had to make a prediction, I would say war breaks out between the humans and zombies – most likely brought on by some misunderstanding orchestrated by Dolly. Coincidently enough, the zombie population will be hungry due to the continued limited supply of brains – making the fight that much bloodier and more gruesome. Major and Liv will finally get together and while wishing for a happy ending, Washington D.C. will follow through with their plans to wipe "New Seattle" off the map.
Since we have a few more episodes left before I find out if I'm right or not, here's a look at the next episode of the CW's iZombie, "Dot Zom":
https://youtu.be/W0akdhpDfN0
iZombie season 5, episode 4 "Dot Zom": GAGE GOLIGHTLY ("TEEN WOLF") GUEST STARS — Liv (Rose McIver), Clive (Malcolm Goodwin) and Ravi (Rahul Kohli) investigate the suspicious death of Cornell Piercey (guest star Devin Johnston), the head of Piercey Corp, a successful traffic app company. Melissa Schultz (guest star Stephanie Lemelin), Cornell's ex-girlfriend, is now running the company, makes an interesting reveal to Liv and Clive. Meanwhile, Peyton (Aly Michalka) is focusing on maintaining positive zombie PR in the city. Lastly, Blaine (David Anders) is intrigued when he meets Al Bronson (guest star Gage Golightly "Teen Wolf") of Bluster Magazine, as she is not at all what he was expecting. Robert Buckley and Bryce Hodgson also star. Michael Wale directed the episode written by John Enbom
CW's iZombie stars Rose McIver as Olivia "Liv" Moore, Malcolm Goodwin as Clive Babineaux, Rahul Kohli as Dr. Ravi Chakrabarti, Robert Buckley as Major Lilywhite, David Anders as Blaine DeBeers, Aly Michalka as Peyton Charles, and Bryce Hodgson as Don E. Filmed in Vancouver, British Columbia, Rob Thomas, Diane Ruggiero-Wright, Danielle Stokdyk, and Dan Etheridge serve as executive producers. Production is handled by Bonanza Productions Inc., in association with Spondoolie Productions and Warner Bros. Television.
iZombie airs Thursday nights at 8 p.m. ET/PT on the CW.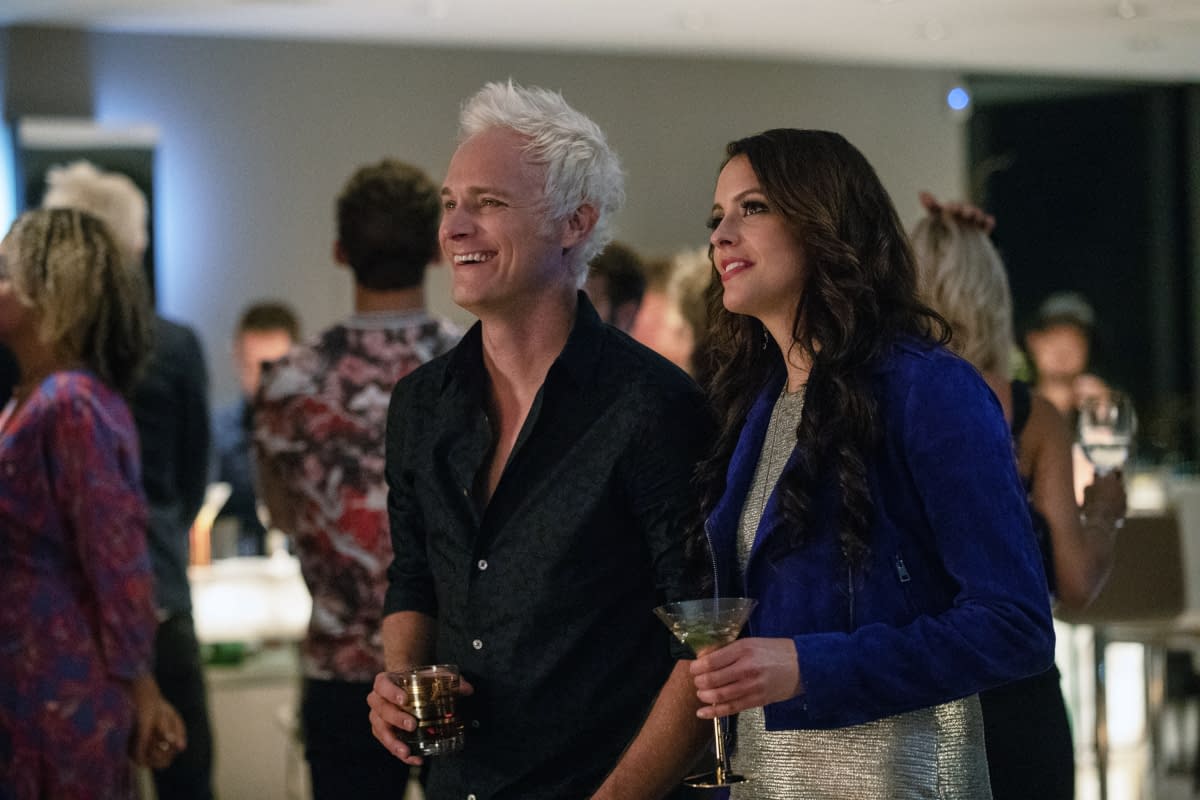 Margo Staten is a Ukrainian born, raised in Brooklyn, organically driven, coffee loving, twice-divorced mother of one baby Einstein. Has a passion for books, yoga in the park and all things 80's and New Orleans.