James Gunn Reassures Wonder Woman Fans About Her DCU Future
While answering/addressing a number of topics on Twitter, DC Studios' James Gunn had some brief but reassuring words for Wonder Woman fans.
---
With all of the talk over the past few weeks over what's going on with DC Studios' James Gunn & Peter Safran's first wave of programming for their new DCU, a lot of attention has been spent on Superman and Batman. How old are they going to be? Who's going to be playing them? How different will the DCU Batman be from Matt Reeves' take? When is Reeves starting up on The Batman Part 2? How's Gunn doing with his Superman: Legacy script? But there's been one name that's been painfully missing-in-action in all of this… the third member of DC's Trinity… Wonder Woman. Sure, we have the announced prequel series Paradise Lost, but that takes place before we would be getting our hero. Well, in the midst of his answering questions & responding to comments on Twitter over the past few days (more on that below), Gunn addressed the matter of Wonder Woman's future status in the new DCU and if WW fans will have "a long time" to wait before she returns to the spotlight.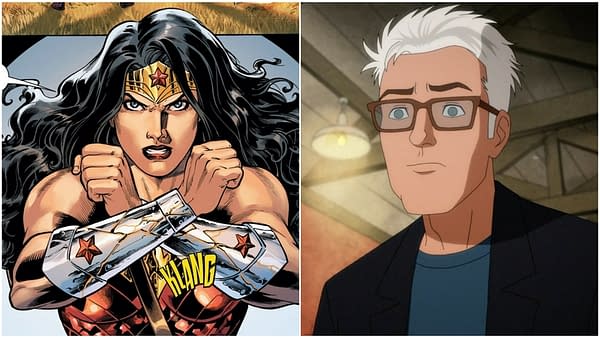 As you can see from the screencap below, Gunn once again kept his response short, sweet & to-the-point when reassuring fans out there that Wonder Woman hasn't been forgotten: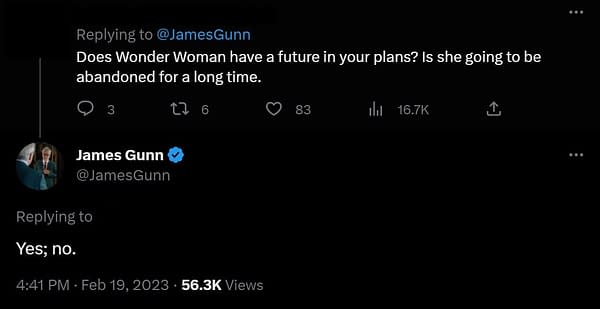 On Saturday, Gunn gave Bleeding Cool some much-needed attention by letting us know that four of the eight DC characters we hoped would make the jump from the comics to the screen would be punching that ticket. In honor that, we took a look at what else Gunn had to offer intel-wise via Twitter – take a look:
Gunn Clarifies Batman/"The Brave and The Bold" & Superman/"Superman Legacy" Confusion: Following up on a question regarding the age of the actor playing The Dark Knight & if they would be in their early 30s ("He hasn't been cast yet") in one tweet, Gunn cleared up some confusion regarding the age ranges being considered for Superman & Batman in another tweet: "Yeah but people are speculating about both ages. All I ever said was Superman was younger than in his forties, and Batman MIGHT be a couple years older than Superman."
Will We Learn Which 4 Bleeding Cool Got Right Within 6 Months? "No way" (but Gunn did answer "Yes" regarding major casting announcements within the next six months).
On Why Gunn Isn't Worred About "Big Studio" Pressure: "Peter [Safran, DC Studios Co-Head] and I are the studio. There is no one to meddle."
So About That Conspiracy Theory That Gunn Was Actually in Talks to Run DC Studios Before "Peacemaker": "Before Peacemaker? No way, not even close."
Gunn's Thoughts on "New Teen Titans" by Marv Wolfman and George Perez: "Grew up with it. [Marv Wolfman] was my hero!"
RAPID FIRE: Clark Kent will be in Superman: Legacy; Gunn's looking for more options than Clark being a 25-year-old Superman or Jon Kent, dropped a heart emoji when asked what he thought about The Question, wishes he could have a lot more Bat-Mite, and counts Star Wars Knights of the Old Republic as "my favorite game of all time."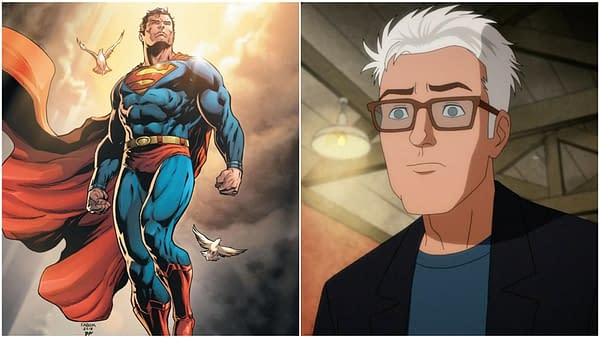 Following up on Saturday's rundown, Gunn commented on some responses fans had to a very sweet & heartfelt post. First up, Gunn confirmed that he's "very far" into writing the Superman: Legacy script and that the project was "always a separate project" from anything that may have been initially planned with "The Man of Steel 2" or anything involving Henry Cavill. Also, Gunn doesn't just like Krypto: "No I love Krypto." From there, Gunn was asked, "What was it like to work with Lee Pace and would you work with him again on the DCU? Also, do you like Denny O'Neils original Batman vs Ra's al Ghul stories and Talia al Ghul?" – with Gunn keeping his response short, sweet & to the point: "Great. Yes. Love. Yes." And for you Justice League Unlimited fans, Gunn confirmed that he's seen the animated series.