Jujutsu Kaisen S01E24 Accomplices Ends Strong, Leaves Us Needing More
With episode 24, "Accomplices", season one of Jujutsu Kaisen comes to an end showing us a side of Nobara and a side of the Cursed Spirits we had not seen before. on these last few months, it had become customary to kick back to Jujutsu Kaisen on Friday evenings or Saturday mornings after a long week of real life. It is a little heartbreaking, to be honest, to see this little new habit come to an end. If it were not because My Hero Academia is starting this week, I would be pretty devastated even having the manga to go back to. It had become the community's TGIJJKF.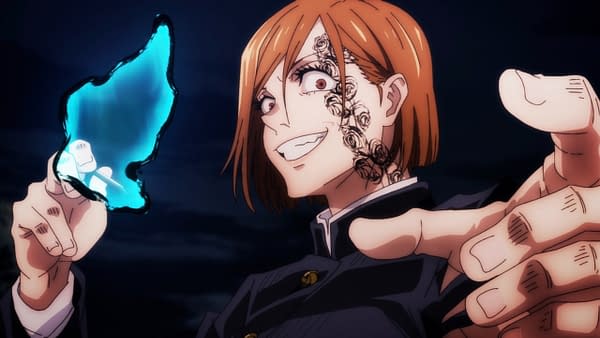 That said, this episode was so packed with action it felt like it was just one second long… and it was awesome! Okay, so last we saw Megumi had defeated that bridge spirit and obtained Sukuna's finger before passing out. On their end, Yuji and Nobara were facing Eso and Kechizu, two of the three brothers from the Cursed Womb: Death Paintings. The cursed objects Mahito had stolen during the Exchange event sabotage. It seems these are special-grade curses that are part human. We see a flashback where the three brothers, including Choso, promised to live for one another and pledge their services to the cursed spirits. According to Choso, their plans fit more with the life they wish to lead.
Yuji and Nobara go back to back against the brother, they put on an amazing fight while still looking out for each other. Unfortunately, they fall into Eso and Kechizu's trap after getting splashed with their blood. They are able to activate their technique which will slowly poison Yuji and Nobara and decompose their bodies. However, Yuji having Sukuna by his side is pretty much immune to anything. Nobara on her end has her amazing technique. She stabs herself with her nails and applies her technique to resonate with the cursed blood and their respective users. The tables suddenly turn and each cursed spirit cries for the other, making Yuji falter at showing humanity and feelings. As Eso tries to escape after being unable to save Kechizu, Nobara is able to exorcise him by using her straw doll technique. This whole battle had me screaming at the television and marveled at the animation. I swear, this anime is just a visual trip.
As Nobara and Yuji make their way back to Megumi, he confesses he was taken aback by the cursed spirits crying over one another and his discomfort over having tears shed over lives he ended. After finding Megumi he tells Yuji he will only give him the finger simply because he has no energy and advises him not to eat it, however, Sukuna swallows it directly from his hand, and Megumi's suspicions become more clear.
Megumi tells Nobara his concerns and asks her not to tell Yuji so he does not become overwhelmed by this. However, we see Sukuna has already revealed this truth to Yuji- how people will suffer simply because he is alive and housing Sukuna within him. We see Yuji ask him to never reveal this to Megumi. It is endearing and heartbreaking and I can only imagine this will just lead to major sad feels. As time passes we see news of their feat start spreading along with Jujutsu sorcerer how they destroyed three special grades and them being recommended for a special mission before they take off. I am so heartbroken to see this season end, like saying goodbye to a friend.