"The Bad News Bear" Gets All Snugly with 'The Magicians' [SPOILER REVIEW]
SYFY's The Magicians is often funny, but rarely does it just floor the joke peddle and go for broke. The latest episode "The Bad News Bear" does exactly that, and succeeds in launching this rocket-powered funny car of a show into new levels of magical comedy.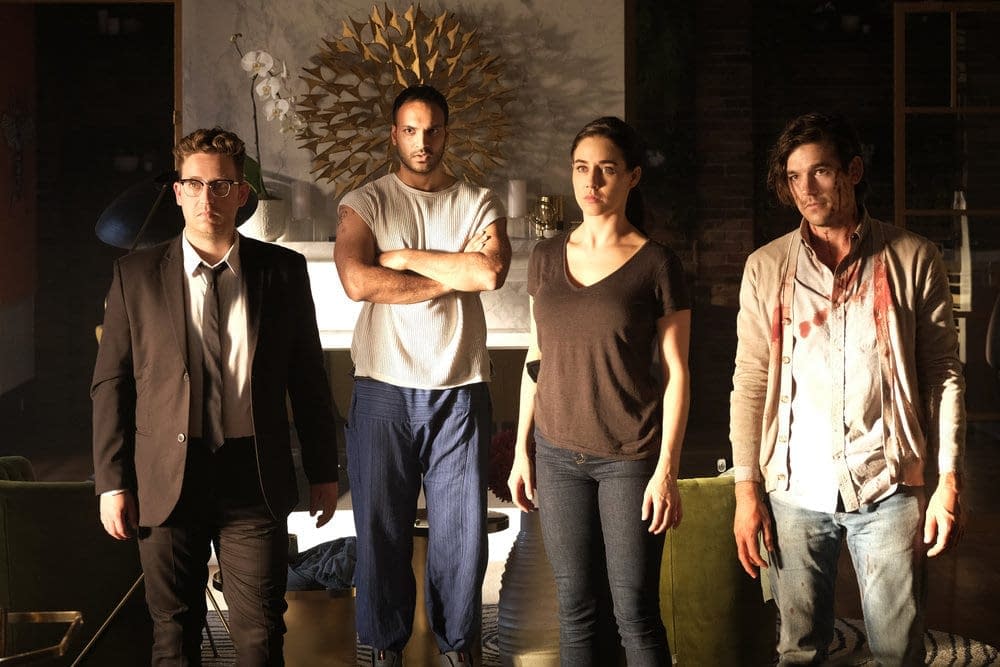 You wouldn't think you're in for such an entertainingly goofy viewing session from the setup: The Monster of Blackspire Castle (Hale Appleman) is still wearing its Eliot suit, and decides to punish Quentin (Jason Ralph) by killing all of his friends. The showdown is quick and brutal, with the Monster having the upper hand immediately and immobilizing the Brakebills crew.
Margo (Summer Bishil) arrives late to the party and goes off script right away, promising to help the Monster avenge itself on Bacchus (Ryan McDonald) in exchange for her friend's lives. The Monster is intrigued, and a series of magical pratfalls ensues.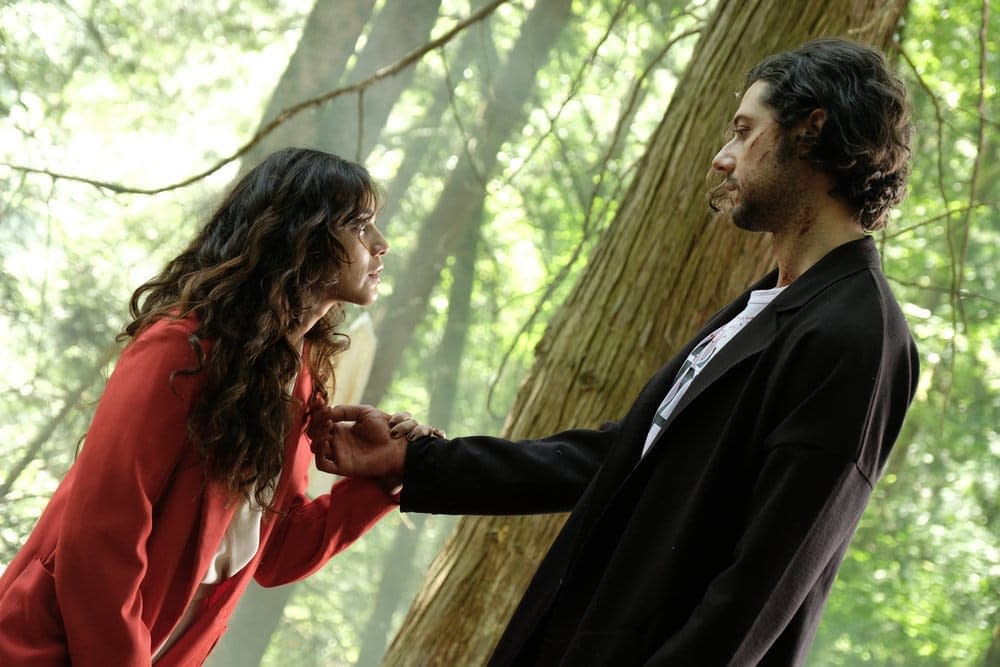 We won't get into specifics, but the middle part of the episode is so nimbly executed that it bears repeat viewing. There is a heist set in place that involves very specific rules with a magical foci, and the amount of abuse inflicted on Quentin really lets Ralph stretch out and shine in his performance.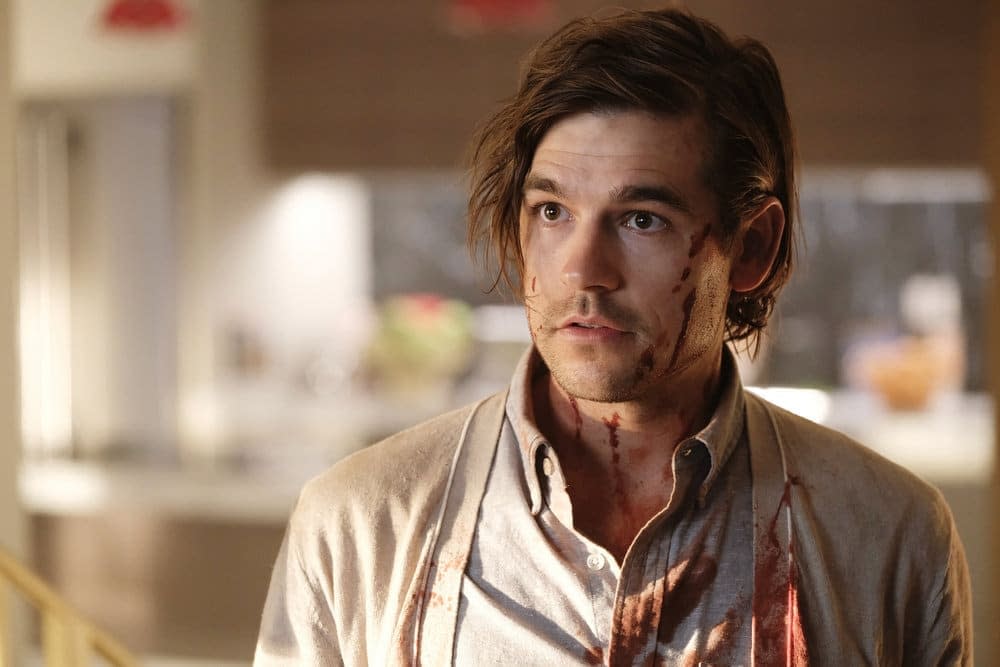 Margo has some great moments as well, taking on the Monster with a level of cunning none of the other characters could match. Bishil delivers menace, rage, betrayal, and mirth, oftentimes in the same sentence, and she's brilliantly entertaining to watch. Her pep talk with Josh (Trevor Einhorn) is legendary.
There's a lot to love with "The Bad News Bear," and we'll get into specifics in the spoilers section below! Everything involving Frankie (Zach Cherry) in this episode was solid gold. A magician who works exclusively with luck magic? Oh, that's fresh. The way Cherry acted so nonchalant about his impossible luck (how do you dismiss a bird bringing you a sandwich?) was note-perfect, and don't even get us started on the titular bear.
Ralph juggled some amazing emotional work in this episode, with Quentin torn between his duty to his friends and his very real need to check in with his parents. Transitioning between reactive comedy (toilet snakes) to raw emotional vulnerability has to be hard work, but Ralph made it look easy. These scenes allowed for moments of genuine tenderness and empathy between Quentin and Julia (Stella Maeve)- it was great to see these two old friends reconnect in such a real and relatable way.
Seriously, Margo might be the smartest character on the show. The way she handles the Monster, knowing full well that anything the rest of the crew had in mind was doomed to fail was amazing. She's a half-step ahead of this god-level menace, and hell bent on trying to save Eliot. She's the true ruler of Fillory, and has really come into her own as a character.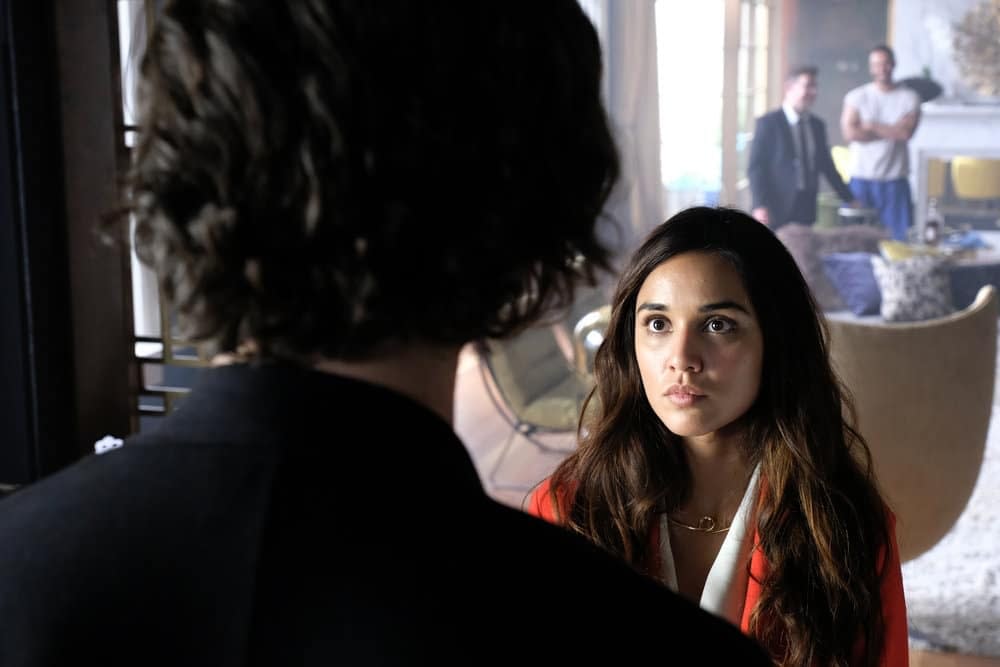 Alice (Olivia Dudley) is growing into a more nuanced character, which is refreshing. Her imprisonment at the Library has her improvising a lot, and her escape to retrieve her friend's books was innovative. Dudley is playing Alice with a quiet, manic intensity that has added a lot more dimension to the character.
Penny (Arjun Gupta) and Kady's (Jade Tailor) adventure to the Magic Bank was the perfect counter balance to Quentin's ordeal with the bear – with both of their terrible disguises throwing an already goofy sequence of events right completely off balance. "The Bad News Bear" is an entire episode of a writer's room having fun at work, well-executed by a cast that's perfectly suited to deliver.
Now if you'll excuse us, we're watching it again…

Here's a look at what's in store for our hapless magicians in next week's episode "Marry… Kill," airing Wednesday, February 13th on SYFY:
The Magicians s04e04 "Marry … Kill": Josh gives Margo a muffin; Julia drinks schnapps.
SYFY's The Magicians stars Jason Ralph, Stella Maeve, Olivia Taylor Dudley, Hale Appleman, Arjun Gupta, Summer Bishil, Rick Worthy, Jade Tailor, Brittany Curran, and Trevor Einhorn. The series' fourth season is executive produced by John McNamara, Sera Gamble, Chris Fisher, Henry Alonso Myers; and Groundswell Productions' Michael London and Janice Williams.