Amazon original series Mozart in the Jungle season 4 arrived on the streaming service last night, and it's already getting pretty fabulous reviews. If you haven't seen the series, this is the perfect time to marathon seasons 1-3. Truly, I cannot recommend it enough.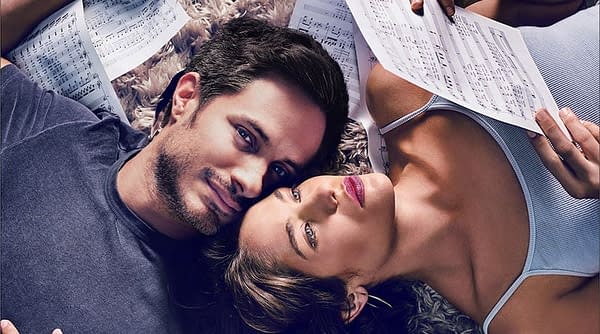 We thought maybe we'd dive right in with an episodic chat of each 30-minute episode of the award-winning series starting with the first in s4, 'The Boyfriend'.
When we last saw Rodrigo (Gael Garcia Bernal) and Hailey (Lola Kirke), they had returned from adventures in Venice, which ultimately strengthened their friendship/relationship — even though he slept with another woman AND professed his love to her (as well as Hai-lay). Hailey had just completed her first conducting performance of a piece written by Thomas (Malcolm McDowell), and also lost out on the open second oboist position at the orchestra, Gloria (Bernadette Peters) had secured funding for the youth orchestra, and Cynthia (Saffron Burrows) went in for wrist surgery (FINALLY). Also, Mozart's sister appeared to Hailey, much like how Mozart and others have appeared to Rodrigo, and encouraged her to pursue her dreams.
S4e1, "The Boyfriend":
Starts with babies crying — five or more, actually — in Hailey's dream. She calls to Rodrigo for help, but he offers her some 'hallucinogenic nose powder' instead, which ultimately wakes her up.
Thomas is giving Hailey conductor lessons; he truly sees talent in her. Obviously he wouldn't be giving her his time if he didn't.
He makes the observation that she has been using Rodrigo's mannerisms in her movements, and points out that Rodrigo just "hasn't been the same" since coming back from Italy.
"The orchestra needs a conductor with big giant balls, or ovaries. That's it, big f**king ovaries." Yes, Thomas, yes.
Rodrigo doesn't think Wisconsin is a state, and he announces that his not-perfect youth orchestra will be performing Beethoven's 5th for an upcoming concert.
Hailey and Rodrigo end up going back to Gloria's apartment, which Rodrigo has been staying at, and of COURSE Thomas and Gloria return for some afternoon delight.
Thomas utters another choice line re: Gloria — "Tits like the Venus di Milo, only better"
The relationship between Rodrigo and Hailey is revealed (obviously) and Thomas is super against it, saying that Hailey is a promising talent and shouldn't be possibly affecting her career. Gloria, however, thinks it's great.
Lizzie (Hannah Dunne) and Hailey catch up a bit at Lizzie's club, and Hailey gets a new idea for the direction of her ensemble, The Thundering Toothpicks.
Lizzie actually drops a pretty great suggestion for the group: only playing the work of contemporary female composers.
Dee Dee (John Miller) makes a housecall with Cynthia and co to visit a promising young percussionist from Rodrigo's youth orchestra to offer his services as a tutor. Boy's mom says they'd need replacement help in the family restaurant, and Rodrigo steps in.
AT LAST: the appearance of John Cameron Mitchell as Egon, the new ballet company director with the bestest hair.
Egon wants to collaborate on a new ballet based on Faust, but for no audience.
Hailey gets ready board a bus to travel home to visit her parents — and Rodrigo shows up to talk to her.
He decides to come with her to meet her parents, because he's "The Boyfriend" and wants to be with her.
"I don't want to think about the audience; I just want to be with my girlfriend."
It's so wonderful to see these characters together, FINALLY. The performances by Bernal and Kirke really sell the frantic beauty of it. On to Mozart in the Jungle season 4, episode 2!
Enjoyed this article? Share it!