"My Hero Academia" Season 4 "Win Those Kids' Hearts" Left Mine a Little Lukewarm [SPOILER REVIEW]
Let me start by saying that My Hero Academia "Win Those Kids' Hearts" was… okay (you can check out my review of last week's episode here). I think it was good in terms of setting up for the next one, but not my favorite in regards to content. While I enjoyed certain aspects, it moved painfully slow – and all I can think is, Bakugo is in need of some character redemption arc ASAP.
"Win Those Kids' Hearts" focused on Bakugo and Todorki's chance at obtaining their provisional hero licenses. I am loving this new Todoroki we have been seeing lately- I love seeing his struggle with being social… probably too relatable. As per Bakugo, how much longer can we take an angry boy who just keeps emotionally abusing everyone within range and who does not have even an ounce of likeability in him? I mean, I can understand why so many other characters distrust him.
[rwp_box id="0"]
Anyway, getting their provisional hero licenses, right… UA encounters the students they fought against at the last tournament, and we see Cami again—who had been impersonalized by Toga previously. It seems she does not remember anything about what happened and I am very curious about how this could lead to more.
Turns out this time our heroes in training will not have it so easy: this time around, their enemies are kids. Their goal is to win these troubled kids' hearts. I personally found this a terrifying task, to be honest. I really enjoyed seeing their struggles and how Todoroki kept trying to win over their hearts again and again. That said… while I found it amusing, it was still a little too bland and felt longer than it actually was – not a good thing.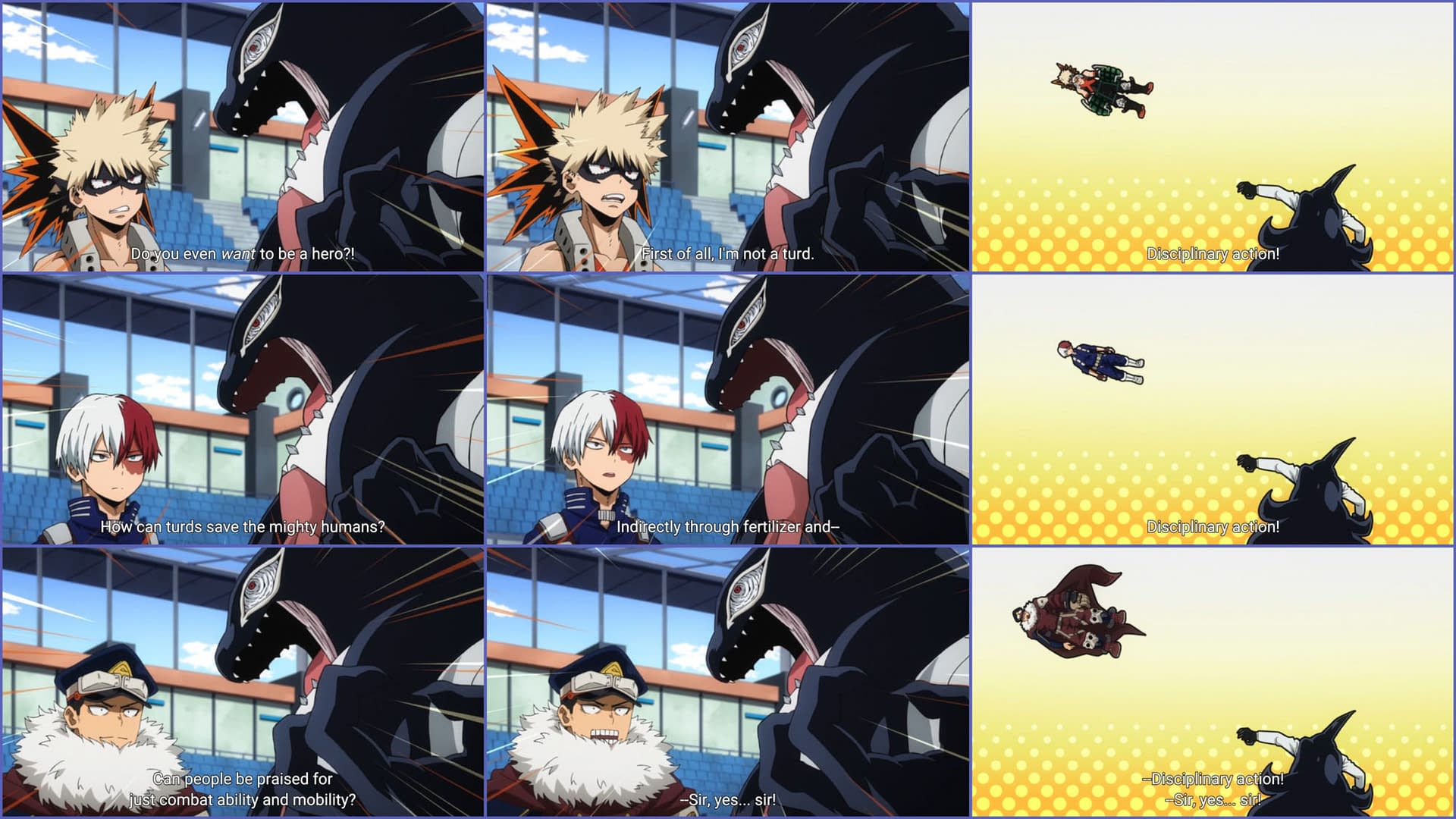 One moment that really stuck for me syring this episode was All Might and Endeavor's exchange. Endeavor confesses to All Might how – no matter how much he tries – he still cannot get the concept of the "symbol of peace" and asks All Might about it. It was a very nice back-n-forth, especially when All Might encourages Endeavor to keep being himself and to be his own hero… in his own way.
Again, not a bad episode by any stretch of the imagination and I am well aware we are still transitioning to the next arc. With that in mind, I am looking for things to start picking up with our next episode "Relief for License Trainees". I am anticipating an exchange between Endeavor and Todoroki—very curious to see how things have changed on that end.