NJPW, Stardom Wrestler Hana Kimura Passes Away, Age 22
Hana Kimura, one of the brightest Japanese pro wrestlers and cast member of the Netflix show Terrace House, has died at the age of 22. Kimura had recently been the target for a slew of online bullying and harassment. In her social media feeds late Friday night, Kimura had posted via Twitter:
"Thank you to everyone who supported me. I love it. I'm weak, I'm sorry. I don't want to be a human anymore. It was a life I wanted to be loved. Thank you everyone, I love you. Bye."
She would then go on to post pictures of self-harm in response to the targeted harassment. Stardom Wrestling issued the following brief statement on Twitter: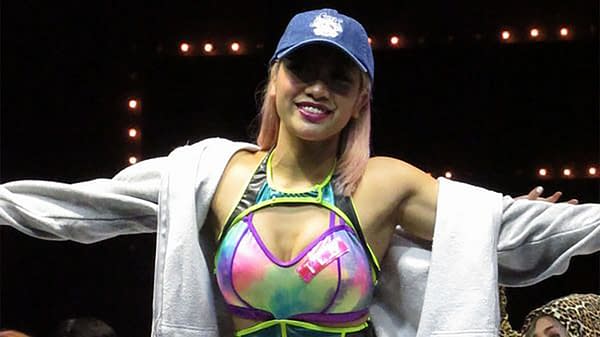 In her short time in wrestling, Kimura had made waves. Debuting on March 30, 2016, Kimura would go on to wrestle all over the world. She competed in Wrestle-1 after joining in 2018, wrestled a dark match at the historic New Japan Pro Wrestling and Ring of Honor G1-Supercard event at Madison Square Garden in 2019, and wrestled in a dark match at NJPW's WrestleKingdom 14 on January 4, 2020. Kimura wrestled in that match against Mayu Iwatani, in a historic first for the company.
Kimura also boasted a healthy number of championships in her career, such as the Princess of Pro-Wrestling Championship (JWP Joshi Puroresu), the JWP Junior Championship, Artist of Stardom Championship (World Wonder Ring Stardom), Goddess of Stardom Championship, and more.
Kimura grew up in a wrestling household. Her mother, Kyoko Kimura, wrestled from 2003-2017, retiring after being defeated by her daughter in a match. While Kimura herself wasn't always sure about becoming a wrestler, once the bug bites you, it's hard to ignore. She had an amazing and bright future ahead of her, and the wrestling world is feeling this loss.
Wrestlers shared their shock and sadness at this shocking news:
Kimura will be sorely missed. Our condolences go out to everyone who knew her.