We Talk With the Cast and Crew of Constantine: City of Demons at NYCC
by Rich Epstein
Producer Butch Lukic, writer J.M. Matteis, character designer Phil Bourassa, and actors Damian O'Hare (Chaz) and Rachel Kinsey (Angela) were nice enough to sit down and answer some questions about their new animated movie Constantine: City of Demons at NYCC.
When asked about the transition from CW Seed shorts to a feature-length film, Matteis said that he originally wrote it as a feature, and then had to find parts that could be cut and places to end episodes on a cliffhanger.
As to particular Constantine stories that he drew from, Matteis cited the graphic novel All His Engines as a source of inspiration. He said this is in many ways an origin story as it goes into Constantine's background, and even though it takes place in the same universe as Justice League Dark it can be enjoyed by people who haven't seen JLD.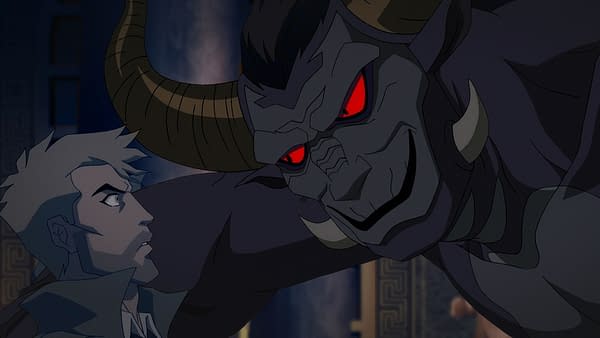 When asked why Constantine has been such a popular character lately, Matteis answered with a question of his own…"Who the hell knows" before explaining that sometimes "things just click in the collective consciousness."
Lukic, on the other hand, had an idea about Constantine's popularity, noting that the character is an antihero with some great British sarcasm. He was then asked about this being the first WB animated movie to be shown in 4K, but unfortunately he didn't know it would be 4K until after production was well underway.
As to representations of hell in the movie, Lukic noted that hell itself is not really in the movie. Rather, Demons are competing to put up franchises of hell in Los Angeles. He noted that much of the R rating came from the scenes in Beroul's castle, as souls are tortured, sometimes graphically.
Character designer Bourassa notes that Constantine is an "if it ain't broke don't fix it kind of character" so don't expect many changes from Bourassa's design in Justice League Dark. Bourassa said that the design of Constantine fits in now, fit in when it was created 30 years ago, and could fit in 40 years before that it even 40 years into the future.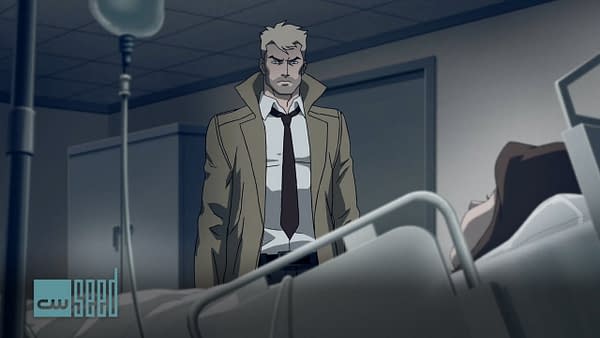 Bourassa wasn't influenced by any particular take on Constantine. Instead, he created a mood board of various images he could use for reference. He noted that the fun of the job was in drawing the Demons. He compared drawing the more mundane characters to eating his vegetables before he can have dessert in the form of drawing Demons.
As to any constraints when drawing somebody else's characters, Baroussa is always respectful of tending someone else's garden. If a one to one correlation will work between the source material and the film, Baroussa will do that. But, ultimately he will do what is right for the movie.
O'Hare never got a chance to talk to Matt Ryan about their shared experience of playing Constantine because he's never actually met Ryan. He noted that Justice League Action was done as an ensemble, so the entire cast was together for the first episode. Constantine was not, and he and Ryan never worked at the same time.
O'Hare said that this movie is much darker than JLA, and that Chaz is very much the stand in for the audience in the movie. When the movie starts, Chaz and Constantine hadn't spoken for 20 years due to the incident in Newcastle. Throughout the movie we see Chaz and John on this journey together, as we also learn what happened in Newcastle.