WWE Superstar Paige is just 27-yeard-old, but she's already been forced to retire from in-ring competition due to injuries. It's a unique situation for Paige to both be so young and yet so influential to the current generation of female wrestlers in WWE. Paige appeared on WWE's The Bump talk show ahead of Sunday's Backlash PPV, and she talked about that and more.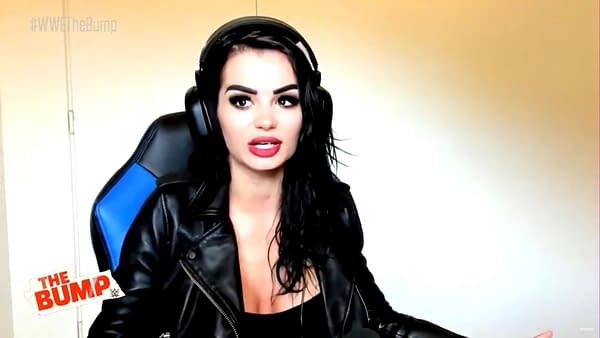 Paige was one of the first female wrestlers to come out of WWE's NXT brand, having started in WWE development in FCW before it was changed to NXT. Paige discussed her early days in NXT and what it was like being one of if not the first wrestlers of a new generation of WWE women who would eventually become known as part of a movement called the Women's Evolution.
"You know, when I first got there, first of all, it was eight years ago, and you guys, I'm still young, right?" Paige said. "So this is still a long time. But I'm like old in the business. It's weird, right? But when I first got there way back when, you know, there was only five girls down there. There was only five girls, right? And all of them that I started out with aren't there anymore. Then, all of a sudden, this influx of women started coming in. You had Emma, you had Charlotte, you had Sasha, Bayley, Becky came in when it turned to NXT. We had all these incredibly talented women, and then to make the move from FCW to NXT where they have this massive compound now, it has everything you need to be a WWE Superstar. It's incredible. And I wasn't there for too long before I got brought up on the road. I was said because there's so much down there and it just keeps on growing too."
Paige comes from a family of British wrestlers who run their own wrestling promotion in the UK. Paige herself has been wrestling since she was 13 years old, and due to her position as the first NXT Women's Champion in 2013, her British wrestling style has had an influence on the current generation of wrestlers today. Paige discussed the influence of that style and whether the current roster picks her brain for ideas.
"I feel like people would pick my brain more if I went to work more," said Paige. "I'm on that Brock Lesnar contract so I just stay at home until they really need me. I wish I could be there more often. I really like it. I love it down there. It's really cool to see. I wasn't a high flyer because I couldn't do that stuff. I'm not as agile or as athletic to do all this flying stuff. But I always got brought up doing British, more hard-hitting style. My family always wanted me to fight more like a guy when I was growing up. They were like, you have to fight like a man." You have to be even with these men. So it's really cool to see that these women are doing it."
If anything, Paige would love to be able to step back into the ring just so she could face off against some of the NXT superstars of today. She continued, "But they're doing everything. It's not just British style. They're just nailing everything. I have nothing bad to say about any of the women at NXT, or Raw and Smackdown obviously, but we're focusing more on NXT right now. They're incredible. I wish I could be part of it. I wish I could wrestle. There's so many people I would want to have a match with down there."
Paige was too humble to accept responsibility for the success of the Kabuki Warriors or Absolution, however, despite managing both teams. Asked about how much credit she deserves for the success of wrestlers like Asuka, Kairi Sane, Mandy Rose, and Sonya Deville, Paige responded, "Probably zero because they got successful after I left them, I thought. But they did really well. I'm really excited that I got to be with Mandy [Rose] and Sonya [Deville] because I was with them on Tough Enough. I was their mean judge and then I got to bring them up on the road with me. I got to help them more behind the scenes. And then to be with Asuka and Kairi [Sane] was incredible because I'm a massive fan of them in general. I just felt like they could carry themselves without me, but selfishly I was very excited because I got to be part of that team. I was like, 'You guys can do this without me completely. You guys are fine.' But I was happy that I got to be a part of it for the short amount of time that I was."
Enjoyed this article? Share it!