Mission: Possible- A Parent/Geek's Guide to Watching TV in 40 Easy Steps
I love television.
I love watching it, reading about it, talking about it, and writing about it. However, with the demands of work, a spouse, and two small children, the only time I have to watch any TV is the two hours between when my kids go to bed and when I get to fall asleep. Over the years, I have honed an effective system for watching television and being a parent at the same time…it's true!
So in the spirit of sharing my hard-won knowledge, here's my fool-proof process in step-by-step detail below: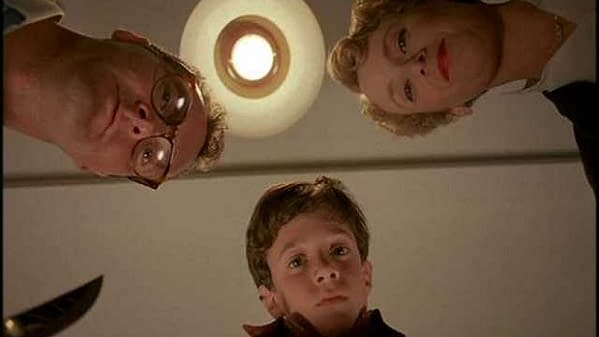 Put children to bed. If you need guidance, see "How to Put a Toddler to Bed in 100 Easy Steps"
Turn of light in children's room and return to your own room.
Sit down and suddenly remember five things you need to do before tomorrow.
Do the things.
Sit down again, wine and chocolate in hand, trying to decide what to watch.
Hide chocolate from child that just appeared in your room saying they are hungry.
Give child cheddar cheese cut into the shape of a letter of the alphabet.
Make child go to bed after snack.
Sit down once again with wine trying to remember where you hid the chocolate.
Stop looking for chocolate as other child is now in your room asking for water.
Get child water and put them back in their bed.
Pull out tablet and earphones and prepare to watch an episode of a show (despite owning large flatscreen, all TV must be watched on tablet with earphones, or children will sense it and refuse to sleep).
Put in earphones (one for each adult if watching together) and start episode.
Immediately pause show when child yells from other room that they need to go potty.
Tell child to go potty and restart episode.
Pause episode 45 seconds later to wipe child's bottom.
Put child to bed.
Restart episode. Watch a whole five minutes.
Jump a foot high when you child's head suddenly appears directly above your screen and asks you what you are watching.
Convince child that you are watching something boring like golf or Mad Men.
Take child back to bed.
Settle down watching the episode, with one earphone in and one out so you can hear child noises (one for each adult again if sharing).
Pause again after about 10 minutes due to child request for additional cuddles. If you are are the only adult, cuddle said child in their room and go to step #27. If your co-parent is present, make them go cuddle the child.
Respond to elementary school class parent group chat while waiting for co-parent.
Get sucked into debate about high-fructose corn syrup with other parents.
Go to child's room and wake up co-parent who has fallen asleep in child's bed.
Restart episode because you don't remember what you have watched so far.
Remember that you have to switch laundry to the dryer or it will go all musty smelling, pausing the show while you do so.
Restart the episode, silently rejoice that children have been quiet for 15 whole minutes, refuse to say it out loud lest you jinx it.
Pause episode to let in your dog, who is scratching at the door.
Restart episode.
Finish first episode and decide to watch one more episode, as it will only put you to bed 30 minutes later than usual.
Promptly fall asleep.
Wake up at 2am with crick in your neck and earphone still in your ear to find that you are now laying in melted, forgotten chocolate.
Clean up chocolate.
Put away tablet and earphones.
Prepare for bed with all lights off and as little noise as possible in order to not wake children.
Peek into children's rooms to look at their sweet, angelic, quiet, sleeping faces.
Go back to sleep.
Wake up and repeat tomorrow night.