Seth Rollins Makes Feelings on CM Punk Pretty Clear: "He's A Cancer"
In a new interview, WWE Superstar Seth Rollins made it clear that he has no love for CM Punk and doesn't want him back in WWE anytime soon.
---
Seth Rollins has earned the right to be one of WWE's most outspoken superstars. He's a multi-time Champion, one of the faces of the company, and regularly steals the show on the biggest stages. While he's able to accomplish that by often facing great opponents (such as Cody Rhodes when the two stole the show at WrestleMania last year), one man he says has no interest in facing in WWE ever again is CM Punk. Yes, it turns out Mr. Freakin' Rollins is no fan of Charles Montgomery Punk and doesn't ever want to see him in WWE ever again.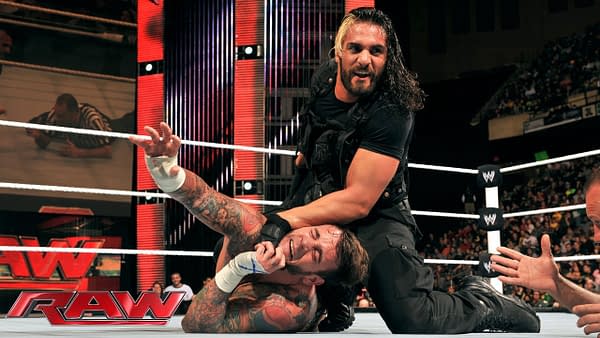 While doing press for tonight's Royal Rumble premium live event and for the upcoming WWE 2K23 video game, Seth Rollins spoke with Wrestling Inc. and when the question of CM Punk (referred to here by his real name of Phil Brooks), Rollins didn't play things politely when stating that he wants nothing to do with him.
"Oh, Philly Phil, stay away. Stay away, you cancer. Get away from me forever," said Seth Rollins. He continued, "No, I don't like Phil. I don't like Phil; he's a jerk. Oh, did we just figure that out? Did we just figure that out? Everybody in the room is like, 'Oh no, did he say that?' Yeah, he's a jerk. Come on. We figured it out over there; we knew it over here. I don't want him back. Go do something else. Bye-bye… bye-bye. See you later!"
The negatives that Seth Rollins is referring to is that CM Punk has made headlines in solely infamous ways since his very public falling out with AEW this past September 4. During the AEW All Out post-show press conference, he broke kayfabe and went off about AEW management, Kenny Omega, The Young Bucks, Colt Cabana, and others before a physical backstage altercation ensued between him and the targets of his verbal tirade. That was Punk's final AEW appearance thus far and while he's still under contract with the company, it appears unlikely he'll ever wrestle for them again.
With all of that in mind and his equally bad falling out with WWE before it, it's easy to see why Seth Rollins wouldn't want such a controversial person in the locker room. That said, this is pro wrestling, and sometimes the best storylines (and ones that CM Punk is particularly fond of) are ones based on reality. Could this be Rollins and WWE planting the seeds to Punk returning and facing Rollins on a big stage? Tonight is the Royal Rumble, and if there's a night on the calendar that fans can expect surprises on, it's tonight. A CM Punk versus Seth Rollins WrestleMania match? Yeah, I think that would attract some attention.