Last night's NJPW G1 match between Cody and Kenny Omega was nothing short of magical. The two are arguably some of the best wrestlers in the world right now. Cody has been a trailblazer since joining ROH, and Omega is set to dominate the world.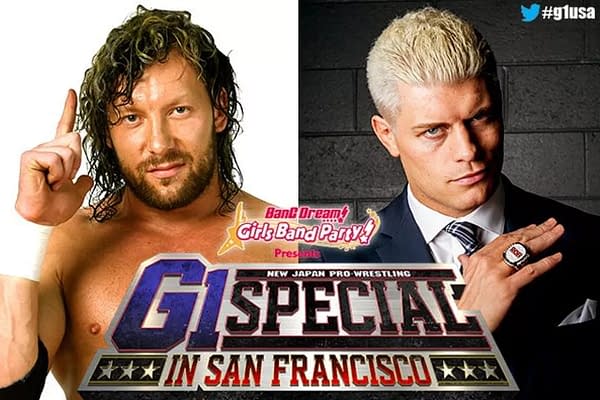 The match opened with both of them going in hard. Kenny had the upper hand at first, but Cody found his footing. The men weren't afraid to throw each other — or themselves — around.
Early on, Omega got Cody on a table outside the barricade and came down hard through both Cody and the table. The two took it back into the ring, where they went back and forth for a while — and then Omega took out a ladder. I honestly thought the match was going to end when both men were at the top of the ladder punching it out, but Cody executed a beautiful superplex, throwing Omega (and himself) into the center of the ring.
This match kept it turned to 11, and I was engrossed by every second of it. In the end Omega retained his IWGP Heavyweight Championship.
After a passionate final speech, where Omega credited everyone there — including Cody — the Bullet Club prepared to leave. Omega, The Young Bucks, and Tama Tonga, Tanga Loa, and Haku all posed victoriously at the top of the entrance ramp. All seemed to be fine, until Tonga, Tanga, and Haku attacked the the Bucks and Omega. Things spilled back into the ring, where the beating continued. The rest of the Bullet Club ran out into the ring one by one, but they were no match.
Finally Cody came back out, and while it looked like he would be joining the coup as well… he didn't. He attempted to fight on behalf of his fallen club, but he was overpowered. After Tonga, Tanga, and Haku left, Bullet Club picked themselves up, and Omega and Cody hugged it out.
It was a perfect way to end a perfect match (and special). Omega and Cody proved once again that they are The Elite, and in my opinion the Bullet Club is fine. Everything is fine.
Enjoyed this article? Share it!